Insideout Gets Everything Out Through Art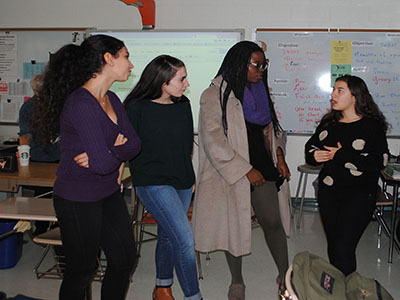 Hang on for a minute...we're trying to find some more stories you might like.
Though they were not very active last year, WJ's Insideout Club plans on accomplishing more goals this school year.
The club, presided over by senior Alexandra Papanicolau, focuses on creating art, namely photography, that unites people of all ethnicities and backgrounds.
The name, as well as the purpose of the club, was inspired by the HBO documentary Inside Out: The People's Art Project, which encourages viewers to express themselves and communicate social messages.
"We saw [the documentary]… and decided it would be really nice to have a club that had the same idea," said Papanicolau. "We thought it'd be awesome if our school participated in that global project."
Insideout's vice president, junior Ketevan Migineishvili, said that she was inspired to join the club by not just the film, but her interest in photography.
"I took [the class] Photography, and photography plays a big role in [this club], so that kind of inspired it all," said Migineishvili.
The club plans to work more on their culminating project, which is to make a collage in the student commons made of photographs they have taken.
Papanicolau said that the club wants to have more activities this year.
"We're trying to get fundraisers now this year and hopefully [the club will] build up [during] this year," said Papanicolau.
Papanicolau also plans to expand their club by encouraging more people to get more involved in art.
"I would want to… influence them to see the documentary and get [them] influenced by our idea of unifying everybody just by a simply smile, just by a simple picture," said Papanicolau.
The club meets biweekly on Tuesdays during lunch, in room G22.