WJ's Leadership class takes on thrifting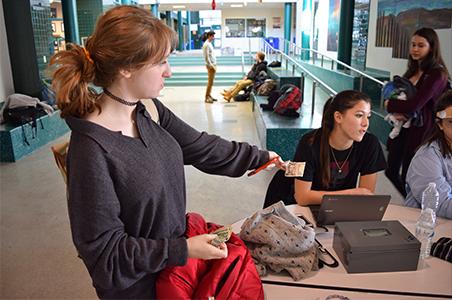 From Macklemore and Ryan Lewis to the students of WJ, it's become apparent that thrifting is not just for the needy anymore. WJ Leadership is capitalizing on this trend for this year's Pennies For Patients month. On Feb. 23-24, the Leadership class ran the first ever WJ Thrift event during lunch and after school until 7 p.m.
The event turned the student commons into a full-on thrift shop featuring a wide selection of t-shirts, shoes, dresses and more.
"[Senior] Kate Howie [thought of the idea] and then group seven [of the Leadership class] took it on," said senior Monique Logie, who was a fundamental part in organizing the event with her other group-mates, seniors Isa Herold, Emma Higgins and Jackson Lange. She also disclosed that the event broke $1,000 by the end of the night. Logie and her fellow teammates collected thousands of items of clothing from the closets of WJ students, ranging from pieces of jewelry to Converse shoes.
"The weirdest out of the donations were probably Speedos and leather pants," Logie expressed. The idea of buying a piece of any type of clothing may seem outlandish to student buyers to buy their clothes from their peers, but Logie mentioned that lots of the people shopping at WJ Thrift were juniors and seniors who would be graduating anyway. 
"It just depends on the individual's level of comfort," she said, addressing some students' unease at buying the used clothes.
This was the first year that WJ Thrift took place, and for students who have not attended a single Pennies For Patients event this year, like junior Sophie Brenits, events like these are more appealing.
"It [is] more my style than other Pennies For Patients events that take place because thrifting is something I do regularly outside of school. Also, it was more accessible because it was taking place during the school day," said Brenits.
For the student who doesn't necessarily want to participate in PPP or a Mini-Thon, WJ Thrift was the perfect way to donate to the cause without being extremely active in an event, and it turned out to be a huge success this year.
"[WJ] Thrift is a brand new event so we had to work really hard to promote it, but overall, it was extremely successful," said Logie. The Leadership class actually had to extend the event to two days but they still had leftover clothes, which were donated into the community.
As for next year, while the Leadership class may be a different mix of students, bet on there being talk of a second annual WJ Thrift. It was a hit among the students shopping and the students who planned it. 
Your donation will support the student journalists of Walter Johnson High School. Your contribution will allow us to purchase equipment and cover our annual website hosting costs.