Family Feud produces success, no feuds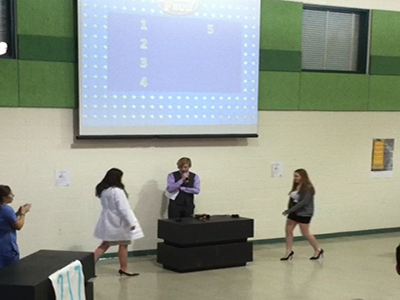 The night began at 5:30 p.m. on Tuesday, Feb. 10 with the student commons packed with teams, players and spectators who greatly anticipated the turnout of this Pennies for Patients fundraiser.
February might be the best month to be a student at WJ. This month is most famous for Pennies for Patients (P4P), a month-long fundraiser benefiting the Leukemia and Lymphoma Society.  February is when many schools around the country and Canada participate in P4P to raise money and awareness for leukemia and lymphoma, which are both cancers affecting many people in the United States and all around the world.
WJ raised around $81,000 in 2012 and finished the month as the second place school in fundraising behind rival Whitman. 
The student leadership class organizes various events throughout the year, such as the homecoming dance, and is in charge of planning all of the Pennies for Patients fundraisers. One P4P fundraiser that they planned is Family Feud.  This is modeled after the famous TV show with Steve Harvey as its host. This is one of few game shows that has been in existence for over 30 years.
Each team that participated in Family Feud had a unique name and costume.  The teams were made up of four to five students across grade levels. "The Minions," who were dressed up as characters from the film "Despicable Me", took home the award for the Best Costume.  One interesting team name was "Men in Blazers." Devesh Sullivan, a member of "Men in Blazers", believed that the questions were fair and not too difficult.
Senior class president Ray Macedonia was the host of Family Feud and  really enlivened the evening.  When the leadership team had small technical difficulties, such as a broken mic or procedural and tournament changes, Macedonia didn't skip a beat.  He kept the lively crowd engaged with jokes and songs, and before long everything was back on track.
Family Feud was well organized, although there was some confusion about who was playing who and in what room.  Because around 25 teams were competing, many teams played a round or more in SGA sponsor and teacher Rainer Kulenkampff's classroom.  This was a good idea because it shortened the time of the event to around two hours.  In addition to managing the schedule, keeping score and calling new teams to each area, the leadership class also had to come up with the questions.  These included "What is the most expensive part of a vacation?", "Words that start with SUB?" and "What is most likely to delay a flight?"
The winning team, "Mount Rushmore," consisted of five girls who were dressed from head to toe in grey, trying to resemble the great American landmark in South Dakota.  They all had grey wigs, grey face paint and a large grey blanket around them.
Overall, this was a fun night that had impressive costumes, interesting questions and incredible team names.  The leadership class really hit it out of the park with this fundraiser.