There's no shame in not accomplishing your new year's resolutions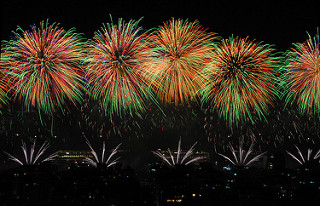 Growing up, all my New Year's Eves were surrounded with simpatias, superstitious rituals that people in Brazil do to make their resolutions come true, since we know that we probably won't be very faithful to them.
There are many, many types of simpatias, but it is almost certain that if someone was going to spend the New Year's eve in the coast, they would go to the beach and jump seven waves and for each wave, they would make a wish. And no matter whether they were in a metropolitan city or the rural part of the Midwest, it is very likely that all present in a party would be dressed in white, and each one of them would say that it was to bring peace to the upcoming year. If there is one aunt in red and a great-uncle in yellow, the aunt would state that it is to bring her love, and the great-uncle would make a silly joke related to his desire for money.
As a little kid, I adhered to these traditions religiously – not due to my conviction that they would work, but because I loved my parents' and older relatives' reactions. It was one of the very few nights that I would see them with no worry in their minds. For once, they wouldn't complain about the government, the economy or the odd pain in their legs that wouldn't go away. They laughed. They became hopeful of their country. They danced and ate pomegranates the entire night to bring good fortune night away, reciting their resolutions as if in fear they would forget.
After a few good weeks of being drowned in the magic of the holidays, comes the grand finale, the New Year's resolutions, where we find all our motivation and creativity that was missing. The "happily ever after" of the teenagers and adults. We decide to go to the gym– after all, we could easily squeeze in an hour on Monday, Wednesday and Friday, right? Perhaps if I start working out two times a week, and do, say, forty-five minutes of yoga, I'll be in shape by the time summer comes. And by February, we seal the deal with a half an hour walk every other Saturday. No one can have the perfect body and beauty relies on the inside, anyway. And the list goes on and on…enjoy life, have better grades, develop a new hobby. Spend less time online, volunteer, read more and the most ironic of all – procrastinate less.  
A study by the University of Bristol involving 3,000 people found that 88% failed to meet their New Year's' Resolutions. According to another study, it's most likely due to the unrealistic aspect of the goals, which makes a lot of sense.
At the end of the year, we usually look back on our mistakes. We cringe and dread over their outcome. And when the first minute of the new year is on the run, it brings a sense of hope. We strategize, set our goals, and we are pretty confident. By this time, we remember only the wrongdoings, but not the difficulties that led us to them.
I could say that we should kill this practice. That we should be more practical, more reasonable, lower our expectations, root for the B's and contemplate the nights in. But here is the revelation: after a ridiculously hard year – as 2016 was – a big spoonful of hope does no harm; in fact, is actually necessary. After too many bombs of colors, it's refreshing to see a white, clean canvas – even if it is just for a couple of seconds.