WJ Recovery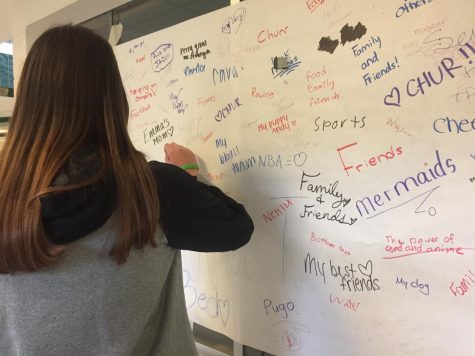 The Walter Johnson community experienced the loss of junior Tommy Silva, On December 2, due to death by suicide. Principle Baker sent an email to parents the following night, notifying them of the tragedy. Since that time, WJ has made a big effort to support student's needs.
   WJ has provided many resources to help struggling students cope with their loss during the following weeks. The Walter Johnson counseling team and MCPS staff members were available to talk to students in the media center. There were also therapy dogs in the Media Center at lunch throughout the week to put a smile on students' faces. On December 3, Sources of Strength met and created a video which aired the next day about the recovery of a girl who had been struggling with her mental health.
   Sources of Strength planned activities all week to encourage strong mental health and healing.
   "On Wednesday we held a gathering in the main stairway of school where people could come and write on the wall what makes them strong, which led to an open conversation about mental health," Sources of Strength president junior Noam Yanay said.
   Later in the day on Monday, Baker sent another email out to parents outlining the resources students had available to them that day and let them know about the school's future plans to help students deal with mental health issues.  
   "I hope to provide the opportunity soon for our parents to meet and hear a speaker on the topic of mental health," Baker said.
   Some students were disappointed with how the school handled the death. First period teachers did speak in the morning acknowledging the suicide, but some students didn't think that the effort was enough to help the prevention of another suicide.
   "I don't think the school handled this situation correctly. One day later and everyone is acting like nothing happened. Our school needs to do more to ensure this doesn't happen again. We should have mental health days and education of mental health in general," junior Raya Seid said.
   After a tragedy like this, many parents and students wanted to know how the school would react to the loss, and what the administration will do to help prevent future suicides.
   Students also wondered why the school day followed a normal schedule on Monday. The bell schedule was the same, there was no assembly and there was no moment of silence in memory of Silva. The National Association of School Psychologists gave insight on how the school chose to handle a tragic event like this.
   According to The National Association of School Psychologists, the reason for seemingly no change in the school day is because people grieve differently. For the people who needed a normal day to cope with loss, it was there for them. For the people who needed extra support, there were MCPS staff members and counselors available to help. Providing continuity was the best balance found for appealing to students' individual grieving needs.
   "Memorials following a suicide may glamorize death or communicate that suicide is an appropriate or desired response to stress. School staff should discourage whole-school assemblies," Say The National Association of School Psychologists.
   The behind-the-scenes actions The National Association of School Psychologists talks of come as students needs are raised. MCPS administration isn't allowed to endorse outside agencies, but counselors can connect families to outside aid in a time of crisis. Part of building resilience for the community is connecting students to good resources to support the healing process.
   The National Association of School Psychologists explains that at the moment, Wj is reaching out to families and working with student's to help support them. WJ's primary responsibility after a suicide is to care for their student's. After time has passed, they will move on to reinforcing prevention. They are planning drop-in session in January through march to help aid student's and prevention.  
   If you or a friend are struggling with depression or are having suicidal thoughts, call the National Suicide Prevention Lifeline (1-800-273-8255) or Montgomery County Crisis Center (240-777-4000).