From communist China to the WJ Spanish department
Dr. Xuhua Lucia Liang, who has been a Spanish teacher at Walter Johnson for the past 14 years, was highlighted in a recent edition of the Library of Congress's podcast, the Poet and the Poem. Yet many of her students are not aware of her accomplishments.
Liang says that she was the first female with a PhD in any field of Spanish – in the entirety of China – which at the time had over a billion people.
She published her first book of poetry, A Lily on the Cliff, in Taiwan in March 2019. Liang is also writing two more books. One is an anthology of her poetry written in three languages\; Spanish, English and Chinese. The other is a collection of her prose, written in Chinese.
When she was growing up, she had nowhere near the level of access to education that students have in the United States, much less the students at WJ.
Liang grew up in the Fujian province of China under the Communist Reign of Chairman Mao Zedong and the cultural revolution that came with his rise to power. Liang explained how the only books she could legally read were state-approved "books of Mao."
As a child, Liang yearned to read fiction. She said it was possible to get some, but the books – if they could even be called that – were novels secretly copied in faded handwriting onto notebook paper. Liang distinctly recalls her uncle shattering all of his records and burning his books as he feared
government searches.
"[Government officials] could show up at one in the morning and search anything," Liang recalled.
This was not the life that she wanted to live. "I like freedom," Liang said.
This is why Liang is shocked and upset when she sees her students wasting their time and not paying attention in class. The students she teaches today have a world of information readily available to them while Liang couldn't even read a paperback book when she was their age.
"I cannot understand when people are sitting here and they do not want to learn. You are in the best time of your learning and you didn't learn, while [at the same age] I was crying because I didn't have books to read," Liang said.
In fact, Liang wasn't even able to finish high school. She left school to work as a preschool teacher. It was here that Liang studied for the Chinese National Exams, which she later passed. Liang was then accepted into what is now the Beijing Foreign Studies University, one of the most prestigious academies in China. After getting her Bachelor's Degree, Liang returned to the university to obtain a Master's Degree.
Liang speaks about how nearly all graduates from the acclaimed school of international affairs end up becoming diplomats. She did not want to go that route, forced to behave in the interests of the government. Liang wanted to be able to make her own decisions.
In 1986, she chose to come to the U.S. and get a PhD, rather than finish a Master's.
"If you graduate, you cannot leave China," Liang said.
She needed a full scholarship to afford her PhD program. Liang applied to nine schools, six of which
met her financial needs. She ultimately chose to attend the State University of New York at Stony Brook.
When she came to the US, Liang didn't have a clue as to what she wanted to do with her career. She fell into teaching somewhat by accident.
"It was just never on my list of professions," Liang said.
Over the course of her doctorate program, Liang began to work at SUNY Stony Brook as a visiting instructor. Later, she was an assistant professor at the University of Alabama, Mobile.
However, at the same time that Liang was being offered a tenure track as a university professor, she was feeling pressure from her deeply-rooted family values to settle down and raise children.
"In theory, I should've stayed in academia and get a tenure track and become a full professor…But at a certain point I felt like I needed to have my family. So I left and quit my tenure track position."
Over the next decade, Liang raised her children and moved to the DC area. When she arrived in the nation's capital, Liang had the option to once again be a visiting professor at various universities.
But as history would have it, at the same time, she also had a full-time offer from Fairfax County Public Schools. Liang decided to go for stability. She became a public school teacher 23 years ago.
"She's really nice and a very good teacher," junior Golan Khen, who had Liang for Spanish 3, said.
Over the years, all of Liang's initial misgivings about teaching have disappeared.
"Now I look at it and I feel very proud because we [as teachers] really can impact young people. We really leave some good impact on young people. I don't regret it," Liang said.
Your donation will support the student journalists of Walter Johnson High School. Your contribution will allow us to purchase equipment and cover our annual website hosting costs.
About the Contributor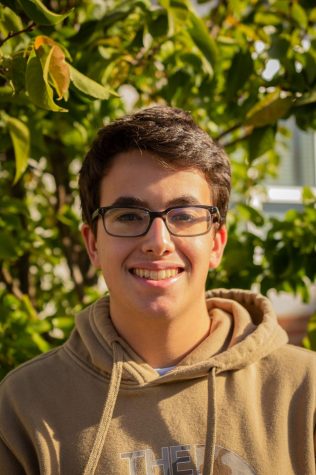 Sammy Peterson, Senior Opinion Editor
Sammy Peterson is a senior at Walter Johnson. He is the Senior Opinion Editor and this is his second year on The Pitch. Sammy's interests include watching...