Review of Parasite
Widely regarded by critics as 2019's best film, Bong Joon-ho's Parasite infects viewers, taking them in all sorts of unexpected directions.
Set in South Korea, Parasite starts off following the Kims, a poor family of four, just scraping by. They make a living folding pizza boxes in their semi-basement home, and are regularly stealing the free wifi from their upstairs neighbors.
However, their whole life changes when their son Kim Ki-Woo (played by Woo-sik Choi) gets a job offer from a friend to teach english to Park Da-hye (Jeong Ji-so) the daughter of a wealthy family. Assuming a fake name and college diploma, Ki-Woo fakes his way into working for the well-off Park Family. After seeing the benefits and luxuries of working for the 1%, he slowly gets his whole family to work at the house, with his mother, father and sister all taking up roles. With none of the Park family realizing that they've unknowingly hired a whole family, the Kim's secret new life seems to be going great. That's when Parasite becomes a totally different movie.
Parasite takes everything into consideration in order to create a masterpiece. The character development from beginning to end is superb. Every character has a place and a role. No one feels "boring" or "not needed." It is also a fantastic example of how much dialogue matters in film. Although it still felt like classic movie scripted dialogue at times, for a lot of the film, the dialogue produced emotion and felt like a real conversation. This helped to create a movie that was both comfortable to follow, as well as create a smaller gap between the viewers and the story.
The acting was also amazing, with body language playing a huge part in how viewers felt. The tense energy felt between Da-Hye and Ki-Woo during their lessons is a fantastic example of this. Their uneasiness with each other is something everyone can relate too.
Viewers will also be on the edge of their seats with anxiousness thanks to the writing. In the scenes between Mr. Kim (Kang-ho Song) and Mr. Park (Sun-kyun Lee) in particular, as well as almost all the basement scenes between the Kim family, Moon-gwang (Jeong-eun Lee) and Geun-sae (Myeong-hoon Park) conjured up feelings of fear and nervousness that I haven't felt before while watching a movie. It made watching it a truly unforgettable experience.
The setting was also interesting. Although the film is set in the bustling Seoul, South Korea, most of the filming takes place in only two locations: the Park's huge modern mansion, and the Kim's cramped, squalor semi-basement home. The two homes are reminders of who the two families really are. The Kim's want to escape their old life of filth and poverty, and they do so by invading the Park's home. The Park's home is really the main centerpoint of the film and is used as both a negative and a positive in the Kim's situation. They "begin" their new life there, as well as "end" it and start over.
Overall, Parasite was a rollercoaster from start to finish and it definitely took a wild and unexpected turn. Anyone who is a fan of drama and mystery would be a huge fan of this movie. Although it was released back in October, there are still a few theaters around the DMV, including Arclight Bethesda, Regal Cinemas Rockville and Landmark Cinemas Bethesda Row, which are showing it, so get your tickets quickly before they sell out!
Your donation will support the student journalists of Walter Johnson High School. Your contribution will allow us to purchase equipment and cover our annual website hosting costs.
About the Contributor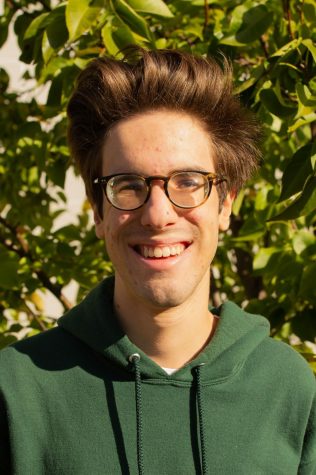 Lucas Gillespie, Photography Editor
Senior Lucas Gillespie is on Pitch for his first year working as Photography Editor. When he isn't taking or editing photos, Lucas enjoys hanging out...