Athletes of the issue: Transfers elevate boys' basketball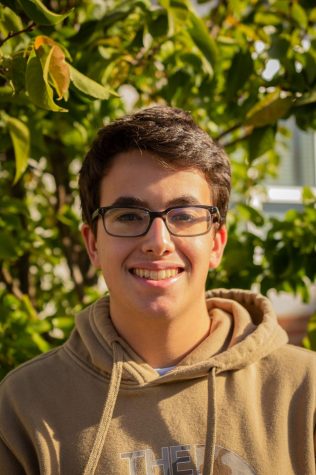 More stories from Sammy Peterson
More stories from Daria London
An athletic and life reset:
Senior Mikel Fornwald, a newcomer to Walter Johnson, has quickly become one of the anchors of the boys' varsity basketball team.
"He's willing to do whatever it takes for the team to win. I think the other guys see that and feed off that," head coach Kevin Parrish said.
Fornwald, who is 6'1'', grew up in Philadelphia. Specifically, South Philly, which is a different world compared to Bethesda.
"It's real different here. There's not as much violence and crime. It's a better atmosphere here," Fornwald said. "In Philly, it's more like dog-eat-dog. You're out for yourself."
One of the things Fornwald first noticed when he arrived at WJ was that many students have cars. In Philly, he says, students take buses and trains until they're through college. Nobody has money for cars and other luxuries.
"It keeps me humble and makes me appreciate where I come from and why I'm doing what I do," Fornwald said.
Fornwald didn't start his sports career playing basketball. When he was 11, Fornwald started playing football with the "Pop Warner Little Scholars," the largest youth football organization in the U.S. He continued playing football as a quarterback until he fractured his jaw when he was 15.
Fornwald's delve into sports came during a tumultuous period in his life.
"I got kicked out of school in fourth grade and got sent to a disciplinary school. I was in a disciplinary school from sixth grade to eleventh grade," Fornwald said. "I was supposed to stay there for 30 days, but I kept getting into fights and arguing with teachers."
Fornwald moved to Bethesda to reset his life.
"It's hard to get away from [all that wild stuff], especially when you've got no role models, no father figures, nobody to show you the way or help you maneuver," Fornwald said. "It was hard just being there and surviving everyday by myself and with my mom."
Fornwald already had an au
nt who lived in the area near Walter Johnson, so when he and his mom decided that it was time to change scenery, he moved here.
"There's a lot more people willing to see you succeed and be successful. It's definitely better here than Philly," Fornwald said.
With all of the changes in his life, "sports keep me level," Fornwald said.
After Fornwald fractured his jaw, he switched to basketball. He's been in love with the game ever since.
"When I got to high school and started basketball, I had to get good grades and maintain good grades to [continue] to play," Fornwald said.
Even now, Fornwald says that when he finds himself drifting off and getting caught up in a moment, it's basketball that grounds him.
"If I don't turn in work, that'll bring my grade down. Then I got to get it together," Fornwald said.
Shortly after moving to Bethesda in 2019, Fornwald, a point guard and a shooting guard, played with some of his varsity teammates during the summer.
When the school year started and the rest of the team came together, Fornwald quickly emerged as a leader.
Coach Parrish stressed that while Fornwald played in the summer and met a few of his teammates, he did not know most of the team heading into the season.
"In practice, when it seems like guys are not having the best practice, he'll try to push the other guys to work harder. He's very competitive and wants to win," Parrish said.
"He's a great player and teammate, genuinely a nice person, and a great competitor," Chris Dougherty, a junior who plays on the varsity team with Fornwald, said.
Fornwald attributes his role as a leader to his days as a quarterback, where he commanded his offense in a highly competitive environment.
"It was a lot of competition. Moreso than out here. A lot of people out here are more fundamental. But in Philly you got more urban type play," Fornwald said.
The urban sports culture shaped Fornwald into the player he is now.
"I've always had this leadership mentality. I want to win and I want to see everybody else win. So anytime I get a chance, I tell [my teammates] to keep working, keep pushing," Fornwald said.
Fornwald's dedication to the team is not missed by his coach.
"He's very unselfish," Parrish said. "Sometimes too much," he added with a chuckle.
Parrish spoke to the fact
that in one game, Fornwald can hit three or four three-pointers and put up a bunch of points. On a different night, he won't score any points, but will get 14 rebounds.
When asked about his plans beyond high school, Fornwald says if he's given a chance to further his basketball career, he wants to play overseas.
"But, as far as careers in general, outside sports, I want to go to college and major in early childhood education or physical education," Fornwald said.
Dual sport athlete from a crosstown rival:
As the son of a former NFL player, athleticism is practically in senior Kai Holloway's blood. The transfer from Walt Whitman High School plays on both the varsity football and basketball teams.
Holloway admits he originally thought the team chemistry and connection in football and basketball would be worse than what he experienced at Whitman, but he has come to think of his WJ teammates as family.
As for the student section, Holloway says WJ is simply much better than Whitman.
"More people want to come to games, more people stay the whole game and don't just leave at halftime. Over at Whitman, people were leaving at halftime," Holloway said.
For the current basketball season, Holloway says the team has a lot of work to do. Varsity coach Kevin Parrish says the experience Holloway adds makes the turn around from losing 10 seniors from last year easier.
"[He] brings a lot of experience and athleticism and toughness that has made our team a lot better. He understands what it takes to win and he's just brought that mentality to the team," Parrish said.
Holloway thinks that the team welcomed him and teammate senior Mikel Fornwald, also a transfer, with open arms.
"Everybody is accepting of us," Holloway said.
One teammate in particular has transformed Holloway's athletic and social experience at WJ. Senior Josh Forburger, quarterback on football and forward on basketball, knew Holloway, a guard on basketball and a wide receiver and safety on football, prior to his transfer.
"We already had chemistry. Quarterback receiver chemistry which is what you need. We've always been playing together," Holloway said.
Forburger and Holloway have been playing football and flag football together since they were eight and played basketball together as well.
"Kai and I have really good chemistry as a quarterback and receiver because we have played together for so long. Kai has impacted football and basketball this year a lot because he is such a good athlete and is able to do many great things offensively and defensively in both sports," Forburger said.
Senior Stephen Hairston, also a wide receiver, acknowledged the importance of having good quarterback-receiver chemistry for offensive success and how Forburger and Holloway have just that.
"They get along with each other really well. They both help each other out. It makes the team work better when both of them are having good days with each other," Hairston said.
With five touchdowns and 731 receiving yards, placing him fifth in the county, Holloway was undoubtedly an integral part of the historic football success. Holloway also starred defensively as a safety with several interceptions over the course of the season. He has played both sides of the ball his entire life.
"This was probably one of the best seasons I've had in football. It was good to bring back the football program at this school," Holloway said.
Holloway plans to play football in college but is unsure where yet. However, one thing is clear: Holloway will be a formidable talent no matter where he ends up.
Your donation will support the student journalists of Walter Johnson High School. Your contribution will allow us to purchase equipment and cover our annual website hosting costs.
About the Contributor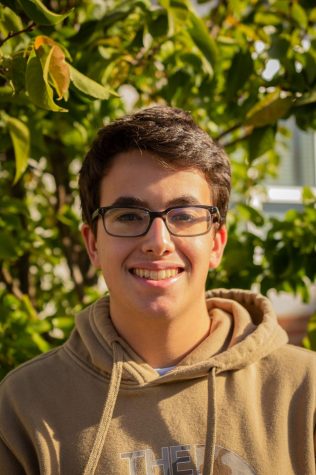 Sammy Peterson, Senior Opinion Editor
Sammy Peterson is a senior at Walter Johnson. He is the Senior Opinion Editor and this is his second year on The Pitch. Sammy's interests include watching...