Friends in Online Places
An intro to a different reality:
The information age is in full swing, giving each child, teenager, adult and senior the chance to access anything they desire at any time. Enter video games. Effectively the books and movies of the 21st century, video games take us to another world where we can forget about our real-life troubles and live in a fantasy land.
The pandemic has reinforced this narrative. A random day in March changed all of our lives forever by forcing us to cancel our routines and understand that a microbe that we cannot feel or see is life-threatening. Coping with a pandemic is difficult as there is no living expert on how to deal with the social, mental and physical traumas of a global pandemic. Much of WJ decided that video games were the best medicine.
How to escape into another dimension:
Video games are often akin to a good book: they allow us to escape into another reality that is separate from our own (like in Destiny 2 and Minecraft).
"The reason I play video games seems to be the same, if not similar to, those around me: to escape this world to go into a world of our own. Of course for fun, but I play to try to relax in a place where I can control a different world and forget some of the stress that exists from school and everyday life," senior Javier Guzman said.
Senior Arun Sen adds to this by describing how he falls into another world.
"At times, [Red Dead Redemption 2] is like a movie or book that you control the outcome of; for that reason, you see yourself in the characters more than you might in a book… You control the outcome, and thus getting lost in the world you mold becomes easy," Sen said.
How students are connecting through video games:
During the pandemic, many WJ students have resorted to video games as an alternative way to connect with their friends. Playing video games has become the modern pandemic hangout and many students have resorted to multiplayer games and communication apps such as Discord as a way to play and interact with each other. Video games such as Among Us, Minecraft, Call of Duty: Warzone and many more exploded in popularity as many people used these games as a way to connect with friends.
Senior Enzo Molina details why he plays video games with his friends.
"[For me], it's a bonding activity and a way to make new friends. It's almost like when you join a sports team and become friends with your teammates and start hanging out outside of practice. It's a lot easier to bond with them because it's as simple as getting on your computer and just playing with them," Molina said.
Junior Andres Zalowitz adds to this point.
"After a while, you run out of things to talk about, and you have known most people for so long that it can be hard to have a conversation. Video games help introduce something new, even if it's just doing something stupid and laughing. It adds something new to existing relationships to participate in something you both enjoy together," Zalowitz said.
WJ clubs have also used video games as a way to have members connect and remove the barrier of the virtual school world. One such club is WJ Sources of Strength who, for a period of time, used video games to have members relax and connect with their fellow clubmates. Club president and senior Victoria Rentesh describes this experience.
"Video games are a great way for a group of people to connect and are generally enjoyed by everyone. I mean, they are games; they're meant to be fun. In SOS, we use them for our 'stress buster days.' Doing something simple and enjoyable is a great way to boost your mood. Plus, games that require people to talk to each other like Pictionary and Among Us help club members get comfortable with each other. That's very important in SOS because the club is essentially a safe space where people can feel supported by their peers," Rentesh said.
Another club at WJ that uses video games to connect with each other is the WJ eSports club. The club is a large and growing group of WJ students who attend club meetings, scrimmages and practices against each other in competitive video games like League of Legends and Rocket League. Along with scrimmaging each other, club members also participate in tournaments against local schools and out-of-state schools, of which they host an undefeated record.
Analysis: The streamlining of video games in modern society
Playing video games was a normal and regular part of any Gen Z child. Video games were the favorite after school activity for kids and their friends. During the '90s and 2000s, video games were seen as a lowkey taboo by society. They were seen as violent media that will corrupt the minds of the young children that played them. This assumption led to congressional investigations and the creation of ESRB, a video game rating system. To this day, many parents and adults hold the view that video games corrupt the minds of children it is to a much lesser extent. Many people have realized the potential and positives in video games especially during this pandemic. Children, teenagers and adults all came to realize the positive connectivity that video games offer during a time of forced isolation.
Gaming was already on the rise before the pandemic as hundreds of millions of dollars was being poured into the industry with celebrities and some politicians recognizing gaming as a legitimate and powerful industry. It was clear to everyone that gaming exploded during the pandemic. Due to the pandemic, many people took a shot at playing a large, story-rich video games like Cyberpunk 2077 or Red Dead Redemption 2, FPS titles like Apex Legends and Call of Duty Warzone, or cooperative multiplayer games like Among Us and Fall Guys. Video games allow for people to bridge the gap of social isolation and regular social interaction; it made sure that their homes were no longer boring and that there was something to do and look forward to.
WJ teachers about video games
WJ students are not the only ones that play and enjoy video games, as many teachers themselves enjoy playing video games too. Computer science teacher Fedor Menchukov talks about how he got into gaming and what gaming means to him.
"When I was a kid growing up in Russia, we had very few video games available to us, but they were always a very exciting social experience with friends. When I moved to the United States, video games helped me learn to speak English and provided a shared interest between me and my classmates, making it easier to make friends despite the language barrier. Gaming can mean a lot of different things to me as there is a great variety of games out there. Some games have a great story to tell, much like a good movie or book, while others can be a great social gathering where you can get to know all kinds of people," Menchukov said.
Physics teacher Adam Zeitlin describes how he started playing games and what gaming has meant to him since.
"Video games were disparaged pretty regularly in my childhood home, so naturally, I was drawn to them. If someone gets so worked up and emotional over something you've never seen, then by golly, it's gotta be good. I learned about video games from other kids at school mostly, and around the end of elementary school kids had started transitioning from Yu-Gi-Oh cards to GameBoys. Playing games has always been a social endeavor for me, which makes sense since humans are inherently social creatures that love to 'gamify' for their own amusement," Zeitlin said.
Clearly, gaming is not a phenomenon that has a significant effect on Gen Z; gaming bridges the gap between many generations as now parents are playing video games with their children. Social studies teacher Nicolas Atencio describes how he uses video games to connect with his son.
"The main reason is because it's a fun way to do something with [my son Alex] that he enjoys and cares about. I loved video games as a kid, but I haven't played much since college. I loved my Nintendo 64. Mario Kart and Goldeneye were incredible. One of the biggest problems we have faced as a family is how to encourage Alex to still have connections with his friends. Games allow for that. Playing with Alex brings fun and laughter. We can forget about everything else for a little bit of time," Atencio said.
Because many teachers have played or been aware about video games long before much of WJ's current student population, they have seen video games grow from a small and introverted community to the largest entertainment industry in the world.
"Gaming as entertainment has been an important part of societies throughout all of history, just like storytelling and theater. Video games, TV shows, and movies are barely over 100 years old at this point, and I think they are all becoming more consumed because of the availability of technology. Mobile games in particular have skyrocketed to [the mainstream] in the past decade. Last year, mobile gaming alone generated around $85 billion in revenue. Console and PC gaming have also been growing in popularity as technology continues to spread, and eSports has started gathering sponsorships akin to the NFL or NBA," Zeitlin said.
Menchukov supports this by talking about the popularity of gaming conventions.
"I think in many ways this has already happened, or is inevitable. You need not look farther than the attendance records of large developer conventions such as PAX to see a rapid growth in interest," Menchukov said.
Atencio mentions the blending of reality in video games.
"Games are much more immersive than they were in the past. They can blur what reality for better and worse. The escapism in many ways can be a positive. We get fun and entertainment, but I think there will be an issue that develops and that is: what if people prefer their virtual world more than the real world? I think that at some point we will see movies/TV shows and games merge together. For example, you can become a character in your favorite movie via virtual reality," Atencio said.
Your donation will support the student journalists of Walter Johnson High School. Your contribution will allow us to purchase equipment and cover our annual website hosting costs.
About the Contributor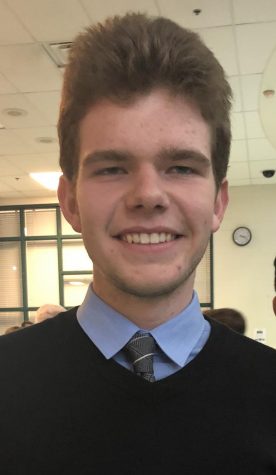 Danis Cammett, Print News Editor
Danis Cammett is a senior and this year is his second year on the Pitch and he is a Print News Editor! When he's not in school, Danis rows for the Walter...