Uncertainty for juniors-struggle with college plans
As the 2020-2021 school year flies by in the blink of an eye, it's time for juniors to begin thinking about college. However, with pandemic-related restrictions, the college process will be harder for these juniors than it once was. They will have to find new ways to fall in love with a school if they can't go see it in person, and ,unfortunately, it's not easy to stay with a friend or family member who attends a school of interest. With this in mind, juniors will need to find creative ways to conduct their college process because application time is approaching quickly.
Junior Veronika Lawson started her college search at the very beginning of her junior year. After finding some schools that catered to her wants, she further examined her list to narrow them down to the schools that also catered to her needs. Lawson used the websites for each respective school that she was looking at to make sure it checked off all of the boxes.
"Finding schools that I would enjoy but also that would be what I needed both academically and socially was a difficult process. I was able to eventually place about 12 schools on my list, placing them in either the safety, target, or reach category. The good thing about having needs though is that it can help narrow down your schools, which really helped me hone in on the schools that I liked the best," Lawson said.
Lawson plans to safely travel with another family to tour schools in the Northeast, even though most of these "tours" will be self-guided. Lawson hopes these visits will help her determine what kind of college environment is best for her.
"There are overseas universities that I have a lot of interest in attending, but can't visit at the moment. Overall, I want these visits to just simply give me a feel of different college environments to help myself along the college process," Lawson said.
Another junior, Ross Katcher, has been using a college counselor to help him navigate through the college process instead of doing it alone like Lawson.
"
Communicating with my college counselor has been super beneficial because I would be lost on my own. Having someone help guide me through the process has made me a lot less stressed about dealing with the college search
— Ross Katcher
"Communicating with my college counselor has been super beneficial because I would be lost on my own. Having someone help guide me through the process has made me a lot less stressed about dealing with the college search," Katcher said.
A couple years ago, Katcher was able to tour colleges with his older brother. This has helped Katcher, especially now because he can't go see such lively scenes at schools with the current COVID-19 restrictions.
"Going to tour colleges in person is extremely important so that I can try to find similarities between me and the students. Also, it helps to get a good feel of what others lives are like on campus. Being able to go see schools in the past, even schools I am not interested in, has helped me decide in present time what kind of student life I am looking for," Katcher said.
A plan has been devised for the WJ counselors to visit classrooms (virtually) to discuss Naviance and what juniors should prioritize now to get ready for the college process. Counselor Audrey Weissberg believes a great start for these juniors is scheduling a standardized test.
"Signing up for an ACT or SAT is a great way to start their process. WJ is offering a free SAT for juniors on April 13th. They can begin to prepare soon. All the resources for this preparation will be shared," Weissberg said.
She has many other suggestions for what juniors need to be thinking about as of now. She believes students need to start to think about where they want to be for college: east coast, west coast, north, south, etc. It is common that students want to stay in Maryland, some may want to start at MC. Size of the colleges are also something to think about. Additionally, if they know the area that they want to major in, then make sure the colleges they are interested in offer that major. Also, they should think about which teachers to ask for recommendation letters.
The worst things Weissberg sees when helping her juniors are the unbearable amounts of stress.
"Every year the students feel the stress from hearing rumors from the older kids. Take it one step at a time and try and not compare. Everyone will be talking to each other and that also adds the amount of stress and competition. Just keep everything in perspective and keep coming to talk to us, your counselor," Weissberg said.
How Is My Site?
Sorry, there was an error loading this poll.
One thing that she hopes all students can begin to realize is when it comes time to start applying and receiving those decision emails, everyone will end up at the right school.
"Remember it's not about your getting accepted by the college, it's about you accepting the college. This is your life and you need to feel as though this is a good fit for you. There are no mistakes, it's all about learning. There is more than one right college for everyone," Weissberg said.
Your donation will support the student journalists of Walter Johnson High School. Your contribution will allow us to purchase equipment and cover our annual website hosting costs.
About the Contributor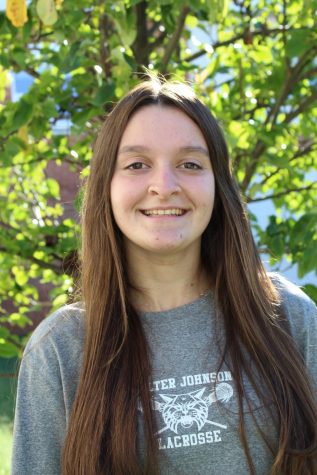 Jillian Ward, Print Managing Editor
Senior Jillian Ward is excited to participate in her second year with the Pitch as a Print Managing Editor. In addition to writing for the Pitch, Jillian...