S*T*A*G*E takes the spotlight again with acclaimed "12 Angry Jurors" fall production
Yellow spotlights illuminated the stage as 12 cast members of S*T*A*G*E took seats around a long wood table and delivered "12 Angry Jurors," a play adapted from the classic 1950s courtroom drama "12 Angry Men." This November, for the first time in two years, S*T*A*G*E returned to the live theater.
In the play, 12 jurors partake in a murder trial, where they must reach a unanimous decision. With the accused's life on their hands, all the jurors vote guilty except for Juror #8, whose skeptical caution leads the jury to evaluate and discuss the evidence. The show is mainly composed of conversations among the jurors and occurs exclusively in one setting—the jury room.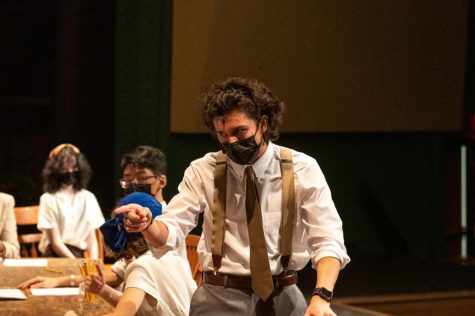 This play was selected for the fall production because of the simplicity of the setting and the adaptability to both recorded and live performances when indoor activities policy hadn't been fully determined.
"Up until about two, maybe three weeks before the show, we still hadn't heard whether we were going to be able to have an audience," Director Colleen McAdory said.
They even considered a Zoom-mediated show. Fortunately, they were allowed to perform on-stage with a live audience.
The pandemic had disrupted the regular training and practice for S*T*A*G*E members and deprived them of performance opportunities.
Senior Jackson Biggs from Cast B, who played Juror #3, a character who strongly upholds the guilty verdict in the show, felt regretful for losing two years of in-person S*T*A*G*E practices and performances.
"It's very unfortunate and sad that we didn't get three of our shows," Biggs said. "Not only did we not get to experience that, but we also didn't get to grow from that."
Many previous members had graduated, and the current group mostly consists of students who lacked stage experience, which posed challenges to the rehearsals and performances. "We have a lot of new people this year," McAdory said. "Only four or five students I've worked with before. Usually, there would be more."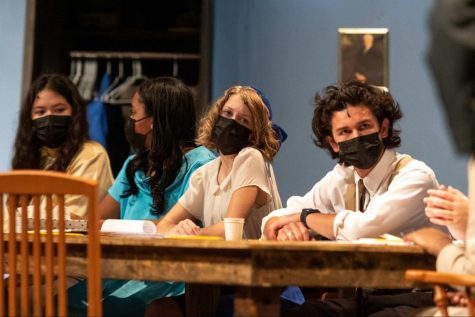 S*T*A*G*E rehearsed every day after school since September. The experienced seniors worked closely with new underclassmen to carry out the show.
Senior Felix Belotti, the stage director, worked hard to rebuild an effective crew team. "There were so many people that needed to be trained, like how to use a fly system or how to use the saws," Belotti said.
Similarly, the seniors in the cast offered support to new members in the rehearsals. "There was a lot of pressure on everyone," Biggs said. "We [seniors] spent a lot of time trying to show the freshmen, sophomores, and juniors who hadn't performed on stage before how to prepare for the show."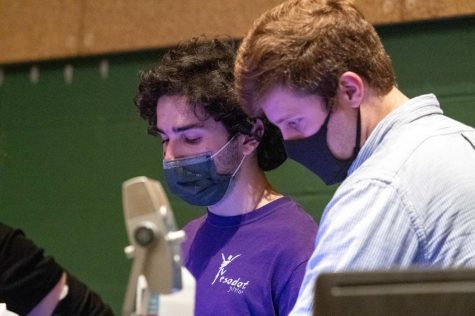 Despite all these barriers, the actors and actresses were devoted to their roles.
"What I learned this time more than any other year is how to truly get into character. You always grow as an actor with each new role," Biggs said.
Senior Jakob Sandberg from Cast B, portraying the dissenting Juror #8, echoed this sentiment.
"The character that I play is described as someone calm and a bit quiet. I put my passion into the words I said, without being mean or being a stereotype, which was hard but fun," Sandberg said.
The show ran four times in mid-November. The cast performed wearing masks and microphones.
"In the beginning, we thought [that] because of the pandemic, people were going to stay away and we weren't going to have much of an audience. But fortunately, we had a larger crowd than what we thought we were going to have," McAdory said.
The play received praise from audience members. "They really fine-tuned everything," senior Tara Sandman-Long said. "I didn't know what to expect from the play, but I thought it was well-done."
"The show was amazing. It had some great turns and twists," sophomore Vasily Syomin said
Cast and crew efforts were recognized, too.
"This is a pretty simple production, but the crew went all out. I loved the sets and costumes," Sandman-Long said.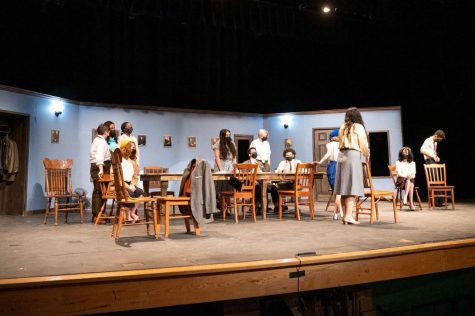 Notably, students were impressed by the show's content and message, and its relevance to contemporary political events, that were made accessible to students in an exciting and entertaining way.
"I liked the political statement made and the awareness that it brought to misunderstandings in court rulings due to biased jurors," Syomin said. "The cast showed that message really well through their acting."
As S*T*A*G*E wrapped up their fall drama production, the members have also built up their skills and gained experience together.
"We all definitely grew a lot as a community," Sandberg said. "I can't wait to see how it goes for us in the spring for our musical."
Your donation will support the student journalists of Walter Johnson High School. Your contribution will allow us to purchase equipment and cover our annual website hosting costs.
About the Contributor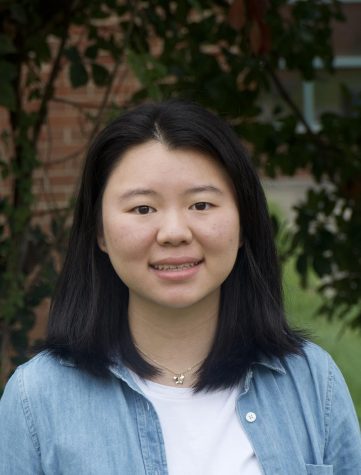 Allison Xu, Online Feature Editor
Allison Xu is a junior and is excited to be the Online Feature Editor on the Pitch this year. In her free time, she enjoys writing short stories, baking...