"The Beatles: Get Back" restores a hint of humanity to the saga of The Beatles
In January 1969, The Beatles, by then a global musical phenomenon that for nearly a decade had taken the world by storm, held what would be their final live performance—a 42-minute unannounced rooftop concert at their Savile Row studio in central London—before the band's eventual dissolution just a year later. With the distribution of near-libellous newspaper stories, the accompanying 1970 documentary film "Let it Be" and various post-Beatles interviews by the band members, that period of time has since gone down in music history as a month marked by discord and conflict and as a foreshadowing of their inevitable tumultuous breakup.
This is the focus of director/producer Peter Jackson's Disney+ documentary miniseries "The Beatles: Get Back" (2021), which chronicles the band's three weeks of recording sessions leading up to the concert, with a three-part release last Thanksgiving weekend. The series is composed entirely of footage from the sessions that had been filmed for their 1970 documentary film, restored and remastered to feel like it was made just yesterday.
To many critics and Beatles fans, the series is an intimate fly-on-the-wall depiction of the band's creative process. To others, it is an unfaithful whitewash that attempts to paint over unsavory details of the time period. But to me, it is a necessary telling of the band's relationship with one another and with their closest associates.
"The Beatles: Get Back" reminds us that the band was made of real people, not mythic figures who could do no wrong. The witty John Lennon, the charming Paul McCartney, the spiritual George Harrison and the ever-radiant Ringo Starr; these stars, while being cemented as pioneering legends in pop culture, were and are people who felt real love and pain and hurt, and this series shows us that over and over.
Start to end and with little pretense, the series immerses us in emotional experiences from George throwing shade on Paul for his ceaseless micromanagement and the band reminiscing on their early days in the height of Beatlemania to Paul defending John's partner Yoko Ono while tearfully realizing that the band was destined for a rocky death in a moment of heartwrenching clarity.
These stars, while being cemented as pioneering legends in pop culture, were and are people who felt real love and pain and hurt, and this series shows us that over and over.
Fun, off-hand moments that really gave the series a nice personal touch include George casually asking for "some cheese sauce for the cauliflower"; Ono intimately conversing with Paul's partner Linda Eastman while the band rehearsed "Let it Be"; and fellow musician Billy Preston teaching George to play an "E with a C" on the piano.
Equally exciting are the scenes that form the bulk of the series: unedited, unfiltered and uninterrupted lengths of rehearsal and jamming that feature the band just doing what they do best—playing music.
Some of my favorite moments are when Paul absent-mindedly strums his violin bass and vocalizes while awaiting John's arrival to the studio, eventually forming the tune of "Get Back" the song; when Ringo cheerfully demonstrates his new composition "Octopus's Garden" as George proudly plays along with a sunburst acoustic; when the gang loosely covers early rock 'n' roll hits like "Shake, Rattle and Roll" (Calhoun) and "Blue Suede Shoes" (Perkins); and when John and Paul humorously rehearse a take of "Two of Us" with matching guitars and ventriloquist-like gritted teeth.
I absolutely loved listening to the gradual evolution of "Get Back" (again, the song) as it transformed from a throwaway riff to a frank protest song that unabashedly criticized anti-immigration sentiment in British politics to the Chuck Berry-reminiscent version played in their rooftop concert. It was also fun seeing later songs such as "Maxwell's Silver Hammer" and "I Want You (She's So Heavy)," with the former featuring road manager Mal Evans's anvil and the latter in the form of a Martin Luther King Jr.-inspired jam, that had snuck their way into the January recording sessions.
In the midst of the pain, the dissension and the obviously-present tension, the band's love for each other and their honest desire to continue loving each other shines through. "You know you hold me up/From where some try to drag me down," George sings as Paul dances along from behind, which I think is the best impression of how they really felt about each other at this time.
In stark contrast to what has long been canonized in Beatles lore, "The Beatles: Get Back" shows us that the January 1969 recording sessions were not filled with hate but with love, and that love was all The Beatles ever really needed. It highlighted not only why the band at this point couldn't stand to be with each other, but also why they couldn't stand to be apart from each other, and that honest portrayal really captures the heart of what this time was all about.
This series had me chuckling, crying and singing along through the entire thing in a neverending rollercoaster of emotions. It reminded me why I started loving The Beatles in the first place—they were there to help me feel love and laughter in my life and gave me something to really live for, whether it was a hand to hold or a bird that can sing, some words of love or a yellow submarine.
There's so much more left unsaid about this—George's sudden temporary quitting of the band and the impact of the corresponding off-screen diary sequence that ended the series Part 1; the masterful machine learning work done to digitally restore used footage; and the band's relationships and interactions with their various associates, from their always-supportive producer George Martin to the now-infamous Magic Alex and sleazy manager Allen Klein.
But the main takeaway is this: "The Beatles: Get Back" is perhaps the most important addition to an already-powerful collection of works about The Beatles, and its fly-on-the-wall perspective really highlights why JPGR were undoubtedly the Fab Four.
About the Contributor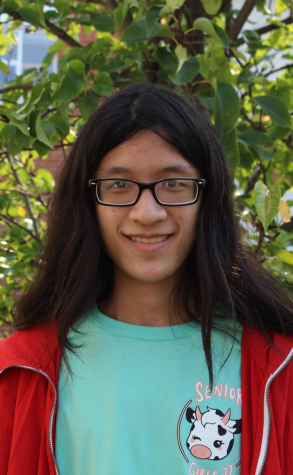 Ellie Montemayor, Senior Arts and Entertainment Editor
Ellie is excited to be this year's senior A&E editor in her second year of The Pitch. She can usually be found reading dusty old textbooks, spending...