Students share the reality of switching teachers and classes
With the second semester beginning, many students find themselves feeling unhappy with their schedules. Some feel thrown off by the presence and style of new teachers, others have realized they dislike a class they decided to take and others just feel annoyed by the change. Although many counselors have maintained that students cannot switch teachers, in some cases a good portion of students have been able to make such changes.
On Feb. 13, Principal Jennifer Baker sent out an email to parents regarding schedule changes.
"We understand that changing teachers this semester was more challenging than in the past. We have all experienced so much change these past two years. However, our resilient teachers and students have smoothed the pathway for success and I am very proud of everyone for carrying on in such a challenging time. As always, please do not hesitate to ask for assistance as needed," Baker said.
Counselor Audrey Weissberg attributed difficulties in requests to the size of the student body. "We don't do teacher requests. That's one thing, at a school as big as ours, it's just impossible to do. It's impossible to just be like, 'oh what teacher do you want?' and make it perfect," Weissberg said.
A couple months prior to the start of second semester, freshman Maria Goergen-Alvarez went to her counselor for a class switch.
"I switched from yoga to volleyball, because all of my friends were in second period volleyball and I wanted to be with my friends. My counselor is really nice, [and] he moved around my whole schedule," Goergen-Alvarez said.
The ease at which the switches occur vary by the situation.
"I think it really depends on the counselor. Some counselors are really nice and seamless about this, and some counselors want to go by the book and definitely not do it. I think when there's parent intervention it's a lot more likely for you to get your classes switched," an anonymous student said.
The same student had a relatively negative experience when trying to change classes.
"I had a different teacher [during first semester], and my new teacher was just kind of a bad teacher, and I didn't think I would do well in that class. So I wanted to switch. I went to my counselor three times, and then I went to my administrator, and they all said no. And then I guess I annoyed them for long enough, because at some point they called me down and [said] my classes were switched. It was really odd," the anonymous student said.
Weissberg views those kinds of switches as only for extreme cases.
"We like to get kids ready for the real world because sometimes you're going to have a teacher that matches your learning style and sometimes you're going to have a teacher that doesn't. And it doesn't make them a bad teacher, and it doesn't make the student a bad learner. It's just a little different, and it actually proves to be a good learning experience for kids," Weissberg said.
Weissberg is sympathetic to the difficult switch between first and second semester.
"We [get] used to teaching styles from semester one and we want to mirror it for semester two, so it's scary. And so kids, their knee-jerk reaction is 'I want to switch', but given time… it usually works out for the best," Weissberg said.
Your donation will support the student journalists of Walter Johnson High School. Your contribution will allow us to purchase equipment and cover our annual website hosting costs.
About the Contributor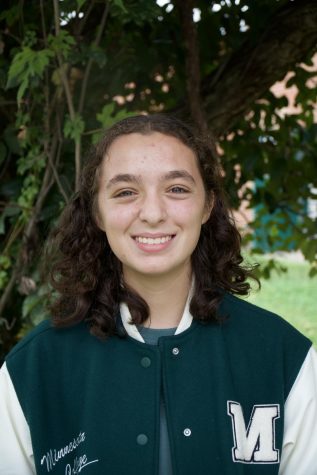 Mia Halper, Copy Editor
Mia is a Copy Editor for the Pitch this year. It is their first year on Pitch. As a hobby, they play the drums.