"Top Gun: Maverick" accomplishes sequels in a new way
Fans of the famous 80s movie "Top Gun" thought they would never see a sequel, until "Top Gun: Maverick" was announced.
This sequel follows Pete "Maverick" Mitchell in his career as a test pilot who hasn't quite moved up the ranks yet due to his rambunctious flight style that has surprisingly got him (and many others) out of trouble. Going from the classic "Top Gun" movie to this sequel, fans were worried about the film's authenticity
However, within a week of its U.S premiere, "Top Gun: Maverick" has already exceeded expectations, with multiple critics claiming it has even surpassed the original. It has already surpassed $600 million dollars in box office revenue.
Stepping into theaters, I did not have a great idea of what the sequel would look like, except for the fact that there would be a pilot (Maverick's late wingman's son, Nick "Goose" Bradshaw) who would be a subordinate to Maverick. Needless to say, I was impressed with how they pulled it off. However, I will say that this installment of the series was different from the original.
One aspect of the original that shapes it is the rivalries that occur between main character pilots (Maverick and Rooster) and "top of the class" pilots (Iceman and Hangman). This aspect has been amplified in the sequel, which allows us to still feel connected to it.
The classic "Great Balls of Fire" singing scene between Maverick and Goose has also made it into the sequel in an even more spectacular way. This time, Goose's son, Rooster, (Miles Teller) takes his father's place.
These compact similarities to the original have kept the authenticity of the franchise despite their differences. Viewers are looking for these relationships to the past while also the perfect blend of new plot lines.
When comparing the two movies, there seems to be more emotion in the sequel than in the original. I have never been tossed around in a movie like a bowl of salad getting mixed in my life until I saw this. As dramatic as it may seem, this movie was a rollercoaster. As you watch the pilots flying all over, you can't help but mimic their expressions and feel what they're feeling.
We also learn a lot about the rivalry between Maverick and Rooster as they continue to mourn the loss of Goose, who died 30 years prior. Maverick gets placed back in Top Gun to teach fighter pilots (including Rooster) tactics to effectively complete a dangerous mission, where they would have to destroy an enemy's uranium plant. Even in Maverick's 30 years of experience, he is still as reckless as they come and encounters several complaints in his teaching maneuvers to the crew.
The flight sequences are among the most energetic and action-packed as I have seen out of any action movie in the past couple of years. Sound effects, faces, flares, yelling and other parts that make up a perfect action fight scene were all there.
For some reason, this sequel felt closer to reality than the original, which explains why it has seen such high reviews even in its first week. The movie reviewing app, Letterboxd, was one of the first platforms to see such fast, positive reviews on this movie, holding a 4.2 out of 5 stars. For reference, the classic cult movie Casablanca (1942) also has a 4.2 rating out of 5 on Letterboxd.
Aviators use something called "brevity codes" in their communication to relay quick information to each other and in this sequel, they felt closer to what a real call might sound like between fighter pilots. The mission that they have in the sequel also has its differences from the original because there is less air combat between enemy pilots and more sneaky maneuvers in order to stay "under the radar."
Too often, we find sequels stray away from the original or even end up too similar, but for some reason, "Top Gun: Maverick" was the perfect, happy medium. That's not to say that this sequel was perfect. There were some things I liked better in the original than in the sequel, but it all worked out.
A lot of times, filmmakers are too concerned with too many things when making a sequel that they forget their original purpose: to continue a story.
"Top Gun: Maverick" was able to continue the story in addition to highlighting other emotional aspects.
This sequel has a mix of similarities, differences, flashbacks, new characters and emotional plot lines to create an entirely new movie with connections to the original. After this movie, there is a possibility that we will see more sequels with the same tactics, because in the end, the viewers want something different and extra, but they also want originality.
Your donation will support the student journalists of Walter Johnson High School. Your contribution will allow us to purchase equipment and cover our annual website hosting costs.
About the Contributor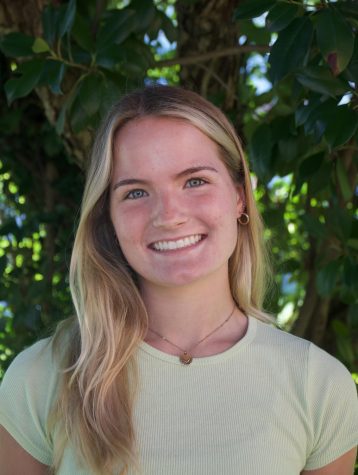 Nicole Weaver, Online Managing Editor





Nicole Weaver is an Online Managing Editor on The Pitch. In her free time, she enjoys driving and dancing.