New student advisory board creates voice for students on school issues
Hoping to better facilitate discussions between students and staff, the Student Advisory Board (SAB) was created following a study circle retreat with Diversity, Equity and Inclusion Instructional Coordinator Allison Hoefling. The goal of the board is to allow students to share their perspectives on decisions that are being made for the school in frequent meetings between the administration and students.
Students had shared that they would like to work with the administration to maintain an environment that aligns with Principal Jennifer Baker's "Equity 365" plan. When it comes to issues that affect both students and staff, the school administration has expressed that it values hearing students voice their opinions and creating closer communication.
The SAB has already been responsible for the implementation of multiple new school-wide policies. The wellness schedule change for this year was a main part of the discussion as students suggested lengthening the lunch period and taking out Wildcat Wednesdays to replace with wellness periods every week. They are now in the middle of creating wellness lunchtime activities to add to the wellness days.
With the new ID rollout, the board also had a big role in working through potential problems. One major issue was ensuring that transgender students who use their deadname at school but not at home feel comfortable with the name on their badge.
Members of the board have also been able to provide feedback on teacher meetings and grade-level meetings. After every meeting, administrators and teachers take feedback on the issues that were discussed to either create new policies or amend existing ones.
"We are committed to using student voice in the decisions we make and to clearly communicate with students how decisions are made and why we make them," Hoefling said.
Students from all different grade levels join to not only provide their unique perspectives but also listen and learn about the process that the administration goes through when discussing important school-wide issues. SGA president Ethan Mendes, who has been a part of the SAB since its creation, emphasized the importance of getting involved on the board.
"It is very important to have a student advisory board because a student knows what it's like to be a student more than a teacher does. With student help, we can really make a difference in the school," senior SGA president Ethan Mendes said.
Sophomore Ella Berton has already felt a difference in the WJ community; the administration is closer and more in tune with students' needs.
"Not only does it benefit the school administrators to hear directly from [the students], but it helps create an enjoyable environment that benefits everyone," Berton said.
Students can join by emailing Hoefling or they can apply through a sign-up link that was in a recent email sent out by a member of the SAB. The board is a mix of grade level, gender and ethnic background to ensure that there is enough representation of the student body, and members of the board are always encouraging new students to join and feed into their mission to hear the concerns of the WJ community from a student perspective.
Your donation will support the student journalists of Walter Johnson High School. Your contribution will allow us to purchase equipment and cover our annual website hosting costs.
About the Contributor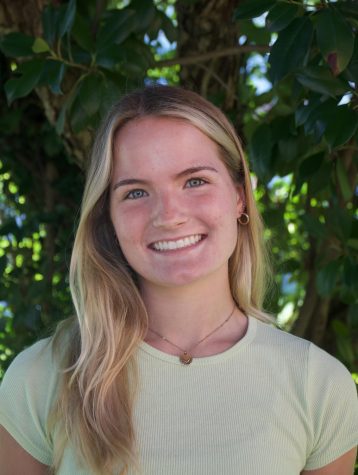 Nicole Weaver, Online Managing Editor





Nicole Weaver is an Online Managing Editor on The Pitch. In her free time, she enjoys driving and dancing.