WJ's newest technology teacher recounts experience with extreme weather
When a major hurricane hits the United States, it's impossible to tune into the news without hearing wall to wall coverage of the storm. However, it can be difficult for students to fully understand the scope of the devastation especially when Montgomery County rarely experiences extreme weather events compared to much of the rest of the nation.
Computer Science teacher Alfredo Cruz wasn't surprised in September 2017 when a massive category 4 hurricane was forecasted to hit the island of Puerto Rico where he lived.
"Everybody who lives in Puerto Rico has had some history with hurricanes. I remember there was another hurricane that was coming 2 weeks before, Hurricane Irma, that was supposed to hit us fairly hard, and most people were already prepared for that hurricane[…] When Hurricane Maria came around people were concerned but [Irma] gave them a false sense of security that the other hurricane wasn't as bad as they thought," Cruz said.
When Maria hit, Cruz was earning his Masters' in computer science at the Polytechnic University of Puerto Rico. He wasn't particularly concerned about the potential impacts of Hurricane Maria, but as a lifelong resident the island's vulnerabilities were common knowledge.
"The power grid in Puerto Rico is not the best one. If you live in Puerto Rico you can expect the lights to go out literally once every 1-2 weeks. It could be one to five minutes to an hour or even a day. So it is something that you are constantly dealing with in your everyday life. Since I moved here I don't think my power has ever been out for more than 30 seconds," Cruz said.
On the evening of the 20th, Cruz was at his home with his mother and sister and decided to bunker down while the storm raged outside.
"It was very strong. I remember you could hear the car that was inside of the garage moving. The garage itself had certain parts that were made out of metal zinc, you could hear that moving also and some of it flew over. You could hear a lot of sounds and it could be scary if you're not used to it. But based on my experience I was not that overly concerned. At some point I did see my mom, who I was staying with at that time, and my sister concerned about the noises that were coming from the outside. Because you could literally hear and see trees flying over and hitting the houses, but none of them were hitting our house," Cruz said.
Before the storm hit, Cruz expected the water to be out for a few days and the power to be out for one to two weeks at the most. But when he woke the next morning after the hurricane had passed, he was shocked by the extent of the damage.
"I was not surprised that we didn't have power, I was not surprised that we didn't have water. However I was surprised at the fact that we didn't have any phone signals so we couldn't communicate with anybody. The radio itself wasn't working that day so we didn't have any way to communicate with the outside world. So I think that was the scariest part. Knowing that the hurricane… [had] destroyed all of the communication systems that we had on the island, and we had no way to check if our loved ones were in good shape. I remember going outside and you could not drive because there would be a lot of things, trees, rocks, trash on the road. So even if you wanted to check on them you couldn't go through the roads," Cruz said.
The island was hit by 155 mph winds, 22.8 inches of rain and storm surges of up to nine feet in the most heavily impacted areas, according to the National Weather Service. Maria ended up being the third costliest hurricane in U.S. history, with damage estimates totalling in the tens of billions of dollars.
"I believe after a month you were able to communicate through your phones… I do remember that people used to literally stop on the highway because there were specific areas in the highways where they would get signals. That was one thing that stood out. I remember trying that with my family once. Our phone didn't get signal, but we saw that other people were getting signals," Cruz said.
Two weeks after the hurricane, Cruz was able to take a plane to California to finish his trimester at San Bernardino State University. However, the difficult situation at home weighed heavily on his mind.
"We were always very… I don't know what would be the right word, maybe anxious or hopeful to be able to go back as soon as possible. Because it also gives you like a sense of guilt leaving your family, go through that and you being able to just move somewhere else and continue like nothing happened. So everyone just wanted to go back home with family after that experience that they went through," Cruz said.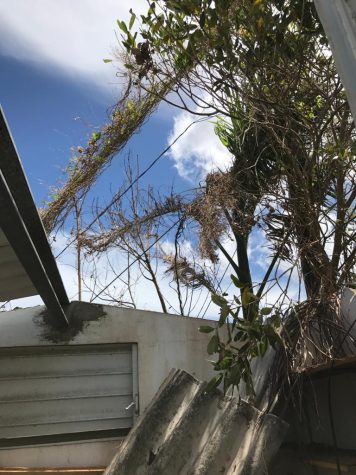 In the wake of the hurricane, the Puerto Rican government came under heavy fire over the mishandling of the response to the hurricane. In addition to widespread misappropriation of disaster relief funds, an official report from the government heavily understated the number of people who were killed by the hurricane.
"Something that stood out for me was that they kept saying the death toll was like 16, then it was 64 after a couple of months. And you just knew that they were hiding information or they were lying. And then I think a year after a university did a research where they found out that over 2,900 people died. So a lot of people died, their bodies, some of them, were never found. And it was just a very sad situation overall. Especially knowing what happened to Puerto Rico, it had to be rebuilt from the ground up and that took a long, long time," Cruz said.
A year after the hurricane hit, Cruz moved from Puerto Rico to Montgomery county to work at Gaithersburg Middle School as a technology education teacher, though he had planned his move since before the hurricane. Other members of his family, however, moved out as a direct result of Hurricane Maria.
"Due to Hurricane Maria, my grandparents and many other family members had to move. Because my grandparents, they had a lot of conditions where they required electricity and water to survive or live their daily life. So they moved to Florida with other family members and other aunts also followed them through to make sure that they had everything that they needed. And to this day they've never returned," Cruz said.
For WJ community members whose family has been affected by any of the recent hurricanes, Cruz emphasizes the importance of resilience.
"I would say that everything in life happens because of a reason. I'm sure that god has his plans for everyone and to have faith, reach out to their family and try to support them as much as they can. Because it's hard, what can you do when you are miles away from your family who just went through that," Cruz said.
Five years out from Hurricane Maria, the island continues to struggle to recover.
"Going to Puerto Rico you can still see things that happened because of that hurricane. Houses that were destroyed, roads that were destroyed. And it feels hard that you go through that situation and you try your hardest to build from, because many people have to build from nothing again. They lost their homes, many of them didn't even have insurance for their homes. Starting from nothing and knowing that that could happen again, maybe not next year but in the next five years. If I was living there I would always be anxious of when is that gonna happen again," Cruz said.
Your donation will support the student journalists of Walter Johnson High School. Your contribution will allow us to purchase equipment and cover our annual website hosting costs.
About the Contributor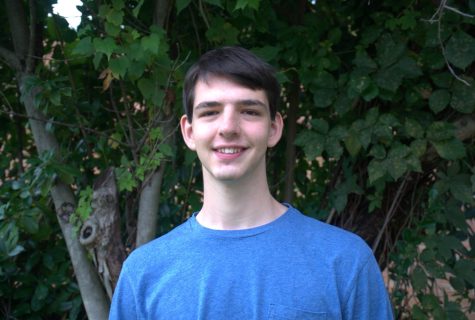 Alexander Lewton, Print News Editor
Alexander is a Print News Editor for the Pitch. He is a senior and in his free time he enjoys reading, hiking, and playing the piano.