Students pull back curtain on foreign language music
The globalization of music has not only caused American acts like Drake and Taylor Swift to become worldwide celebrities, but also brought new cultures of music into the mainstream, with the biggest genres taking the country by storm being K-Pop, reggaeton and afrobeats. The already diverse American soundscape has been widened by these new sounds, with the newest generation being the biggest adopters. However, for those who don't listen, these genres can seem like a mystery, not just because of a language barrier but a cultural one as well. In order to pull back the curtain for the uninitiated, three students have offered their experiences and thoughts on these growing genres.
Puerto Rican artist Daddy Yankee is seen as the forefather of reggaeton, the hip-hop and dancehall fusion which originates from the Caribbean island, with its contemporary stars such as Bad Bunny and J Balvin leading the charts. Bad Bunny in particular has captured the attention of the American audience, with his most recent album Un Verano Sin Ti holding its number one spot on Billboard for 13 straight weeks.
"I think [mainstream acceptance] will definitely make the music industry more diverse, in the sense that more international people will be seen on the Billboard Top 100 and winning music awards. Singers will start embracing their culture, not changing what they make to fit into what's popular," senior Daniela Salas Montes said.
Superstar artists like Cardi B and Nicki Minaj have already incorporated reggaeton into some of their own music, but there has been a debate as to whether the messages spread in reggaeton have reached the same audience as their sound.
"I think Bad Bunny's political messages are definitely glossed over. People tend to not listen to the lyrics, and completely ignore him destroying gender norms, spreading awareness about instability in Latin America for women, and talking about problems going on in his home of Puerto Rico," Salas Montes said.
The explosion of K-Pop in the 2010's came seemingly out of nowhere, with young Americans, particularly girls bringing the music to the eyes of everyone on the internet through posting fan cams and spreading hashtags across social media. K-Pop is almost too general of a category, with the supergroups that make up the genre making anything from sanitized pop, low-key R&B and hard hitting hip-hop, all infused with their own sound. The dynamic of the K-Pop industry is much more capitalistic than in other countries, with idols often being brought up in talent agencies from childhood, being professionally taught to sing and dance from a young age and having companies control their image.
"Due to the way the industry works, artists aren't allowed to post on social media for themselves, so they can't interact with their audience the same way other artists can. I think of it like Barbie Dolls…it's a company giving announcements. The artists can't connect with their audience because they're not allowed to, or at least most aren't. However, that does mean you get constant updates and announcements, if a member got kicked out, or a new group formed or a new song is coming out etc," junior Devin Bittencourt said.
The most striking difference for Americans looking at K-Pop is the devoted legion of fans, known as stans, who post almost religiously online promoting their favorite group's music.
"I would not consider myself a stan at all, because they will cancel someone so fast for the smallest thing…it just generates a huge mess online of either completely hating and shutting down artists or the complete opposite. For the bigger groups, such as BTS, their fans are insane, they get too into it, too deep, too quickly. It's a very toxic community, I won't say it's most fans but it is many," Bittencourt said.
It's debatable which artist brought the West African pop and dance music genre Afrobeats to the United States, but one thing is clear: it has certainly made its impact. From being featured in Drake's popular house inspired album Views in 2016 to stand out hits on their own like "On the Low" and "Essence (ft Tems)" from both Burna Boy and Wizkid respectively, afrobeats has made its presence known. Currently the genre is more underground than reggaeton and K-Pop, but it has found a large audience in the African diaspora, with countries like Nigeria, the UK and Ghana having both the most listeners and creators. For Zambian senior Mwisala Phillips, this genre is more than just music, it is a gateway to understanding.
"
I've always been surrounded by music from different cultures…and because of that I think I learned more about not just the music, but the languages and culture throughout just years of listening. Being from an African country helped with wanting to learn more about those other countries' cultures.
— Mwisala Phillips
The newest afrobeats artist to take hold of the public's attention has been British-Nigerian star Tems, with her most recent R&B and afrobeats fusion EP If Orange Was a Place peaking at number seven on the Billboard world albums chart and featuring a collab from the DMV's own Brent Faiyaz. Tems has followed Wizkid's path in collaborating with headlining American artists such as Justin Beiber, Future and Drake, and has even been tapped by Disney to perform a song on the upcoming Black Panther: Wakanda Forever soundtrack, proving to the country that afrobeats has a bright future ahead of it.
A trend that has encompassed all three of these genres is the introduction of more English words into previously foreign language songs, most likely in an attempt to appeal to more Western audiences.
"Personally, I don't like it all. All artists start from somewhere, and some make music to appeal to the mainstream instead of slowly building an audience to become popular as they already are. Not everyone has the patience for success, but I think it really ruins their music. With K-Pop, so many groups have changed up their sounds completely…and it's worked, they've gotten a lot more popular. I hate it, yeah you're more popular, but how are you any different from any other artists? They are no longer unique in any way," Bittencourt said.
Others take a more optimistic view of the situation, recognizing the benefits it brings to the artist.
"I think it's okay as long as people still recognize and acknowledge who and where this music is coming from, as well as the culture behind it. I believe it does help broaden the audience," Phillips said.
Your donation will support the student journalists of Walter Johnson High School. Your contribution will allow us to purchase equipment and cover our annual website hosting costs.
About the Contributor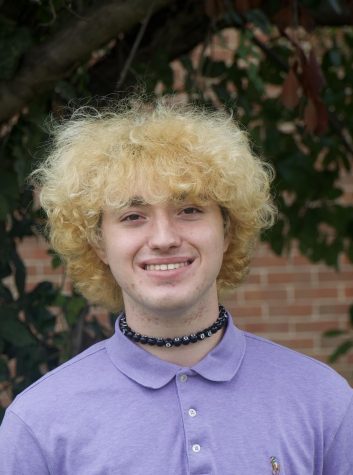 Liam Dorrien, Print Arts and Entertainment Editor
Liam is a Print Arts and Entertainment Editor and has been with the Pitch for two years. In their free time they enjoy playing guitar and watching movies.