Dancer Katie Berkman pirouettes into success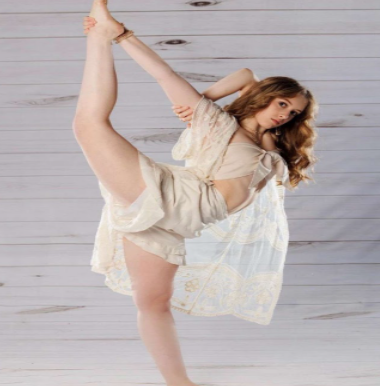 Junior Katie Berkman has experienced a lot in the field of athletics, but no sport has stuck with her in the way dance has. Her desire to spend every afternoon spinning and leaping is drawn from her older sister, who motivated her to begin the dance pathway that would have an impact on the rest of her life.
Dancing since 2013, Berkman's love for this art form began after she realized no other sport was right for her. She tried soccer and basketball for the first few years of her life, but when she first stepped into the C-Unit dance studio, Berkman knew she was home.
"So then I tried that [dance] and I definitely liked it. I made the company my first year and I've been there ever since," Berkman said.
Berkman's dance revolves around many different genres, including contemporary, ballroom, tap, jazz, hip-hop and ballet. In total, Berkman spends about 30 hours a week at the studio practicing with her team, learning numerous dances or teaching classes for younger groups. She has always been a dancer.
"My earliest memory of Katie dancing is when I came home from my first hip-hop class and taught her the combo because she wanted to be a part of it so bad," Berkman's older sister and dancer Jordan Berkman said.
Berkman's persistence grows everyday and she shows it both at home and in the studio.
"In the past two years her persistence only increased because she worked so hard in dance… I get to see her hard work pay off and I can see her talent and potential grow," Berkman's twin sister junior Jessie Berkman said.
The accumulation of practice and potential manifests into one powerful on competition day. Competition day is a whole different world compared to practice. Dancers typically begin getting ready about three hours prior to the performance, slicking their hair back into tight ponytails and making their makeup flawless. When all is ready, the dancers begin to stretch and warm up two hours before showtime until it is time to meet in the dressing room for the last hour.
"Some [dance] numbers are either scratched or canceled and you need to be ready to go in case you're on early," Berkman said.
Katie has had plenty of ups and downs throughout her dance career, but the positive work environment her dance team fosters is the reason she sticks with it.
"We've all been with each other our whole lives, so we're a little family and we are all super close because we're around each other for five hours a day," Berkman said.
On Dec. 11, the C-Unit dance studio performed new dances that they had been practicing since June. In this three hour show, Katie was featured in 7 out of the 22 dances; she took part in six group dances and one contemporary solo. In preparation, Katie practiced non-stop.
"She hears things in music that you would never notice until she presents it. She goes for blood everytime," Jordan Berkman said.
Although she is not sure whether she wants to further pursue her dancing career after high school graduation, Katie continues to work hard at every competition and is ready for any opportunity. Either way, Katie will be continuing to participate in training and touring with the faculty of Velocity Dance Convention as an MVA+ for a pre-professional program, along with her training at C-Unit dance studio.
"We'll see where it takes me because I'm really interested in commercial dance, like music videos, TV shows, movies and stuff like that. I've always really been interested in that, rather than Broadway," Berkman said.
Your donation will support the student journalists of Walter Johnson High School. Your contribution will allow us to purchase equipment and cover our annual website hosting costs.