The Republican party has a Maryland problem
The Maryland Republican Party is, for lack of a better term, going through an electability crisis. The party and its candidates are having significant trouble fielding candidates with a realistic shot of winning, and are increasingly being viewed as out of step with the Maryland electorate.
Donald Trump received the lowest share of the vote for a Republican presidential candidate in the state 2020 in over a century. Dan Cox had the worst defeat for a Maryland gubernatorial candidate in over 3 decades. Republicans missed opportunities to pick up county executive seats that they had every right to be favored in during the midterm of a Democratic presidency.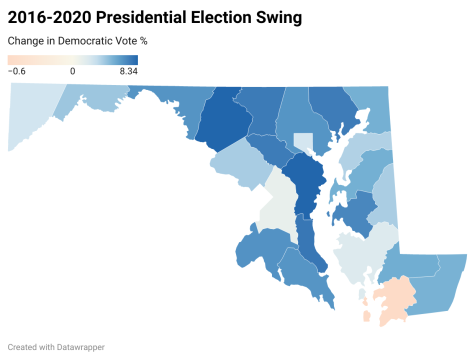 The concept of what's happening is easy enough to understand, but what changes are happening at a deeper level to cause this?
Before we get started, let me set some things straight. This is not going to be your typical opinion essay on politics. There's certainly a political slant to it, and I'll be the first one to admit that I have my own political biases, but this article will be centered on the shifts in how the state has voted and the reason why it has become so out of reach for the GOP.
In order to understand how this shift has happened, it's important to understand how candidates gain support. Candidates win elections because they are able to build coalitions, building a broad voting base from enough of the participating voters to get a majority, or, in particular cases, a plurality.
The map shown below detailing population growth in the county since the 1950s also shows the areas that have increased in their political power in the state. As more and more college-educated workers have moved to central Maryland counties such as Montgomery county, Prince George's county and Anne Arundel county over the past few decades, these areas have seen their influence in statewide politics vastly expand.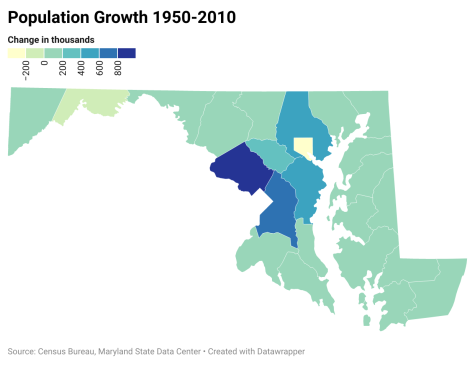 While Montgomery County, Prince George's County and Howard county have long been Democratic strongholds, they've become increasingly blue as college-educated voters across the country shift to the left. This has had an outsized effect in Maryland, one of the most educated states in the nation. Howard County itself is one of the most educated counties in the nation, as over 60% of citizens above the age of 25 have attained a bachelor's degree.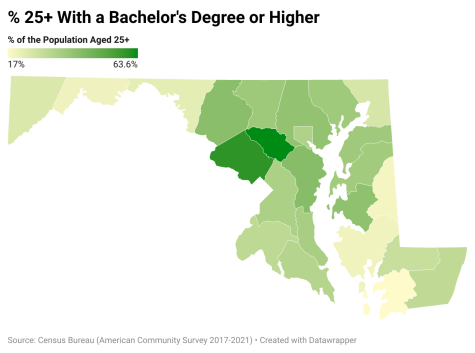 This increasing educational polarization has had a cascading effect on the polarization of Republican nominees in the state. As the party becomes increasingly conservative, more and more moderate college-educated Republicans leave the party, causing its primary base to shift further to the right. This causes more conservative, anti-democratic nominees to be nominated, further fueling the cycle.
As a result, Republicans are now losing up and down the ballot, in elections, they should have easily won in places that they dominated for decades such as Frederick, Anne Arundel, and even Harford counties. Even safe candidates who do everything in their power to sidestep the cultural issues that plague the Republican party's image in the state are caught in the quagmire. Former Harford County Executive Barry Glassman aired ad after ad emphasizing his moderate qualities and lost the comptroller election last year by 20 points,
The strongest headwind that the GOP faces, however, reflects the increasingly national nature of our elections, even down to the local level. National strategists for the Republican Party have made the determination that targeting non-college voters brings a larger net benefit to the party's strength as a whole than trying to appeal to Marylanders. Consequently, they continue to support candidates and policies that are increasingly untenable with the views of voters.
Even with a statewide candidate that checks all of the boxes, such as Virginia Governor Glenn Youngkin's upset victory in 2021, the Republican Party's status in Maryland remains tenuous at best. No party remains out of power forever, but as things stand for right there are few things that stand to break its fall from relevance.
Your donation will support the student journalists of Walter Johnson High School. Your contribution will allow us to purchase equipment and cover our annual website hosting costs.
About the Contributor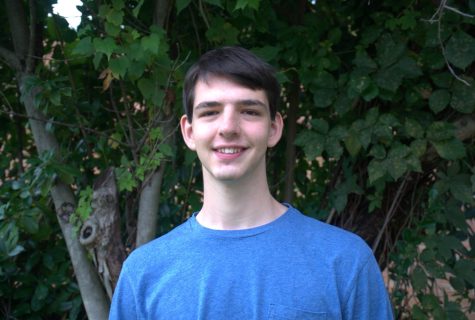 Alexander Lewton, Print News Editor
Alexander is a Print News Editor for the Pitch. He is a senior and in his free time he enjoys reading, hiking, and playing the piano.