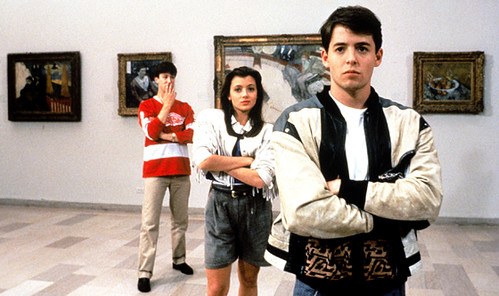 Recently, the newest high school movie, "Bottoms," hit theaters to rave reviews. The movie stars two lesbian women in the leading roles, one of them being African American. In a behind the scenes clip, the director of "Bottoms," Emma Seligmen, said that she made the movie so that more high schoolers could actually relate to the characters they saw on screen, unlike other high school movies that came before it.
Even if some might see them as unrelatable, the high school movies of the 80s, 90s and 00s were huge box office hits among audiences. According to Box Office Mojo, the highest grossing high school movie of all time, "Superbad," grossed $121,463,226 in the United States alone. This staggering number calls into question whether or not Seligmen was right in assessing the youth's feelings towards high school movies and their relatability.
"I think a lot of movies are becoming more inclusive and that's making them feel more accurate, but they're still way over exaggerated," senior Jordan Block said, "Even though they aren't realistic I think that's sort of the point and it's what makes them fun."
Junior Ben Cufre, whose favorite high school movie is "Ferris Bueller's Day Off," disagreed. "Even though high school isn't as dumb and stereotypical in real life, I can see parallels," Cufre said.
The reliability of movies, however, isn't always what's most important for students when they're looking for their next watch. Sometimes outlandish and crazy high school story lines are exactly what students are looking for as an escape from their monotonous school routines. "Sometimes I like to be pulled into a fantasy and sometimes I want to be more grounded. It really depends," Cufre said.
For some students, other factors are much more important when they sit down in front of the TV. "I feel like the acting is more important to me when choosing a movie than the relatability. If the acting is more focused around things like bullying and it's really bad then I'm less likely to watch it," senior Makenna Schoen said.
In the 1980s, high school movies were one of the most popular movie genres. The Reagan Era brought gung-ho American spirit to the masses of teenagers that made up the population. It was a time when high schoolers were represented by a huge part of the culture, but with the decline in birth rates the coming of age genre has become much more sparse.
"I find it hard to say there are enough movies about any experience, but from what I see, there are too many bad movies on the teenage experience, not that there are too many high school movies," sophomore Marie-Isabelle Nachega said.
At the end of the day, coming-of-age movies are some of the most popular movies among teenagers. Including favorites such as "The Edge of Seventeen" and "Lady Bird," high school movies remain a staple among students.