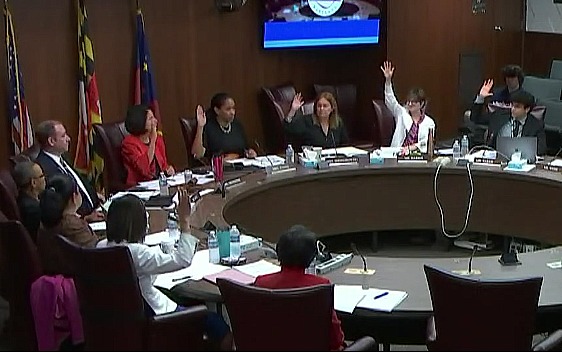 Board approves security resolution
The Board of Education voted unanimously at its regular business meeting on Thursday, Nov. 9 to approve a resolution strengthening security across MCPS schools. The resolution, introduced by Student Member of the Board Sami Saeed, aims to improve security by instructing the Superintendent of Schools Monifa McKnight to expand and change various policies.
The resolution includes the expansion of the student ID pilot to all high schools in the county, which when implemented will operate similarly to WJ's ID system where students must present a valid ID before entering the school.
In addition, the resolution creates a new Student Safety Advisory Committee, increases training for students and security staff, increases bathroom monitoring in schools and calls for innovative approaches to reducing substance use.
Saeed has worked on the resolution since even before the rise in security incidents seen around the county.
"The moment the resolution passed I felt an overwhelming feeling of passion and pride. For the first time, I can say I took tangible legislative action at the board table to make our school safer. I am excited to see how issues that students have been talking about for so long will finally be addressed, and I'm excited to communicate this to students," Saeed said.
Saeed's work included taking input from his Student Advisory Council (SAC), which consists of middle and high school students from all over the county. Saeed's SAC totals over 250 students, making it the largest-ever SAC.
Woodward HS construction update provided, boundary study delayed
An informational summary provided to the Board showed that as of Oct. 31, construction at the future site of Charles W. Woodward High School was 78% complete. The building is scheduled to be completed by June of 2024 and in the fall of 2024 will be host to Northwood High School as they undergo their own renovation and expansion project.
The building itself, according to contractor Hess Construction Company, has now received a green roof, sod for the courtyard, kitchen equipment and bathroom fixtures. Other things to be done include flooring for the gym and other areas, electricity, plumbing, HVAC, drywall, paint and furnishings.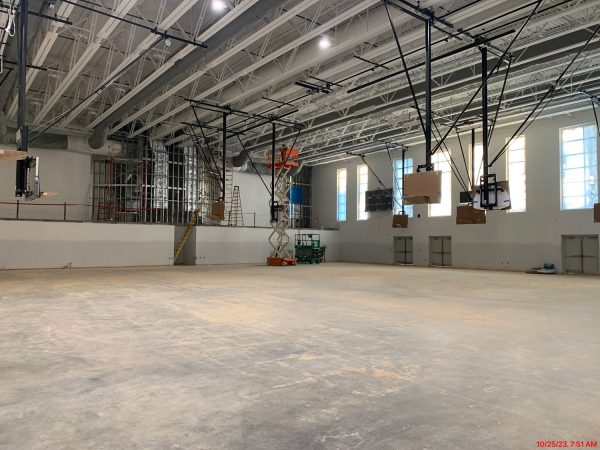 Woodward is planned to reopen as its own school outright in fall 2027 once Northwood finishes its own renovation. In anticipation, a boundary study will also be conducted to determine which students should go to the newly reopened school.
A March resolution by the Board determined that the boundary study will include the service areas of Bethesda Chevy Chase, Montgomery Blair, Albert Einstein, Walter Johnson, John F. Kennedy, Northwood, Wheaton and Walt Whitman high schools. Although Woodward's boundaries will not include all nine high schools, the areas of the nine high schools will be examined in order to determine the best possible service range.
Originally, the boundary study was scheduled to begin in early 2024 as Northwood was originally scheduled to reopen in fall 2026; however, the new Capital Improvement Plan for 2025-2030 calls for the Northwood construction timeline to be extended one year to the fall of 2027, and thus the boundary study for Woodward has also been pushed back until early 2025.
Board approves new pilot courses
The Board voted to approve eight new courses to begin a three-year pilot, after which they will return to the Board to be voted on. These courses are Amharic 2A/2B, Color Guard, Jewish People Throughout History, Mindfulness for Teens, Principles of Artificial Intelligence and Virtual Reality Design, Social Justice Through Public Policy, Literature in the Humanities 7/8 and Technical Theatre for Middle School.
Each of the eight courses will start the three-year cycle with one year of curriculum writing by the school that proposed the course, in collaboration with the curriculum writing team of MCPS, followed by two years of actual implementation in a pilot school or schools.
The discussion following the proposal focused on the pathway for students proposing a course to be piloted.
"I know that until like a couple of months ago, I didn't even know that this even existed and that students could initiate this process. I thought just someone in a room wrote these and decided where it went," Saeed said.
Director of College and Career Readiness and Districtwide Programs Irina LaGrange, who led the presentation on the pilot courses emphasized that students can go to their teachers, who have access to a form for applying for a new course with the central office.
Besides the eight courses approved for pilots, the Board received updates on five courses currently in the pilot process and approved six courses to exit the pilot stage.