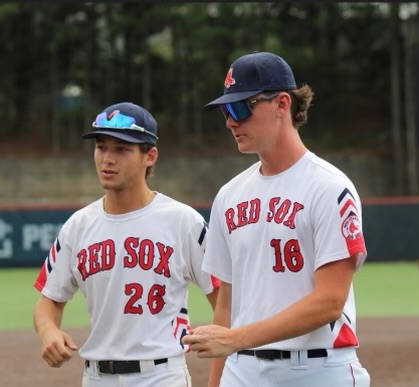 Since the ages of two and three respectively, baseball has been the focus of Jake Goldberg and Aiden Watts' lives. Seniors Goldberg and Watts have both recently committed to continue their baseball careers at the University of Rochester.
The high school teammates are thrilled to spend the next four years together both on and off the field.
"I was very excited to find out I was going to be playing with Jake in college, and it provides me with a lot of comfort knowing that I already have a friend at the school," Watts said.
For both of the athletes, playing college ball was always a dream.
"Playing in college was always a goal for me, but I didn't realize that I really wanted it until this year when I committed," Goldberg said.
The teammates not only play high school baseball for WJ together but were also on a travel team called the Mid-Atlantic Red Sox this past year.
"Jake is a great teammate to be around; he's a great leader," Watts said.
Both players have played on WJ varsity for many seasons, and have helped the team out in various ways.
"Jake is a high energy type of guy, he impacts our team mostly with his speed. Aiden on the other hand has a high ceiling on the mound and will be part of one of the deepest pitching staff in all of Maryland this upcoming season," varsity WJ baseball coach Stephen Sutherland said.
With Goldberg's speed and Watts' pitching, the two players both drew in the coaches at Rochester. It is not common for two athletes from the same high school team to commit to the same college team, so the pair were very excited when they found out about each other's commitment.
"We were both really excited for each other and also sort of surprised that out of every school in the country, we ended up at the same one," Goldberg said.
While both players had multiple other offers, Rochester drew them both in with open arms.
"The school seems super fun, and the academics are really good so that's probably the main reason I choose them over other schools," Watts said.
Relating to the academics at Rochester, both Goldberg and Watts plan to go the business route, as Rochester has an impressive business program.
"Being a student-athlete will definitely come with challenges, but the school has really good resources to help the athletes stay on track while maintaining their sport commitments," Goldberg said.
Even though Goldberg and Watts are from the same school, the team involves athletes from all around the country.
"We have players from Colorado, Florida, Washington state and so many more. It's really cool to see people from all over the place come together at a little school in New York." Watts said.
Neither Goldberg nor Watts have met any of their other teammates in person yet, but communicating through social media has allowed them to connect with and learn about their new teammates.
"I think the most exciting thing about this experience is making new friends, and learning about different peoples' backgrounds," Goldberg said.
With Goldberg in the outfield and Watts on the pitcher's mound, the teammates will take their skills and smarts to the next level at the University of Rochester.