Pool vs.Pool: the Age Old Debate (ready to publish)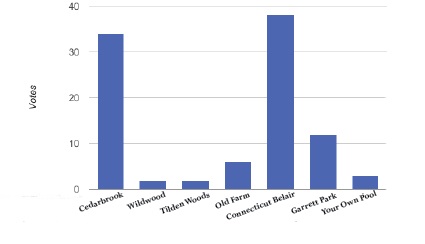 The sweet scent of summer is in the air. The days are getting longer, the trees are getting greener and the air is definitely getting hotter. As summer approaches, the hallways are littered with chatter about local pools. "Are you lifeguarding this year? What pool do you go to? Are you on the swim team?" And, of course, the arguments over the best pool.
It's a tale as old as time. As long as there have been pools, there have been fights over which is superior.
"I don't belong to a pool, but I do think Wildwood is the best," sophomore Sophie Becker said. Wildwood is a probable vote for Becker, who lives in the Wildwood neighborhood. "It's just the best overall."
Others however, have to disagree.
"I think Connecticut Belair is the best pool. The community there is really great and being with all of your friends for the summer is so nice. It can get really crowded during holidays like the Fourth of July, but I think other things cancel that out. We have a really nice snack bar which a lot of pools like Cedarbrook and Tilden Woods don't have," junior Amanda Krupinski said.
Krupinski is a lifeguard and a swim team member at the pool and has been going there for 11 years. Connecticut Belair serves many people from the Kensington area but is located in Silver Spring, which some think is a little out of the way.
"Connecticut Belair is nice, but the fact that it s so far away isn't really great. I want to be able to bike or walk to my pool. Even if I did live closeby to it, It's on the corner of a really busy intersection and it isn't very hidden so it's kind of like you're next to a highway," freshman Cara Demitz said.
"I really love my pool (Garrett Park) because it's so secluded. There's bushes and trees surrounding the whole property so no one can ever really look in. We also never have adult swim ( a 15 minute break for children so adults only can swim) because of the play pool and the lap pool. We also get lots of food trucks. I don't really mind this but a lot of people don't like our bathrooms because they are not closed in ( they have open roofs / outdoor) and they are pretty old but still, Garrett Park is definitely the best pool in the WJ area." Demitz said.
Cedarbrook member Ian Rees thinks his pool is the best because it's not just a pool.
"We have a pool, but we also have tennis and basketball courts that are pretty nice. We also have a little clubhouse with ping pong tables and a microwave and stuff. A lot of pools don't have that and if they do they are like a country club, so I think it's pretty nice." said Rees, a sophomore. "One thing is that our bathrooms aren't the best. They are pretty gross. We also get tons of bees and sometimes they get in the water."
A poll was recently posted asking WJ students what they thought was the best local pool was. In a close fight, Connecticut Belair(38.8%) won by only 4% against Cedarbrook. In third place was Garrett Park (10%), and then Old Farm (7.5%). Tilden Woods and Wildwood both got a 3%. And so it's finally settled. Connecticut Belair has been named the Best Pool in the WJ area.