Student activist profile: Shiima Nantulya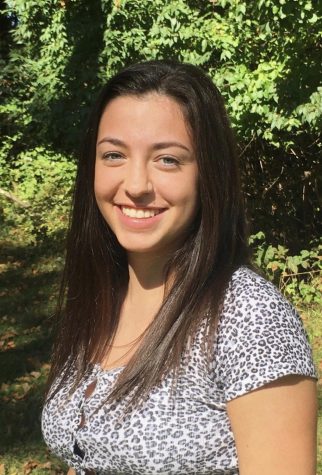 More stories from Nyomi Fox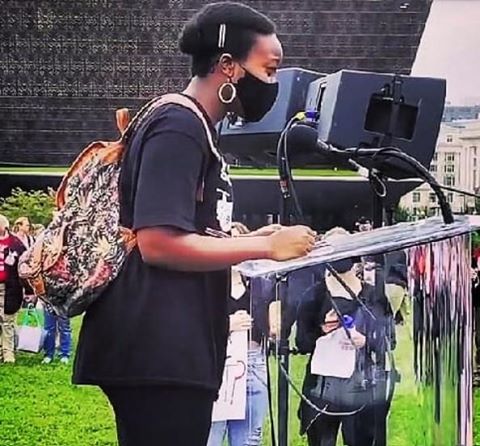 She marched from the National Museum of African American History and Culture to the Black Lives Matter Plaza in the heart of DC. But she was not alone. Sophomore Shiima Nantulya led a protest of approximately 200 young activists through the streets of DC, demanding an end to the systemic injustices that have permeated and oppressed the Black community for centuries.
For more than a month, Nantulya actively discussed plans for this protest with around 10 other MoCo students in a Snapchat group chat. They refer to themselves as Revolution Gen Z. Together, they reached out to various organizations based on the BLM movement, such as No Justice No Peace and Concerned Citizens DC. Even Claudia Conway, outspoken daughter of political consultant Kellyanne Conway, was momentarily involved in the outreach process and helped publicize the event.
During the virtual preparation, Nantulya, who is comfortable with public speaking, asked if she could give a speech at the protest and received an enthusiastic yes. Revolution Gen Z focuses on uplifting Black voices and ensured that only Black people would present. After the marching ceased, Nantulya did just that.
"I'm tired. I'm exhausted. I want justice for my people," Nantulya said as she stood atop a podium and addressed the crowd in front of her.
As she continued in her speech, Nantulya addressed the undeniable segregation throughout Montgomery County and the lack of funding for majority minority schools. She criticized the current state of the police system, specifically the brutality and violence targeted towards Black Americans. She did not hesitate from saying the names of recent victims of these injustices: Breonna Taylor, Tony Mcdade, Sandra Bland, George Floyd, Tamir Rice and Atatiana Jefferson. Nantulya was especially devastated by the recent ruling on Taylor's case, which culminated in a single charge of wanton endangerment.
"Her case was reopened and the walls that were hit were given justice before she [was]. So I spent a lot of time on her and how devastated I felt, and how it was such a slap in the face. And how much black women need to be protected," Nantulya said.
Less than a hundred yards from the White House, where President Trump was known to be situated, the gathering of protesters proudly shouted "Black lives matter" and expletives at the historically neglectful president.
Nantulya's social and political involvement is not exclusive to protests in DC. She is a member of the Black Student Union at WJ and created her own club, Maison Shalom Fundraise Club, to raise awareness of the refugee camps in Burundi and collect donations. As she threw herself into initiatives for change, Nantulya has inspired those around her. Sophomore Sarah Lawrence, who helped organize the protest with Revolution Gen Z, admits that Nantulya not only inspired her, she also taught her.
"She's taught me with all the information and research she's done. She's taught me about how black people are being treated in this country and how they aren't being treated equally as they should be, as well as other races and ethnicities," Lawrence said.
Nantulya demonstrates that activism is not only asking for change, it is educating others on what needs to be changed—and why. Lawrence admires Nantulya for all that she does – research, speeches, protests – to aid, support, and uplift the Black community.
"She stands up for what's right no matter what people think of her," Lawrence said.
Although Nantulya is relentless in demanding change, she acknowledges that she cannot restructure the system alone. To achieve substantial progress, complicit bystanders must act in support of the racial justice movement.
"I think WJ for one just needs to care more about issues like this. Not just Black Lives Matter, but the intersectionality between clubs," Nantulya said.
She feels that administration paves the way for White students' success, neglecting the potential of students of color. At the most recent African American assembly, for example, organizers were barred from discussing police brutality. Nantulya wants WJ to stop catering to the fragility of white students, but instead allow all voices to be heard and amplified—especially Black voices.
"WJ, especially teachers and students, need to be more sensitive to Black issues, more sensitive to Black trauma, more sensitive in general. We are the most underappreciated [group]. We are always submerged under White students, White opinions, White thoughts and ideas. We never have a platform or a space to voice how we feel about certain things," Nantulya said.
Moving forward, Nantulya asks that White students hold themselves accountable for microaggressions and racist behavior – overt or subliminal. She appreciates everyone who is currently standing up and saying "enough is enough."
About the Contributor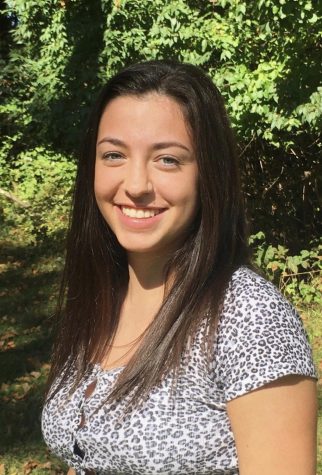 Nyomi Fox, Print Editor-in-Chief
This is Nyomi's second - and final - year with The Pitch! Although she'd much rather be in room 193 with the whole staff (under normal circumstances),...