This Week in World News: Typhoon Haiyan Wreaks Havoc on the Philippines
Typhoon Haiyan reached the eastern coast of the Philippines Friday,  Nov. 8, bringing with it high powered winds, some of the strongest ever recorded, and a 20-foot storm surge. Leyte Island was hit hardest, as was the city of Tacloban, the provincial capital and largest city on the island. Though early death toll estimates were as high as 10,000, the official tally was more modest, reaching 2,344 Wednesday, the Washington Post reported. A significant portion of the deaths were from the  province of Leyte and ravaged Tacloban.
Despite efforts which evacuated nearly 800,000 people from the path of the typhoon, almost 2,600 people have been reported injured as a result of the storm and its ensuing destruction, according to NBC News. These numbers are expected to rise as relief efforts continue to reach previously cut off areas.
A variety of  countries and humanitarian organizations around the globe are attempting to provide relief and aid to the thousands  impacted by this natural disaster, including the Philippine National Red Cross, the U.S. Navy, UNICEF, the NBA and the U.N.  Pope Francis also led tens of thousands of people at the Vatican in prayer for the victims of the typhoon. Unfortunately, relief is still slow to reach the needy victims of the super typhoon thanks to impassable roads and bad overall conditions.
"All systems are down" said Filipino Defense secretary Voltaire Gazmin. "There is no power, no water, nothing. People are desperate. They're looting."
The looting in Tacloban is only further hindering relief efforts made by the Red Cross and other organizations, already made difficult by the wreckage and devastation of the islands.  Sadly, countless homes and in some cases whole communities are totally destroyed, and help has not been able to reach everyone yet. As a result, many people are starving and left with no other option but to resort to breaking into supermarkets, shopping malls and even the Red Cross' supply trucks to get food and water.
The chaos and looting was so concerning that Filipino President, Bengingo Aquino III sent in troops to Tacloban and said he had considered imposing martial law in order to keep order.
As relief efforts begin to pick up the pace, hopefully all areas in need will be able to receive aid and order will be restored in the Philippines.
Sources: The Washington Post and NBC News
About the Contributor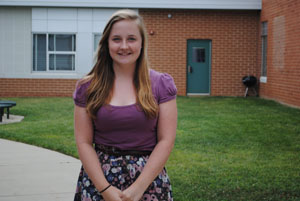 Elizabeth Winter, Online News Editor
This is senior Elizabeth Winter's first year on The Pitch staff. She is looking forward to the upcoming year working as an Online News Editor. In addition...