The newest PM of Italy: what Mario Draghi could do for Europe
On February 13, President Sergio Mattarella appointed Mario Draghi, former head of the European Central Bank, to be Italy's new Prime Minister. Nearly all quarreling parties in the Italian Parliament came together to support the new government, ushering in hopes that Draghi will pull the country out of decades-long economic stagnation with rarely-seen political unity.
Who is Mario Draghi?
The 73-year old economist, author and Ph.D. from Rome graduated from the University of Rome (1970) and MIT (1976). Early in his career, he taught economics at the University of Florence and worked for the World Bank in DC. From 1991 to 2001, Mr. Draghi was director-general of the Italian treasury, where he was instrumental in reducing Italy's national debt and stabilizing interest and currency exchange rates. Thanks to his central role in economic reforms, he was nicknamed "Super Mario" after the Nintendo video game. Draghi was Vice-Chairman for Goldman Sachs International in London for three years then became governor of Italy's central bank, where he instituted strict monetary policy. In 2011, the European Council chose Draghi as the successor to the outgoing president of the European Central Bank. In 2012, he diffused a debt crisis caused by panicked bond markets that threatened the euro's stability by doing "whatever it takes." This strategy won the praise of current US Treasury Secretary Janet Yellen, who considered it a "straight-A performance" and "one of the most important interventions ever." He served as the chief until 2019.
What are his tasks as the Prime Minister in 2021?
This is an unprecedented and unique time in Italian history, as the country deals with high COVID numbers, painstakingly slow vaccine release, and continuous restrictions that are taking a heavy toll on the economy. The country is not predicted to return to pre-coronavirus levels until 2023, which makes Draghi's job ultra-important.
To boost the Italian economy, the new administration must decrease bureaucratic red tape, reform the outdated education system, fund infrastructure and speed up the courts. All these problems have held back job creation and investment for decades. Draghi may only have two years before the current political unity dissolves for parliamentary elections.
WJ junior Christina Pannullo and senior Olivia Zaid think that he can repair the Italian economy in the coming years.
"I think Draghi will help the economy improve. He's an economist, not really a politician, so I think he has a lot of good ideas for helping the economy. He was credited with saving the euro in 2012, so I think he can pull Italy out of this recession. He has already put some policies in place to help people find jobs through new databases and online portals, and I think the economy will continue to improve. He also has a lot of support from the public and won by a high margin, so it's clear that Italians have high trust in him," Pannullo said.
Zaid hypothesizes, "I think that there is definitely potential for Italy's economy to grow. Since Draghi's appointment, Italy's main stock market index has risen by 7%. It is clear that Italy's economy is at a very low point in its history, but I think that by making Draghi Italy's Prime Minister, they have embraced a chance for economic redemption. That being said, I do think that because of the pandemic and how it has affected the Italian economy, it will be a long while before their economy returns to its pre-pandemic self. Draghi's experience in the economic world proves that he is a good choice for the job, especially with the immense support he received from multiple parties. The fact that he studied Keynesian economics at MIT also points to the assumption that he will want to implement reforms that involve more state intervention in the economy. He'll want to have the government attempt to solve the problem as much as it can rather than wait for the market to improve the situation in a longer period of time."
Draghi has also promised to close the gender pay gap, overhaul the income tax system, improve the public administration sector, and increase vaccinations. He just announced a plan to recruit military members to help distribute vaccines and develop the logistics of the plan as well.
What factors are on his side?
Draghi has a couple of resources he can use to help fix the country's problems. The EU is giving Italy 242 billion euros ($200 billion USD) in grants to support its recovery. Additionally, his reputation in economic and diplomatic affairs will be advantageous in his upcoming attempts to rewrite Italy's future. In fact, the moment it was reported that Mattarella asked him to become prime minister, stocks soared and Italy's borrowing costs were cut by investors scrambling to a bond auction. The cooperation seen in giving Draghi the power to reform the country shows a change in Italy's government and allows him the ability to enact real solutions. While Draghi's cabinet has already started squabbling, this is not surprising as the politicians he has appointed come from all areas of the political spectrum. Many of his top ministers are highly respected in their fields, and it is expected that Draghi will hold these officials accountable..
Why is he important?
Once these problems are solved, Italy will surely become an even larger competitor in the European and global economies and will be a larger player in trade, especially in the West. Also, the stability of the euro, the EU's common currency and a crucial aspect of global trade, is largely dependable on resolving Italy's debt and growth problems.
As for what Draghi's priority should be, Zaid believes that he must deal with the economy before anything else can improve.
"I think the most pressing issue that Draghi needs to address is Simply Italy's economic problems. In order to do this, he will really have to focus on getting covid-19 under control through better vaccine roll out. It's covid-19 is handled to the extent that allows people to experience a bit of normalcy, the economy will most likely start to improve whoever she will have to do much more than that to bring Italy's economy back to where it was before the pandemic began. Other than economic reforms and covid-19 relief, I hope that Dragon Works cuts Italy's fossil fuel use. Even though there are many other pressing issues that countries are facing, climate change is still prevalent and is affecting our environment every day. Not only Italy, but other governments around the world as well, need to be taking action to confront global warming and ask themselves what their own country needs to do in order to solve this issue."
Many people, like Pannullo, are optimistic about what Draghi could do for Italy.
"I hope that he helps bring their economy back to how it was before the pandemic, or even better. Italy was hit really hard with corona because they have so many tourists. Just like the rest of the world, they suffered economically," she says.
Your donation will support the student journalists of Walter Johnson High School. Your contribution will allow us to purchase equipment and cover our annual website hosting costs.
About the Contributor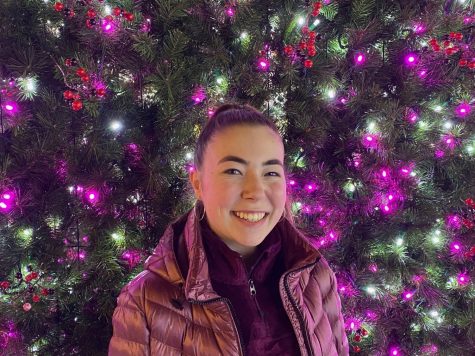 Kylie Norris, Staff Writer
Kylie is a WJ senior and is super excited for her first year on the Pitch. Outside of school, she enjoys playing drums with her band at School of Rock,...