A Group Effort: Together to End Hunger Club Helps Feed the Underprivileged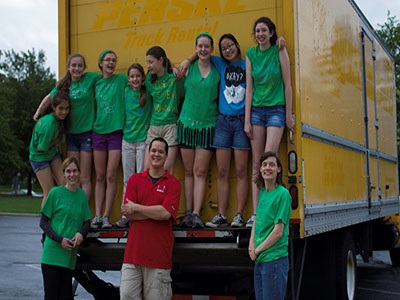 Advertisement
Hang on for a minute...we're trying to find some more stories you might like.
Many clubs at WJ have simple names that may not have a deeper meaning. However, the Together to End Hunger Club has both a remarkable name and a remarkable purpose. The club focuses on helping underprivileged children in other countries to get enough food, mainly by preparing food to send locally and internationally to impoverished citizens.
The club president, junior Emma Pannullo, started Together to End Hunger two years ago.
"I started [Together to End Hunger] because I wanted to get involved at [WJ]… I kind of just made my own club, and it [developed from] that," said Pannullo.
She said one of the successful accomplishments of the club is the packaging event they held earlier last school year for Stop Hunger Now, an international hunger relief organization. At the event, held in the cafeteria, club members packaged over 10,000 boxes of rice and other preservable foods to be delivered to undernourished people internationally. The club also did a packaging event two years ago, and Stop Hunger Now shipped the packaged meals to families in Haiti. The club also holds food sales and volunteers at food banks to help hungry people in the area.
"We want to have another packaging event, and [to] package 11,200 meals, which is a lot more than last year… also [we want] to do local volunteering," said Pannullo. "Last year, we made lunches for the Montgomery County Coalition for the Homeless."
The club's sponsor, teacher Erin Besch, also plans on having more small events this year.
"We're going to have bake sales," said Besch. She said she is proud of the club's effort over the years since it was started.
"In two years, they've raised almost $7,000. [The club] is very creative and inspiring," said Besch.
The club meets every Monday during lunch in Room 241.