Girls' soccer wins state championship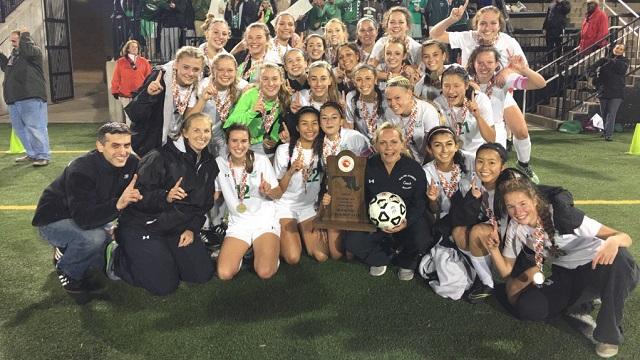 WJ was making its first appearance at states, and Perry Hall High School was making its eighth, their last being in 2011. Both were looking for their first state title. WJ got it. The close game fittingly was decided in overtime, and senior Cammie Murtha scored the game winner. With the game tied at 2-2, she dribbled the ball into the box and was initially stopped by the Perry Hall goalkeeper, but the ball slipped from her grasp and Murtha, still on the ground, was able to get her foot on the ball. It rolled, almost in slow motion, and crossed the goal line before a Perry Hall defender could reach it. The Wildcats were state champions.
"I'm so happy they were able to experience this," coach Liz Robinson said.
The goalie for Perry Hall, senior Ally Small, was surprised that the whistle wasn't blown when she corralled the ball, and believed she had it in her grasp.
"Ref didn't make the call," Small said.
For Murtha, it was especially gratifying. She felt compelled to score after a missed opportunity earlier in overtime. She had gotten past the goalie and had an open net. All she had to do to bring a state championship to WJ was kick it in from close range. She couldn't do that, as the ball rang off the post. She fell to the ground and started crying, but after some consolation from her teammates she got back up. A few minutes later, that missed opportunity became obsolete.
"Just overjoyed that we finally won the game we'd been building up to the whole season," junior forward CJ Maloney said of the emotions she had after watching the ball from Murtha roll into the net.  
Murtha had scored 29 goals leading up to that game, but the magnitude and impact of this one made it the most significant to her.
"This one's definitely number one," she said.