WJ football players comment on Damascus hazing
Hang on for a minute...we're trying to find some more stories you might like.
More stories from John Leonardo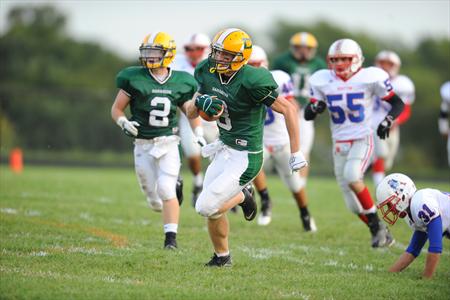 Four JV Damascus football players were sexually assaulted with an unclean broomstick in the locker room during a hazing ritual on October 31. Three players were charged with two counts of second-degree rape and second-degree attempted rape on November 1. Another two students were arrested the next day on three counts of second-degree rape and the other on one count of second-degree rape. Four of the accused are currently being tried as adults while the other is facing charges in juvenile court.
The lights were shut off in the locker room at about 2:30 p.m. when two students tackled a new teammate to the ground. The first victim was held down by the legs by one player and was thrust with a broom by the other. Both assaulters were allegedly smiling and laughing during the incident. The 14-year-old boy was heard screaming while a second boy of 15 years pleaded with them to stop.
"Let me go!… Stop, stop, stop!" the victim said according to a police report obtained by the Washington Post.
Another student was caught in the room at the same time of the incident. He saw his teammates attacking the first student and overheard them say that they were coming for him. The attackers held him face down over a bench and sexually assaulted him with a broom for about 10 seconds. During the commotion, two other players were grabbed and forced to the ground. They managed to fight back and held off their assailants until help arrived.
"The whole thing is pretty gross and not funny at all. It's messed up that they did that to their own teammates," WJ sophomore JV quarterback Brody Ramirez said.
The police stated that there would be no investigation into hazing culture in Montgomery County Schools in light of the incident. However, school officials reported to the Washington Post that they would look more into such hazing traditions.
"Bullying, harassment, hazing, verbal and physical abuse, whether in classrooms, hallways and sports, or in any extracurricular activity, will not be tolerated in our schools," MCPS Superintendent Jack Smith said in a video sent to students.
Detectives reported that rumors had been spread previously about a practice called 'brooming' that had allegedly occurred for many years, according to one of the students at Damascus. In an interview with the reported victims, the students mentioned that they had heard of broomstick attacks but never actually knew if it was true.
"[I] was in middle school, [when I] heard about 'brooming,' but thought that it was a myth," one of the boys said in the report.
A team of psychologists, as well as representatives from the Employee Assistant Program, have been attending Damascus for the past week to provide support and counseling for the students and staff members. Principal Casey Course has also been meeting with the Student Ambassadors, Student Government Association (SGA) and Cultural Student Union to brainstorm ideas for student-led activities in order to help alleviate any stress and unite the students.
The Walter Johnson JV and varsity football teams have never been known to promote hazing or sexual assault in the locker room. The teammates follow strict rules not to engage in any sort of criminal or offensive acts.
"My teammates are my brothers. I would never even think about hazing them. What kind of person rapes another dude with a broomstick just for a JV team tradition" senior varsity wide receiver Chris Manguelle said.

About the Writer
John Leonardo, Staff Writer
John Leonardo is currently a senior in his first year with the Pitch.  After taking Journalism during his Junior year, he is prepared and excited to write...