Q&A with up-and-coming artist of the school year: Razzberry
There have been no shortage of bands based in WJ for years, but this year one has been spreading around the school with the name, "Razzberry." Razzberry is made up of three eleventh graders who have some unique talents.
What instruments do you guys play?
John: I play the Oboe
Matt: I play guitar and sing
Henry: I do guitar, bass, drums and little bit of keyboard
What does your band name mean and how did you come up with it?
Henry: In eighth grade we had a group of friends getting together to play music after school. We could not, for the life of us, think of any name, because almost every band name was already taken, which is a common problem. But my favorite fruit is raspberry, so I'm gonna be honest, I did not know how to spell raspberry in eighth grade, but then I retroactively was like wait, R-A-Z-Z; rock, jazz, razzberry.
Where can people find your music?
Henry: Any streaming platform, iTunes (Apple Music), Spotify are our two main. Also Google Play, YouTube, basically any major streaming service and even some of the weird ones like Deezer and Tidal. If you know a streaming service, we're probably on it. All you have to do is search up R-A-Z-Z-B-E-R-R-Y.
Who are your biggest influences?
Henry: I'd say like early 70s British progressive rock and hard rock and also 60s contemporary jazz.
Matt: We each have quite different tastes, but mine is like mostly 90s British rock.
John: Mine's like a mix of progressive rock in the 60s and 70s and then some rappers from nowadays and all throughout the 90s through the 2000s.
How did you meet?
Henry: John moved into the house next to me and in the ninth grade we started meeting and then in tenth grade, in the summer we decided to include John. We included John because he's good at Oboe and not many people are good at Oboe.
(John) It's not a very common instrument, there's only two people in this school that even play it, including me.
What's your songwriting process?
Henry: It depends on the song obviously, but typically either Matt will come up with a song with lyrics and music or I'll write a piece of music and he'll write lyrics to it, generally. Very rarely, I'll come up with some lyrics, but that's like extreme cases and most of the time it'll be like me or Matt on the music and then Matt for the lyrics and John will typically improvise on top.
How would you describe your sound to others?
John: Like a mix of rock and jazz, more of live tune and hard tunes.
Matt: To me, it sounds more like John Mayer and Green Day kind of together.
Henry: A mix of jazz and alternative rock.
Where have you performed? Do you have any upcoming events?
Henry: So we've sort of just started performing a little bit more because we've been focusing on recording an album and stuff beforehand. I mean we haven't really been together as a band even that long as a whole, but we did perform for the eleventh-grade Homecoming hallway and a friend's Homecoming party and his birthday party as well. We have played at the metro in Bethesda as well as Grosvenor Strathmore a few times, not recently but in the summer we did that.
Matt: We just got a manager, too.
Henry: Yeah, but a lot of the time right now we're spending a lot more on recording our debut album.
Are you going to be collaborating with others?
Henry: We already did collaborate with a couple of people on "VSCO girl." For example, we have some of our friends, Annabelle South — she's been in the Pitch already for Tik Tok. But Annabelle South sang on our song "VSCO girl" from earlier this year. We have a friend that used to be in the band who goes to RM now named, (Naomi Lou) who might sing or play keyboard on some tracks on the album, cause she's like a fantastic keyboard player and singer. Some other people may be but also my friend Alan has a horn quintet that we might collaborate with, so we're open to that kind of stuff.
What's next for the group?
Matt: Hopefully, we're gonna get some regular gigs at restaurants or something, and then we'll probably drop the album before Christmas, so right now that's the goal, to finish that and get some more gigs. The next album is gonna be called, "The Choice Is Yours," which is named after one of the tracks on it that Henry wrote. It's actually the first one to be completely written by him and he's gonna sing it.
Your donation will support the student journalists of Walter Johnson High School. Your contribution will allow us to purchase equipment and cover our annual website hosting costs.
About the Contributor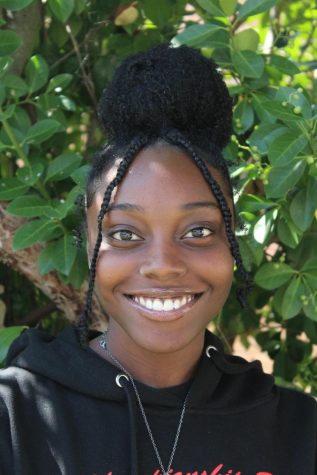 DeVoncye Freelon, A&E Editor
Senior DeVoncye Freelon is excited to be working with the Pitch for the 2019-2020 school year. This is her first year on The Pitch as Print A&E Editor,...