Teachers marrying teachers
Have you heard about Mr. Brooks and Ms. Hall? What's going on with Ms. Whitaker and the new science teacher? Teacher relationships have always been a hot topic in cafeterias, classrooms, the teacher's lounge and all across the school grounds. Here, married teachers from our school give us a deep dive into their lives being teachers married to teachers.
Jeremy Butler, history teacher at WJ since 2010, is married to wife, Kelly Butler, a chorus teacher who has been working at WJ for eight years.
How did the two of you meet?
Jeremy Butler: My wife and I worked at the same high school in Colorado in 2004. I took my class to a music assembly and she was introduced as a music teacher, she brought her choir and orchestra out and I was intrigued by what I saw and made it my goal to meet her. We went skiing in a group a couple of times and then we started dating.
Kelly Butler: We worked at the same school up in Colorado and I was on stage with my students and he was at the assembly for the school. He saw me on stage and then we started hanging out, skiing.
What is life REALLY like being two teachers married to each other?
Jeremy Butler: I think it's great for a number of reasons we're on the same schedule for like a spring break, winter break, summers so that helps us co-raise our kids instead of falling on one person. We tend to be home at the same time also. In general, we share the same values of enjoying working with kids and trying to help young people, I'd say that in truth it's all good.
Kelly Butler: It's awesome because we have all the same vacations and all the same breaks and the same schedule, our kids are on the same schedule too. We have summers together, we have winter break, days off of school, which is awesome.
Are there any cons to working together?
Jeremy Butler: I guess this is not quite a con but I think it's nice to kind of know some of the same people. I can understand where other married couples might like having a separate work life and home life but I like that when she tells me stories about work because I'll know the adult or the student or maybe not. I think it helps me to care more about the story or if she was unburdening herself with all these stories about adults and students that I didn't know then I might be less likely to really absorb myself into the story.
Kelly Butler: Nope, none.
Any funny stories that you could tell us?
Jeremy Butler: Off the top of my head I think it was more exciting and scandalous when we first started dating and teaching in Colorado trying to keep it from students but now that it's kind of obvious and out there it's a little less spicy at Walter Johnson but it's still funny when students find out that we're married. Off the top of my head, I don't have anything appropriate to tell you.
Kelly Butler: We rarely see each other that much since he's all the way on the other side of the school. We're busy, maybe we see each other in the copy room so often it's kind of exciting, I'm like, "Oh that's right I'm married to you!"
Patricia Richards is a biology teacher married to another science teacher, Micheal Richards. Both have been working at WJ for a total of seven years.
How did you meet?
Patricia Richards: I could say we met in two different ways. We met at the country club we were there and I saw him. Another way I could say it, We met at a country club because he was a banquet waiter and I was a dessert girl.
Micheal Richards: We met at the country club, that's our favorite way of answering because it sounds like we were so important but we were employees at the Congressional Country Club. I was the head banquet waiter which is a different department from hers, she was a dessert girl in the dining room. Yeah, we met at work.
What were your first impressions of each other?
Patricia Richards: He was so cute! Absolutely, he was smart, funny, lots of puns always a joke. He didn't take "guff" from other people, I had someone that was harassing me and I was very uncomfortable. The guy would kind of like to come up and touch my shoulder, I just had to mention that once to him and that never happened again, EVER.
Micheal Richards: My impression of her was basically she was cute, she was cheerful, happy, just a person you wanted to be around.
What is life REALLY like being two teachers married to each other?
Patricia Richards: We have great science conversations and I get that he doesn't do Biology and I don't do Physics. When he needs medical advice he comes and asks me, but I will try to speak physics and he'll be like, "Yes! Give me five". He'll try to talk Biology and I'll say, "That's really good, look at that!". But the best thing about being two teachers married is that we both deeply care about what we do. This isn't just a job you know you just come in and do your thing and leave, like we're here FOREVER. Our friends don't understand why we put all this time in at work because what we do here to try to make it look easy or simple that takes an awful lot of prep and thoughtfulness and he understands it. So when I say, "I'm here again until six-thirty" he'll say, "don't worry about it, just get it done so you can feel comfortable". I would think that if a person's married to someone who's not a teacher they don't get how much energy you put into the job. Not only your lessons but really the other part that I think people don't get is how much of your heart goes into it. Like when I'm done at the end of the day I feel like I have just drained all my blood out.
Micheal Richards: That's actually very good because both of us being science teachers helps a little bit because we go to the same department meetings and stuff like that but really just being two teachers period is great because teachers put in lots of longer hours than most people think, I've seen many people who are married to non-teachers have problems when they get home when their spouses are complaining about how much time they spend at the school, how much time they spend on the weekends grading papers, we understand all of that. We don't get mad at each other and the only time it got interesting was when Mrs. Richards was head of the science department and she was my boss. The thing that I told the principal when he hired me was that I would come on one condition only and that is that she does not write my evaluations.
Are there any funny stories that you could tell us?
Patricia Richards: I always go to protective, so when I was teaching in middle school and he was teaching in middle school we were gonna meet for lunch and if you know me I love lunch! We were gonna meet at McDonald's if you know me I think that's like the "big times". So I didn't show up and he got really worried, like really worried, he went to my school and was like "where is she? What's going on?". The reason he was worried was that I had been dealing with some gang members and he was very worried about me. Turns out I went to the wrong McDonald's.
Micheal Richards: A couple of years on Valentine's Day I'd do something a little special, I once just walked into her classroom and didn't wait to be recognized or anything I just started reading off a poem I had written but it was really just a poem explaining why I had absolutely nothing for her for Valentine's day and why I shouldn't be shot for it. Another time I did get a barbershop quartet to come in and sing for her a couple of songs that's because I was in a barbershop chorus at the time.
For more information including video interviews with the above couple's and a special feature from the Eastman's visit.
About the Writer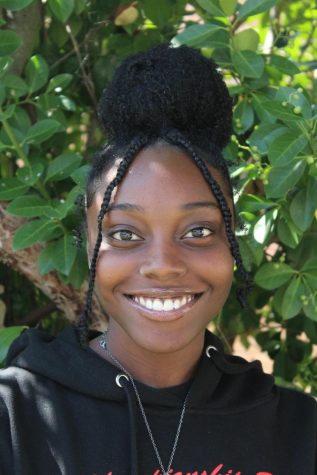 DeVoncye Freelon, A&E Editor
Senior DeVoncye Freelon is excited to be working with the Pitch for the 2019-2020 school year. This is her first year on The Pitch as Print A&E Editor,...