MCPS plan to return is overdue and eyebrow raising
MCPS recently announced that they are bringing students back to schools starting March 1, almost a year after shutting down. While this is welcome news, it also raises many questions, starting with why return now?
Why now?
As March 1 approaches, COVID-19 cases in Maryland are on the way down, which is a very positive development. But at the same time, the seven-day case average is actually a little higher than it was back in September. As of March 3, the seven-day average is 781. On September 1, the seven-day average was 611.
It's great that MCPS is sending kids back now, but why didn't MCPS open the schools in early fall when cases were lower or about the same? Not much has changed since the fall. Is a vaccine out? Yes. But are kids getting them? No. The vaccines currently out haven't even been approved for children under age 16. Teachers are getting vaccinated, but not all of them, and it has been a slow process with very little planning.
"What do you define as a plan?" English teacher Jeanne Pugh asked. "The whole thing has been frustrating, disorganized and very slow."
That MCPS is finally reopening schools is good news, but it feels like this should have happened a long time ago — the present conditions aren't much different from the fall.
How much "school" do students really get?
Seniors are the first large group to return for high schools. The first cohort of students will be on campus beginning April 6. For all students, MCPS plans to divide them into two groups, with one group on campus for a week, and another group virtual for a week. Then they switch.
On the surface, an April 6 return date doesn't look too bad. Seniors will be there for all of April and May before graduating in early June. That's two months. But when the realities of the rotation system are taken into account, this adds up to only 4 weeks of in-person school. The rotation system means that students only get half as much time in school as it would appear. For freshmen and juniors, it will be about four weeks. For sophomores, it will be three. It's something, but not a whole lot.
Are you planning on returning to in-person?
Sorry, there was an error loading this poll.
Rotating between virtual and in-person every week isn't logical. Students will not be able to develop a rhythm. One week they're waking up early and walking from class to class for the first time in over a year, while the next week they're back to rolling out of bed shortly before classes and sitting behind a computer. This confusing situation isn't good for students nor for teachers.
Why do high schools remain mostly empty until April?
MCPS has decided to open schools with a phasing-in approach. Starting March 1, students with special needs return to school. The second group to return is part of Phase 1, which begins March 15, with grades K-3 and other special education programs.
Getting younger kids into schools makes sense — they really need in-person instruction. But what's the point of keeping high schools mostly empty until April 6 when seniors return? Seniors might as well return to school at the same time as K-3 students because they won't affect the amount of students in an elementary school, and nor will K-3 students affect the amount of students in a high school.
Elementary, middle and high school buildings are independent of each other in terms of capacity. There's no point in leaving high schools empty for a full month; elementary, middle and high schools should reopen at the same time in order to maximize the time students get in schools. Furthermore, why even use a phase-in? There is no phasing out — by late April all groups of students will be back in buildings, and if that is the end goal, there's no point in going through such a slow process.
Why has the schedule remained the same?
Another oddity: bringing students back into buildings will not increase their class time. Classes will continue to be only an hour long twice a week. The Wednesday holiday will continue. And with the schedule remaining the same, the rigor of school, or the lack thereof, will also likely remain the same.
It will also be interesting to see how teachers handle class time. By dividing students into two groups, teachers will be tasked with teaching students on desks and computer screens, which certainly presents a challenge.
"There will be a dip in our productivity, just like when we first started with virtual learning. With APs approaching and not too much time left, technology issues could cause hiccups," social studies teacher Christopher Merrill said.
Conclusion
Returning to school is just about the only good news coming from the MCPS recovery guide. The plan itself is baffling, and students should have returned a long time ago. But at the end of the day, with how strict MCPS has been about in-person schooling, we have to be grateful that we are getting even this much in-person schooling.
Your donation will support the student journalists of Walter Johnson High School. Your contribution will allow us to purchase equipment and cover our annual website hosting costs.
About the Contributor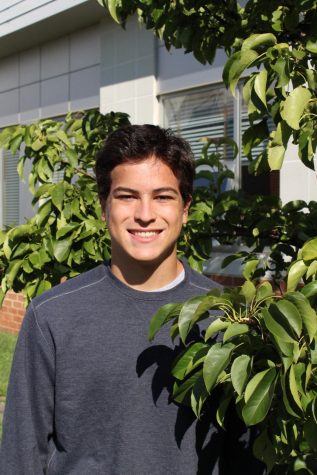 Alex Wolfson, Print Editor-in-Chief
Alex Wolfson is a senior and is excited to be serving as a Print Editor-in-Chief in his second year on the Pitch.  In addition to the Pitch, Wolfson plays...