Staff and students shift expectations post-COVID
During the virtual 2020-2021 school year, WJ students were exposed to entirely new class and study expectations — many teachers were more lenient with deadlines, more accepting of mistakes and overall more tolerant of imperfect work, allowing students to learn at a pace more their own. With the return to in-person school, various aspects of the learning environment have been restructured once again, attempting to meld the accommodations of online learning with the higher standards of in-person instruction.
The students anticipated to have been hit hardest by this shift are underclassmen, either freshmen who have just transitioned from middle school or sophomores who have spent the entirety of their high school careers online thus far. Many take on-level classes, which cover introductory content that underclassmen might have missed. Educators like Maggie Schlichter, who teaches various levels of French, have done their best to accommodate introductory-level students that were set back by the pandemic.
"This year, because students can be out quarantining, because there's all sorts of different stuff, it's opening up and allowing them to have access to the slides [with presentations from class]. Being a lot more flexible with due dates, stuff like that… I know that we're trying to allow certain accommodations and allow for the humanity of it all, but also making sure that the grading and all of that is standard across the board," Schlichter said.
These changes were only somewhat expected, with increased setbacks, but Schlichter is hopeful for students' progress.
"It is wonderful to actually see students in person, especially for the students who are struggling academically, because you can pull them aside and chat… It's hard to see some students are really struggling, I think, emotionally, and though that's hard I'm really happy that they're in a place where now we can help them get through what was two and a half, two years of a really difficult time," Schlichter said.
Many underclassmen, like those taught by Schlichter, are also often in honors-level classes, whose teachers have also worked to make their courseloads easier. In some cases, however, this may have been taken too far — students are left bored and un-engaged. Sophomore Samantha Mouyard, who takes Honors English 10, was expecting more rigor after the pandemic.
"I expected to delve deeper into some of the topics we learn about in English, such as plot structure, memoirs, argumentative writing, figurative language. And honestly, I expected it to be difficult because I didn't get the full extent of how my English classes were supposed to be in 8th and 9th grade [due to the structure of online learning]," Mouyard said.
However, Mouyard and their peers have found the exact opposite.
"Class this year is tedious in that so far, we've only been reviewing the very basics that we learned in 6th grade: basic figurative language such as similes, the proper way to format dialogue, et cetera. We're even using texts that I have already analyzed in 8th and 9th grade… My Honors English 10 class does not feel like a high school honors-level course," Mouyard said.
This relatively minor impact on underclassmen doesn't diminish the struggles faced by upperclassmen, many of whom are in the process of transitioning to Advanced Placement (AP) classes from their on-level and honors prerequisites.
"I didn't know what to expect, because all the math classes seem to lead up to the Calculus route [rather than alternate courses like Statistics]… Honestly, it's rough — being online and not really taking any class that covered some basic material beforehand makes it really difficult to catch up and meet the expectations," senior Grant Mateo said.
Mateo, who is now in AP Statistics after taking Honors Pre-Calculus last year, has found the transition challenging but is still able to succeed. While his teachers haven't implemented any known COVID-specific accommodations, he has access to helpful resources through his teacher Laura Brager.
"Ms. Brager offers extra help before school and during lunch, which is nice," Mateo said.
This is especially important to Mateo, who has extensively participated in demanding extracurricular activities such as WJ S*T*A*G*E. Overall, despite various struggles, he and other students have begun acclimating to yet another volatile year.
Your donation will support the student journalists of Walter Johnson High School. Your contribution will allow us to purchase equipment and cover our annual website hosting costs.
About the Contributor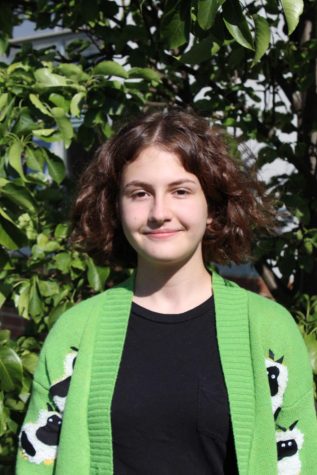 Sophia Meytin, Staff Writer
Sophia Meytin is a senior at Walter Johnson, and this is their first year on the Pitch. Outside of school, they enjoy baking, gardening, and singing in...