Cheerleader Kimmi Shiau flips into stardom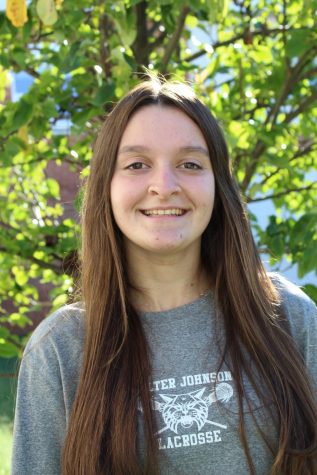 More stories from Jillian Ward
She wakes up around 5:15 a.m. and gets in the car to go to practice at Hills Gymnastics at 6:00 a.m. After rotating through three out of four events each day, she leaves the gym three hours later. On the way to WJ, she changes her clothes and eats breakfast in the car, arriving just in time for her first class–3rd period American Sign Language. She takes care of all of her elective credits during her summer breaks, allowing for an abbreviated schedule. With no electives, her English, government, chemistry and math courses make up the rest of her course schedule. When the last bell rings, she makes her way to the library to start her homework, sometimes choosing to go to G-Square to eat before her 4:30 p.m. cheer practice. Leaving WJ at 6:30 p.m., sometimes 7:00 p.m., she gets home and can finally take a breather. This is a normal day in the life of sophomore gymnast and cheerleader, Kimmi Shiau.
After her mom placed her in the sport when she was 2 years old, Shiau has stuck with gymnastics for the 13 years that have followed. Her hard work in the gym has now awarded the title of a level 10 gymnast. She was 40th in her age group in the nation at nationals this year and two years ago she was 5th in her age group in the east region.
Shiau's father is a naval doctor, prompting their family to move around. Shiau was born and raised in Maryland, but moved to Hawaii when she was 6. After her father was stationed in Hawaii for four years, their family returned to Maryland. Despite these frequent changes, one thing remained constant: gymnastics.
"I have been at Hills Gymnastics for five years now. I have never had a conflict with a coach. They push me to do my best with encouragement," Shiau said.
With a goal of doing gymnastics at the Division 1 collegiate level, Shiau values taking care of her body. But, numerous scary and serious injuries have occurred as a result of the strenuous training she undergoes.
"I see a physical therapist weekly to help with my body and recovery from gymnastics and take breaks for my body sometimes. I have gotten a couple serious injuries that took me out of doing gymnastics. I broke my toes when I was pretty young, I sprained my ankle pretty badly and was on crutches in 5th grade, I had back problems and hamstring problems for two years and this year in March I broke my sternum by falling into the bar," Shiau said.
At school, Shiau is a part of the cheerleading team. Although she had never done cheerleading prior to her time at WJ, she is very happy with her decision to join the team. Being at such a high level of gymnastics, Shiau has to be careful with what she does at cheer and she is not allowed to be a flyer.
"I decided to do cheer because last spring I did track and I really liked being on a school sports team. I realized that I could tumble for cheer and I always wanted to be a high school cheerleader. It looked so fun. I also wanted to meet people at school since I had been out of school for a year and a half. I am so happy with my decision because my friends on WJ cheer are amazing and the best friends I could ask for at school," Shiau said.
Senior captain Gretchen Klotz is incredibly fond of her new teammate.
"She always makes sure that everyone around her is having a good time and she really cares about how other people feel. She always makes you feel really special and her smile really lights up a room," Klotz said.
WJ cheerleading coach Vanessa Barnes also only has positive things to say about the influence that Shiau has had on the team this year.
"She's been a huge impact on the team with her amazing tumbling and positive attitude. No matter what she keeps a smile on her face. She's a quick learner as well. With her coming in as a new athlete to cheerleading she picked up on everything very quickly. Her amazing skills definitely make the team stick out at competitions," Barnes said.
Having so much to do does not leave a ton of time for Shiau to have a social life that doesn't include cheer or gymnastics. She hangs out with her gymnast friends a lot because of practice and on the weekends when they have free time. With her cheer friends, they hang out at cheer practice but she doesn't have too much time on the weekdays to do things with friends. On the weekends, she likes to hang out with her family and relax.
Beyond her sports, Shiau loves going to the beach, hanging out with friends and baking. If she didn't have gymnastics or cheerleading, she would follow in the footsteps of her mother and play tennis. Shiau's mother is an incredibly important figure in her life. She is the most supportive person for Shiau and has been crucial to her success.
"She is inspiring and always puts my mental health first. She helps me get through school when I am not doing well because she used to struggle in school as well," Shiau said.
Even though most of her life revolves around it, the choice of sticking with gymnastics is not something Shiau would change.
"I don't have any regrets. It was very hard throughout my gymnastics career, but I am glad I pushed through it and stayed in the sport because I have friends for life and I have learned so much about how to work hard and persevere," Shiau said.
Your donation will support the student journalists of Walter Johnson High School. Your contribution will allow us to purchase equipment and cover our annual website hosting costs.
About the Contributor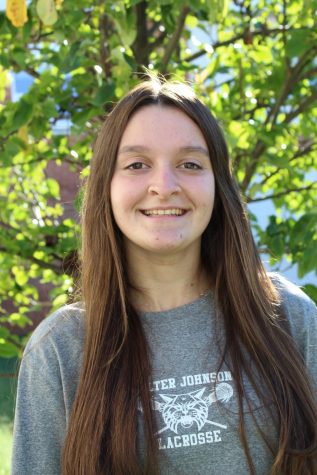 Jillian Ward, Print Managing Editor
Senior Jillian Ward is excited to participate in her second year with the Pitch as a Print Managing Editor. In addition to writing for the Pitch, Jillian...