Nominating convention selects SMOB finalists Cisse, Kim
More stories from Seyun Park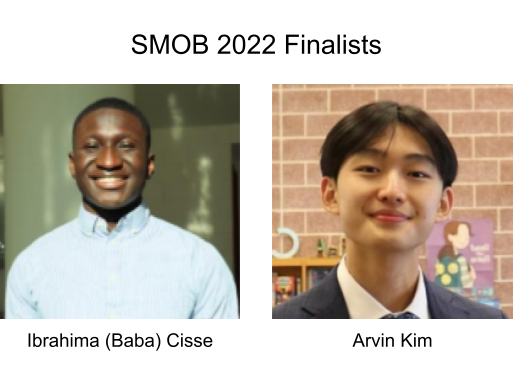 Einstein High School junior Baba Cisse and Whitman High School junior Arvin Kim were selected as Student Member of the Board (SMOB) finalists at the SMOB nominating convention on Wednesday, Feb. 16.
The two students will continue to campaign for a seat on the Montgomery County Public Schools Board of Education and the county-wide election is scheduled for April 20, with the 45th SMOB sworn in on July 1.
MCPS is one of two school districts in Maryland to give full voting rights to its SMOB, although SMOBs are not allowed to vote on negative personnel actions. Additionally, the SMOB receives a $5,000 college scholarship, SSL hours and one honor level Social Studies credit.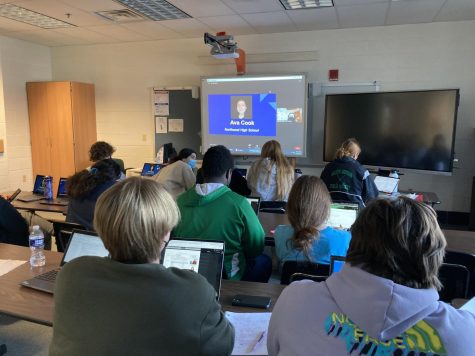 The nominating convention narrows the group of SMOB candidates to two through a series of two ballots. Delegates from every middle and high school in the county, including 15 from WJ, joined a zoom webinar to decide on the finalists, while candidates gathered and gave speeches in person at the Carver Education Services Center in Rockville, forming the first-ever hybrid SMOB nominating convention.
In the first ballot round, the field of 17 candidates was narrowed down to eight, while the second ballot chose the two finalists. Each ballot used a ranked choice voting method, which allowed delegates to choose their top three candidates, with their first choice weighted with a three, second choice two and third choice one.
The field had included WJ candidate Liam Kirby. Kirby had aimed to be WJ's first SMOB since 2008, however, was eliminated in the first ballot round.
"The average student doesn't even know what the Board of Education even does…People need to know that any student that's a sophomore or junior can run for SMOB…I want to see 100 people running for SMOB," Kirby said in his speech at the convention.
Cisse, one of the two finalists, has been the Downcounty Consortium Cluster Liason for the SMOB Advisory Council and is the Vice President of his class at Einstein. Cisse's platform includes hiring more school psychologists, implementing mental health time, hiring a more diverse staff and making a more diverse curriculum with LGBTQ+, people of color and women writers. Cisse has had to bike to visit different schools around the county for his campaign.
"I voted Baba as my first choice because he seemed to be very passionate and bring a new perspective to the table we haven't seen in other candidates," senior class president Jakob Sandberg said.
Cisse has also critiqued the nature of county-wide organizations like Montgomery County Regional SGA (MCR).
"County-wide advocacy and student-led organizations was a small club offered to just a few, foregin to my peers and I. Organizations like Montgomery County Junior Council (MCJC), Montgomery County Regional SGA (MCR) and Maryland Association of Student Councils (MASC) were nowhere to be found in my middle or high school, nor other schools in the area. (…) Let's redefine the SMOB title so it represents the entire student body, not just MCR," Cisse said.
Kim, the other finalist, is the MCR SGA Chief of Staff, and has worked in organizations like MCJC (Vice president), MASC (certified workshop presenter) and school wide SGA. Kim's platform includes universal access to courses through the virtual academy, weekly wellness days, free SAT/ACT prep and tutoring and investing in mental health support and security systems.
"I work with Arvin in MCR and I've seen the work he's done in the last couple of years. I know he's capable of making the necessary changes," freshman and delegate Meley Ghermay said.
Like other candidates, one of Kim's main focuses is on closing the opportunity gap.
"It's time we close the opportunity gap because where you come from or what you look like should not determine the quality of your education," Kim said.
Kim has been dubbed an "establishment candidate" due to his close connections to current SMOB Hana O'Looney, other previous SMOBs and his role in the MCR.
"The past 8 SMOBs have all been in the same friend group in MCR, and they've been passing down the role of SMOB for almost a decade and it's time for that corrupt practice to end," senior and delegate Jackson Biggs said.
Throughout the field, many of the most common issues were mental health resources for students, equity and closing the opportunity gap. Many candidates proposed increasing the number of school psychologists, continuing funding for free school lunch in schools and other improvements to school lunches (i.e. more vegan, vegetarian options, locally grown food).
Your donation will support the student journalists of Walter Johnson High School. Your contribution will allow us to purchase equipment and cover our annual website hosting costs.
About the Contributor
Seyun Park, Print Editor-in-Chief
Junior Seyun Park is in his third year of the Pitch, happy to join this year as a Print Editor-in-Chief. Outside of Pitch, Seyun plays tennis and cello,...