WJ's strong season comes to a tough halt
"
"It felt great playing well in this game and the playoffs in general, but I could not have made all those shots if I was not set up by my teammates."
— Senior Jack McGuire
Heading into the boys basketball postseason, WJ and RM were set to face each other just a week after playing in the last week of the regular season. Shortly after RM beat WJ in basketball, the Icecats played RM in their first playoff game of the season on the same day.
At the Icecats game against RM, tensions between student spectators quickly rose into a scuffle. The Icecats held a commanding lead over RM throughout the game and after a second-period goal from Alex Chang, students from WJ and RM (who were not separated by bleachers) congregated into a crowd where words and punches were exchanged. The scrap was swiftly put to rest by security, police and parents/family of the players on the ice.
"They started fighting us for no reason and everyone was really riled up from both the basketball and hockey game. We decided that we would just show them with our play and didn't need to fight them," junior James Phillips said.
Following the fight, the atmosphere between WJ and RM became a rivalry. These two schools wanted to end the other's season and lucky enough they got to face up on Feb. 26 for the first playoff basketball game of the season.
RM beat WJ the previous two times this season, but that did not play a factor in the game.WJ started off badly letting RM score 21 points in the first quarter in what RM thought would be an easy win, but WJ started to catch fire in the second quarter.
In the second quarter the Wildcats locked in defensively and multiple players stepped up and hit crucial shots. The game was extremely close by the time it hit halftime.
Advancing into the fourth quarter, WJ was holding onto an 8 point lead. Senior Jackson Van Wagener stepped up and hit two clutch threes that hyped up the whole crowd.
With less than a minute left to go up 63-60, senior Imanuel Harper had a clutch steal to put the game away.
"That play against RM was one of the smartest plays I have ever made. It felt great that I could help my team secure the win," Harper said.
WJ advanced to the second round to play the county champions, the Churchill Bulldogs.
This highly anticipated game took place on Monday, Feb. 28. The battle of the mall was a great one. The Bulldogs started off strong quickly going up 10 and entering halftime with a 33-20 lead.
It seemed like a new team came out in the second half for the Wildcats as they couldn't miss a shot. Senior Jack McGuire caught fire in the 2nd half, finishing the game with 16 points.
"It felt great playing well in this game and the playoffs in general, but I could not have made all those shots if I was not set up by my teammates," McGuire said.
WJ brought it within 3 points before getting into foul trouble. Harper and McGuire were both taken out due to having 4 fouls.
Entering the 4th quarter, WJ was down by 6. It looked like anyone's game, but with a lineup lacking McGuire and Harper for a lot of time WJ started to struggle. Junior Christion Wright stepped up to help out Van Wagener, but it was hard to get much done on offense.
Later on, McGuire and Harper ended up fouling out of the game each having 5 fouls. This was tough for WJ to come back from.
"It was hard without two of our top seniors because we needed them against this team. I tried my best to do my part, but it wasn't enough to grab the win," Wright said.
Churchill pulled away and won the game soundly 68-55, ending WJ's playoff run after lots of hype and a great season.
Your donation will support the student journalists of Walter Johnson High School. Your contribution will allow us to purchase equipment and cover our annual website hosting costs.
About the Contributor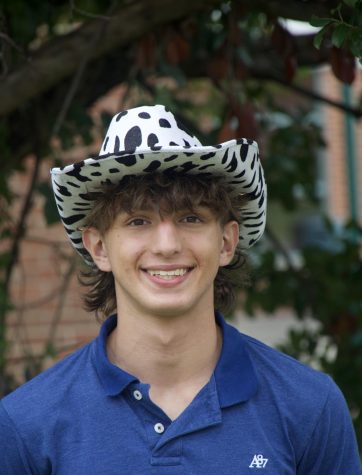 Andrew Plotnick, Staff Writer





Senior Andrew Plotnick is one of the Staff Writers for the Pitch. He also holds the position of senior class president.