Gymnastics team looks ahead with new coaches
Less than a month before the start of their season, the gymnastics team captains were notified that both of their coaches quit. To fill the positions, two WJ class of 2017 graduates, Julia Manalo and Haley Karp, are taking over coaching.
The old coaches made the decision that they were leaving well before the team was notified by athletic director Tom Rogers.
Due to Covid-19, the team didn't have a season last year or the year before. The seniors this year are looking to make a lasting impact on the team this season. Senior captains Julia Beato and Valeria Guillen-Sanchez are excited for both the start of the season and to meet the new coaches.
The team was very successful before the start of the pandemic, so Guillen-Sanchez and Beato both hope that the coaches will help lead the team to the next level this year.
"We were county champions in 2019 and then the year after we didn't have Counties because of Covid-19, so we'd love to defend our county championship title," Beato said.
Having two years off, the team is extra motivated this year to make up for the lost seasons. With such victorious previous seasons, the gymnasts have expectations as to what they want from Manalo and Karp.
"I just hope that they are as experienced as our old coaches because our old coaches were really good. I hope they know what they're doing. They seem pretty experienced because they were on the gymnastics team when they were at WJ," Guillen-Sanchez said.
Both Beato and Guillen-Sanchez had strong first impressions from both of the new coaches. Beato got a chance to run into one of the new coaches when she saw her at a competition once and Guillen-Sanchez knew one of the coaches through her older sister. But still, neither of them have had the chance to experience the style of coaching the two coaches have.
"I've spoken to them over text and they seem to be very organized and excited about the new season," Beato said.
Gymnastics is a perfect combination of a team and individual sport. The team puts emphasis on working together towards a common goal when competing.
"It's teamwork oriented, it's a lot different from club competitive gymnastics," junior Maggie Menard said.
With the right coaching, the team hopes to be very successful this year. Along with being able to defend their county championship title, the team always enjoys beating BCC which is another one of their goals for this season.
Your donation will support the student journalists of Walter Johnson High School. Your contribution will allow us to purchase equipment and cover our annual website hosting costs.
About the Contributor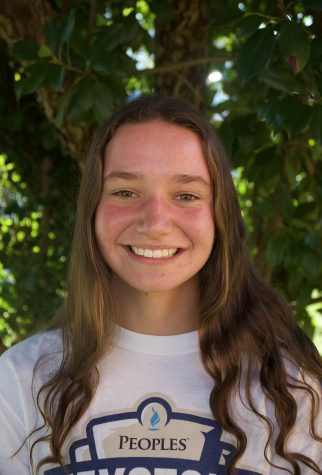 Elizabeth Finn, Print Sports Editor





Elizabeth is a Print Sports Editor for the Pitch this year. She runs cross country and track for WJ and enjoys spending time with friends.