State, federal government crack down on ghost guns
More stories from Seyun Park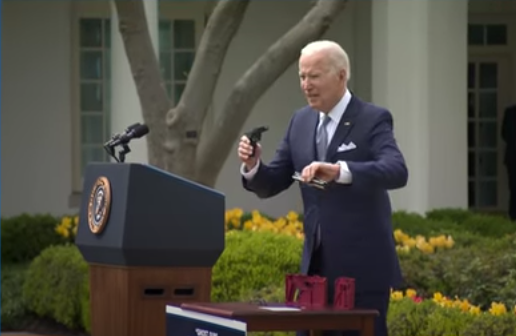 The Maryland state government on April 8 and the federal government on April 11, cracked down on ghost guns, banning both the sale and possession of ghost guns.
Ghost guns are guns which are assembled without serial numbers; they are not traceable since they are not entered into a database of guns. This means that with ghost guns, owners, buyers and sellers can not be traced to the gun. In addition, buying a ghost gun does not require any background checks and many types of ghost guns are kit guns which can be relatively easily assembled in homes.
In recent months, ghost guns have gained relevance particularly in Montgomery County, as well as around the country as the number of violent crimes committed using a ghost gun have increased.
In January, when one student was severely injured in a shooting at Magruder High School, police confirmed the shooter, a student at Magruder, was found with a ghost gun. According to prosecutors, the shooter purchased said ghost gun online and assembled it with the help of a friend.
In early April, Clarksburg High School was forced into a lockdown when a Clarksburg student fled into the school after an altercation in a residential neighborhood. The student was found in their home and when police searched the home, they found three ghost gun kits with 9 millimeter ammunition and another handgun in his vehicle.
A day before the shooting at Magruder, on January 20, Montgomery County delegate Lesley Lopez introduced a bill to ban ghost guns in Maryland, while State Senator Susan Lee sponsored the Senate version. The bill passed the Maryland General Assembly on March 29 by a vote of 92-41.
The bill would require the sale, receipt and transfer of all guns manufactured after October 22, 1968 to have serial numbers starting Jun 1, 2022 and outright banning possession of not serialized guns starting March 1, 2023.
The bill became law without Governor Hogan's signature; laws that are not vetoed or signed automatically become law without the governor's signature.
In addition to efforts at the state level to control ghost guns, the federal government has also recently stepped in to regulate ghost guns. On April 11, President Joe Biden and the Department of Justice announced a new executive action banning the manufacturing of not serialized guns. The rule requires gun dealers and gunsmiths who take in any not serialized guns to serialize the weapon before selling it to a customer. The rule goes into effect 120 days after being entered into the Federal Register.
"If you order a package, like this one over here, that includes the parts you need, the directions for assembling a functioning firearm, you bought a gun. […] It's not hard to put together. […] a felon, a terrorist, a domestic abuser can go from a gun kit to a gun in as little as 30 minutes," Biden said during the Rose Garden event.
Students across the county support the measures that have been put in place by the state and federal government.
"
The ban of ghost guns is a long needed change in our county and nation […] Ghost guns have served as loopholes in federal gun laws and been responsible for many of the violent incidents we have seen in our communities this year. [It] is a big step to making our communities a safer place.
— Magruder SGA President Himanshu Gediya
WJ has also experienced incidents with guns, most recently in January, where a Virtual Academy student at WJ was arrested for possession of a gun.
"What happened at Magruder was caused partially by ghost guns. This is a serious problem in our school and community and banning them will help keep us safe," freshman Bryan Brodsky said.
Your donation will support the student journalists of Walter Johnson High School. Your contribution will allow us to purchase equipment and cover our annual website hosting costs.
About the Contributor
Seyun Park, Print Editor-in-Chief
Junior Seyun Park is in his third year of the Pitch, happy to join this year as a Print Editor-in-Chief. Outside of Pitch, Seyun plays tennis and cello,...