Jiu-jitsu prodigy, Jennifer Figueroa takes down the competition
Heart racing and stomach churning, sophomore Jennifer Figueroa glanced at her competition, a jiu-jitsu champion of multiple states who had been training in the sport for three years, in comparison with Figueroa's five months. "This is my first competition," Figueroa thought to herself. "I will be ready for loss." Then, she made eye contact with her coach, who gave her a nod of encouragement. Suddenly, Figueroa knew exactly what she needed to do.
After moving to the United States from Colombia in 2019, Figueroa soon entered high school the following year. Her father, who got her into the sport, has been her biggest supporter throughout the transition.
"I was going back [to] school, so my dad forced me to enter into a sport to get disciplined. My dad is really happy; he support[s] me in everything. My mom is the same. My dad wants [that] with jiu-jitsu, I can get a scholarship, and I hope I can do it," Figueroa said.
Jiu-jitsu has not only taught Figueroa to manage her time and train her body, but it also became an outlet for her emotions.
"I just fell in love with the sport because it's the sport that make[s] me feel better. There, when I'm furious, like when I get mad, I can just express it," Figueroa said.
Jiu-jitsu is a heavy contact sport; it is not for the fainthearted. Figueroa, on the other hand, enjoys the thrill of the fight.
"
I [have] already seen someone fall asleep two times. Like the point of jiu-jitsu is that the person feel[s] pain. That way you can win. You can break the arm; I almost [broke] my arm. Also, I hurt my leg. I almost [broke] it, but it's good.
— Figueroa
A jiu jitsu match is primarily won by forcing the opponent into submission. While take downs can be dangerous sometimes, they are Figueroa's favorite aspect of the sport.
"I love to do take downs. I think I'm stronger at that one, Armbar or Americana. With Americana, you can break the arm of someone too. I almost [did] that, and I felt so bad, because it was on purpose; I don't want to do it. She doesn't tap. When you feel pain, you have to tap, because if not, the person will keep going because they think that you don't feel pain," Figueroa said.
On Oct. 1, Figueroa participated in her first official jiu-jitsu competition, the Virginia Fall Open.
"I was terrified at the beginning [because] the girl was so scary. She was one level up [from] me, and I realized that she'd been training for three years. So when I started a fight with her, I was so scared. I was like, 'Oh okay, I already lost. It's fine.' But then, I just started doing what my coach was telling me," Figueroa said.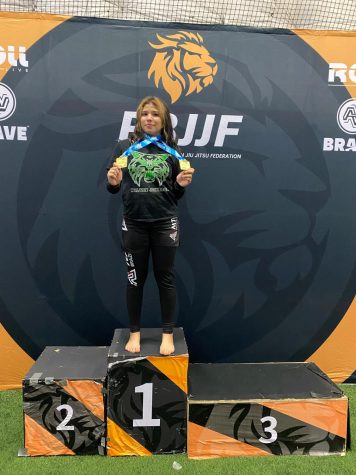 Figueroa credits her coach for a large portion of her success, due to his supportive encouragement, as well as a sneaky strategy they adopted during the match.
"He speak[s] Portuguese. I can't really speak it, but I understand a lot because it's similar to Spanish. So he was speaking to me in Spanish, that way [the opponent] can't understand it, and I can," Figueroa said.
Figueroa left the match proudly after beating the previous jiu-jitsu champion in two categories, as her family cheered her name. Figueroa's father, Jairo Andrés Figueroa was especially proud.
"Thanks to her persistence, discipline and great courage, she defeated her in two categories winning medals in both gold," Jairo Figueroa said.
With high hopes, she now looks ambitiously to the future. Her next competition is Nov. 12.
"They said if I won the competition, I can go to another one like international or more. So, if I win that one, I can go to another one. So my coach is making a special class for me and like two other girls. So there's three people in the class that he is teaching," Figueroa said.
In diligent preparation, Figueroa trains each day after school. On Mondays, Wednesdays, and Fridays, "no gi" classes are from 7:00 p.m. to 9:00 p.m., and on Tuesdays and Thursdays, she joins the advanced classes from 6:00 p.m. to 9:00 p.m.
"Most of the time, I fight with adults. I train a lot because I'm disciplined in that sport because without discipline, you can't do anything," Figueroa said.
This commitment often takes a toll on Figueroa's school life. As a disciplined student athlete, she strives to succeed not only in the dojo, but at school as well.
"Sometimes I just get a lot of projects that [I] really have to finish, so sometimes I'm just going to go and train, and after that, like 9:00 p.m. I get home, I just start to do my homework, and sometimes I [don't] sleep until 1:00 a.m.," Figueroa said.
Although she has a passion for jiu jitsu, Figueroa's long-term aspirations lie elsewhere.
"I really like track, but I don't know if I will have time because of jiu jitsu. So, I really wanna go to the brown belt and then quit. Because I wanna do another sport," Figueroa said.
Nevertheless, jiu jitsu has become an important aspect of Figueroa's life and is continuing to teach her crucial life lessons that have led her to success.
"If you want to improve in something, you have to be disciplined because, without discipline, you can't do what you want, and you cannot follow your goal, or your dream," Figueroa said.
Your donation will support the student journalists of Walter Johnson High School. Your contribution will allow us to purchase equipment and cover our annual website hosting costs.
About the Contributor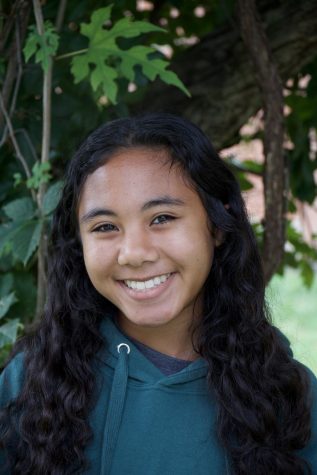 Katie Campbell, Online Editor-in-Chief





Katie is excited to spend her senior year as an Online Editor-in-Chief for the Pitch. She enjoys playing soccer, reading, and watching Monk.