This "Cool Cat" is bidding good day, WJ!
Nestled in the hallways of the G floor, classroom G93, is the work place of historic track coach and tech education teacher, Thomas Martin. Known to many as Coach Martin, Mr. Martin or to a select few as Marty, he can be found in the hallways or classroom greeting everyone with a firm handshake, kind words and a smile more contagious than whatever students had this past month. However, all good things come to an end, as this year marks the final year of Martin's teaching career.
"I got the opportunity over many years to not only meet some great students and young people, but [also meet] some of the greatest people I'll ever meet doing this," Martin said.
Martin's career at WJ began as a coach in 1996. While continuing his own achievements on the track at age 33, he was contacted by fellow WJ staff member, former teammate and best friend (of 53 years) Thomas Rogers about a coaching opening on the distance running team.
Martin was reluctant at first, but the power of friendship trumps all. He even took a $100k pay cut from his current job to coach at WJ. This decision would prove to be fruitful as Martin has led the Cats to a total of 17 state championships in track and field and cross country.
"
He manages to find the best in other people, and he is as down to earth and as honest of a guy as you can find, and that's why I believe his teams have been so successful.
— Rogers
Martin's journey to the classroom was a tumultuous one, however. In 2001, while coaching under former counselor Greg Dunston, he was asked to consider teaching.
Martin shared his initial reaction. "If it is half as much fun as coaching, it would be a pretty good job," Martin said.
Martin decided to go back to school to get his Master's degree in education and certification at the Notre Dame of Maryland University (NDMU) in Baltimore. Unfortunately, NDMU did not have a Technical Education program at the time which left Martin teaching on a provisional contract.
"It took me almost two years to get that credit," Martin said.
According to Martin, he finally got his credit approved and teaching certification thanks to a mixture of petitioning with a little help from the dean and a call from a high power. Once Martin sets his mind to something, it shall be done. This positive attitude and competitive nature was one felt through the hallways and influenced many people around him like former tech ed teacher George Lavelle. Martin took Lavelle under his wing from the beginning of his teaching tenure.
"He is basically a mentor, a colleague and a very strong presence in my life. He brings so much joy and life to the classroom," Lavelle said.
This sentiment is echoed by many who know Martin.
Martin opened up many doors for teachers and students alike, helping them polish their craft and bringing a positive attitude to not only the track, but also their everyday lives.
"He has been a tremendous asset to this school, his students, and his teams and has had an impact on students inside and outside of the classroom," Assistant Principal Terry Heintze said.
Though he isn't retiring from coaching, Martin plans to use this new free time to do some fly fishing, hunting and building with his friend Rogers, who is also retiring this year. Martin also promises to "BRING IT" at every practice now that he can't really give any encouraging words to students in the hallways after this year. It does not, however, stop him from sharing one of his famous quotes before he leaves.
When asked for one piece of advice he would leave for his students and those who have not had the pleasure of making his acquaintance, he kept it simple.
"Always open your heart and fill it with love," Martin said.
Your donation will support the student journalists of Walter Johnson High School. Your contribution will allow us to purchase equipment and cover our annual website hosting costs.
About the Contributor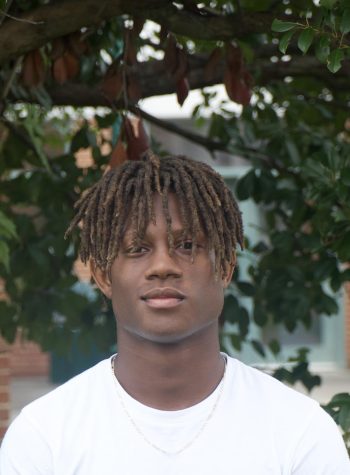 Jalen Scott, Staff Writer





Jalen is a second-year staff writer for The Pitch. As a three-sport athlete and member of clubs, he likes to stay busy and well-rounded.