Arya Gupta dives into a new chapter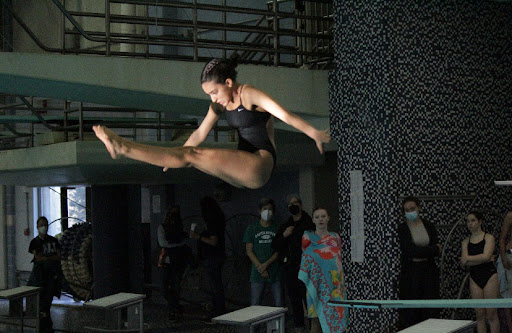 Granola, specifically nut free granola. This is what fuels D3 Tufts diving commit Arya Gupta, before every single one of her meets. After eating her granola, Gupta braids her hair and then it's off to the pool to do what she does best.
Gupta wasn't always a diver; every diver needs to know how to swim.
"I was on a swim team when I was little, but I didn't enjoy it and honestly was not very good at it," Gupta said.
The change from swimming to diving was not a difficult switch for young Gupta, as diving came much more naturally to her.
"Originally my friend wanted me to join the team with her when I moved here. I wanted to learn more about the sport and then I got good. So my parents made me stick with it," Gupta said.
While diving may seem like just a jump in the pool, it is a lot more than that.
"It's a mental game. Because it's an individual sport, you've got to motivate yourself," Gupta said.
It may be an individual sport once Gupta is on the board, but off the board, she is the captain of the WJ swim and dive team.
"I do a lot to sort of bond the team, the swimmers and divers. So I try to attend a lot of events, pasta dinners and just get a lot of people involved in spirits and attending meets and staying for the entire duration of the meets," Gupta said.
Not only does she bond with the team, but Gupta also helps coach.
"She's one of the more experienced and accomplished divers on the team. She not only helps her teammates, but she helps me coach. I'm not technically a dive coach, so Arya technically coaches the dive team the whole time," chemistry teacher and swim and dive coach James Grimes said.
Because Gupta is such an experienced diver, she helps out the not-as-experienced divers to help them perform better.
"When I have a problem with my dives, which is a lot because I'm not that good, I call for Arya. I don't really ask anyone else, because she's the only one on the team that is really good and can help us," senior diver Carl Braun said.
Her selfless acts and incredible diving skills are what landed Gupta at one of the best college institutions in the nation, Tufts.
"
It was everything I was looking for. The community was extremely welcoming, the team was very well bonded, and I think it will provide me with a good balance between academics and athletics."
— Arya Gupta
Gupta is going to double major in computer science and international relations at Tufts. While she does love diving, her career will come to an end after college.
"I want to pursue a different career and I don't think I could make a career out of diving," Gupta said.
While Gupta is nervous about leaving her home, she is also excited to meet new people and start a new path.
"I am nervous, but I feel like I am ready to spread my wings and start a new chapter in my life, at my new home, Tufts," Gupta said.
Your donation will support the student journalists of Walter Johnson High School. Your contribution will allow us to purchase equipment and cover our annual website hosting costs.