Stepping into the spotlight: The Step Team takes the stage
Video courtesy of Mallory Striplin

The lights go down, the music starts and the audience holds its breath. Suddenly, a piercing holler rings across the room and a thunderous beat shakes the floor as a group of dancers appear, moving in perfect unison, their bodies pulsing with energy. But this is not just any dance team – this is the WJ Step Team.

Stepping is a form of percussive dance that dates back to early African tribes and is now practiced among people of all ages and backgrounds and performed by high schools, churches, drill teams, college fraternities and sororities and more. Step combines intricate footwork with synchronized hand claps, stomping and spoken word, typically with no music or a drum beat in the background. Recently, Step has evolved to include music as well.

"In Step, you make sounds by hitting various parts of your body, jumping, and other movements. But the whole point is to emphasize contact with the body, promoting an appreciation of the body through dance," captain of the WJ Step Team junior Mallory Striplin said.

The Step Team has prepared and performed a variety of step routines in their performances, providing a platform for self-expression and empowerment through dance. The team practices two to five times a week after school for about two hours. Striplin and the co-captain sophomore Mwape Sokoni work together to create choreography. They film tutorials teaching the choreography at different speeds and angles to supplement members' learning outside of practice.

For Striplin, it takes about three to six hours to come up with choreography for a performance routine, and it can take up to nine hours to create a more complex routine. The choreography can take between one to two hours to teach members.

"The captains work really hard to ensure all members learn the original choreography well, and their videos are really helpful, especially when someone misses a practice and needs to catch up," freshman Jordyn Kliewer said.

During the pandemic, the Step Team struggled with membership. In the 2021-2022 school year, the team had about four members, but membership rose to 16 this year, many of them freshmen. Not only did the team's membership grow, but they also gained more performance opportunities, many of which are the first time the Step Team has performed at. This year, they performed at the fall pep rally, the varsity basketball game, the Black History Month assembly, the Talent Show, the International Week Cultural Showcase and more.

Video courtesy of Ishaan Ramola

"We performed at a football game, the homecoming one, for the very first time this year. I had reached out to the athletic director Mr. Rogers about that, which he was really supportive of," Striplin said.

One of the biggest goals of the Step Team, in addition to continuing to grow membership and give great performances, is acquiring greater respect and recognition for the team in the school community. Striplin and Sokoni have spearheaded efforts to increase the Step Team's presence and representation in the school.

"We're a lot more active on social media and gained over 100 more followers. We've also done fundraisers and participated as Step Team representatives in meetings with SGA and the school about school wide events like the pep rally, back-to-school night and more," Striplin said.

Through their performances, the Step Team hopes to spread the power of step as an art form and inspire the audience.

"I'm really proud of all of our performances this year," Sokoni said. "We were all kind of nervous if people didn't like our performances as much, but we practiced really hard and did pretty well. The reception was good, and we got a lot of support from the school. We're excited to perform more to promote wstep."

The Step Team is open to every student and is always welcoming new members.

"Step is something that is very accessible. It doesn't require any special equipment. You really just need your body. I encourage anyone who's interested to come try it out," Striplin said.

So the next time you watch the WJ Step Team take the stage, take a moment to admire the skill, dedication and spirit that goes into each performance. You might find yourself flowing with the rhythm, feeling the beat through your body, and recognizing the power of the Step Team to bring people together in joy and appreciation.
Your donation will support the student journalists of Walter Johnson High School. Your contribution will allow us to purchase equipment and cover our annual website hosting costs.
About the Contributor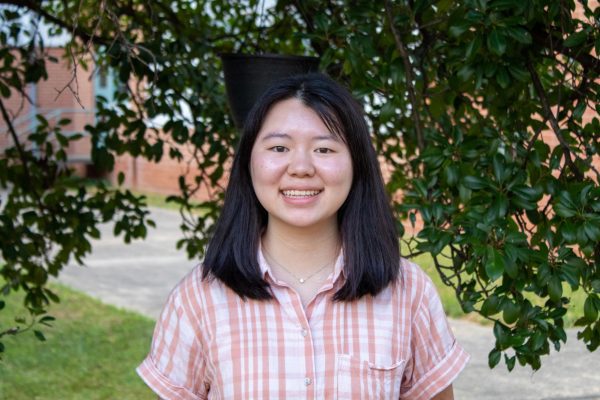 Allison Xu, Online Editor-in-Chief
Senior Allison Xu is excited to serve as Online Editor-in-Chief for her third year on The Pitch. In her free time, she enjoys writing short stories, playing...