WJ athletics Spring into new season
Girls' lacrosse prepares for upcoming season
With the start to their season approaching fast, the girls' lacrosse team is excited to get back on the field and assert their dominance. Although their official team practices started at the beginning of March, the girls have been training together all winter. 
This season the team will be led by first-year head coach Christina Fitzpatrick. Along with it being Fitzpatrick's first season as varsity head coach, it is also her first year at WJ.
"I think the velocity that will be brought to the team as well as the new look at the game and our team as a whole is very exciting," senior captain and midfielder Olivia McCloskey said. 
The Wildcats' season ended earlier than they had hoped last season with a loss to BCC in the first round of the playoffs. This season, they are looking to not only put that loss behind them, but to also use it as a learning experience.
"I think we're definitely putting in the work and we are coming back for blood, especially considering we beat them during the regular season last year. I think we know what we need to work on and are going to focus in and get the job done," sophomore attacker Ginger Fishberg said. 
The first game of the season was Thursday, March 23 at Richard Montgomery. The Wildcats were able to showcase the work they put in during the offseason and got one step closer to achieving the goals that they have after a 15-0 win over the Rockets. 
"We have collective goals as a team like winning regionals, being better teammates, being the best players we can and always giving 100% effort," junior defender Anna Zucconi said. 
Baseball is back, ready to perform even better than last year
With spring tryouts coming to an end, baseball is back. After having a successful season last year, finishing with an 18-3 overall record, the team is ready to come back even stronger. 
The two days of tryouts consisted of position velocity, pitcher velocity and testing the boys' speed with 60-yard dashes. There's no doubt it is going to be a triumphant season. The Wildcats have two college commits this season: senior captains Braden LaChapelle and Leo Simpson. 
"I am super impressed by the team this year and how things are going so far. Tryouts went very well and we definitely have some new good talent on the team, which means WJ will be very good for years to come," Simpson said. 
After breaking the school record last year, the pressure has only increased. The Wildcats have also played in two scrimmages, against St. John's Catholic Prep and St. John's College, to prepare for the season.
"We have extremely high expectations for this season. We are coming off an 18-3 season and think we can make a deep run this year," head coach Steve Sutherland said. 
Their first game at Blake on Tuesday, March 21, ended in a loss for the Wildcats 12-6. In the first five innings sophomores Andres Johnson, Nolan Ross and Shawn Rudick pitched. LaChapelle and sophomore Brady Chan both did well at bat. But the Bengals pitcher, number 12, led Blake to their win. 
The Wildcats' next game is another away game at Rockville on March 24.
Softball pummels Bengals in season opener, channeling team enthusiasm
The WJ softball team is channeling a lot of energy entering into the new season. Coming off a disappointing end to the season last year, the team is ready to make a statement on the field. 
The team has a lot of depth and potential, with a solid lineup of returning players and promising incoming freshmen. They only lost one senior last year, and have a great infield, outfield and hitters. 
"I'm excited, because I think we're going to have a really good team. We have a good mix of veteran players with some new players with a lot of skills," coach Richard Carter said. 
Last season ended with a disappointing loss to Whitman.
"After last season I was kind of disappointed by the way that we ended with our last game … we took a big loss … but this year we're going to have a really great season," senior captain Sophia Ikeda said.
The team is optimistic about the season ahead. The talent displayed in tryouts by all players, from freshmen to seniors, confirms the potential the team has to take home a title. Their focus is set on getting to states, through winning the regional and divisional championships.
"Goals are always to improve throughout the season and peak at the right time, when we get to playoffs … and to win the playoffs," Carter said.
Senior captain first baseman Brooke Levin and the two other senior captains Ikeda and Maya Rickles will be a driving force for and leaders in the team's success. Junior starting pitcher Sami Rosenberg also will have a large impact. 
The team is excited to come together and enjoy playing softball while also working hard to achieve their postseason goals. 
"I'm just looking forward to having fun with my friends, and having a good time, but it would obviously also be nice to have wins as well," Rickles said.
The team won in its first game of the season 27-3 on Tuesday, March 21 away against Blake and play their next game at Rockville on Friday, March 24.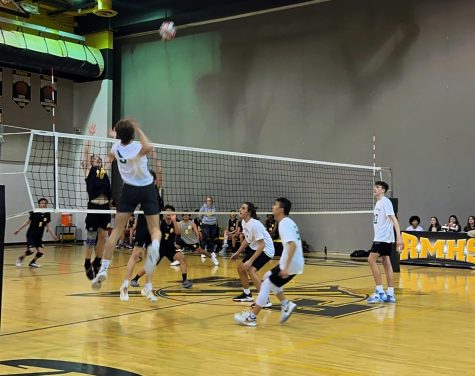 Co-ed volleyball gets ready for the spring season 
Spring is around the corner and WJ co-ed volleyball is ready to perform better than last year. With returning and new players on the roster, coaches William Morris and Brian Fairall (WJ boys' volleyball coach who is also an assistant for co-ed) are ready for action. 
Morris took time from his retirement to spend time with his beloved WJ co-ed team. Morris has more than 10 years of experience, guiding generations of boys and girls who love volleyball as much as he does. 
This year his expectations are the same as last year, win the state championship. 
"Hopefully we do well, we have pretty high quality players, but with co-ed we sort of train the players for the next year, and we should be pretty good," Morris said.  
The expectations are demanding for WJ since the last time WJ co-ed won the championship was in 1986-87, but the dream of being champions again still lives.
With returning players and few new additions to the roster, the school has faith in this team."All the returning players have improved dramatically," Morris said. 
From Morris' point of view, co-ed is sort of a funny sport because schools vary their players. In other words, some schools will put their best male players on their boys' team and other schools will put the best boys on their co-ed team. 
Rio Kato, a new exchange student from Japan, debuted this year on the co-ed team.  Kato is very excited to be playing on the co-ed team this season. 
"She is a very versatile player that can pass, serve, and hit. Although these nets are too high, so that could be difficult for her. She played for four years back in Japan with only girls, but never with boys," Morris said.
The Wildcats defeated Richard Montgomery in their first matchup in straight sets0 on Tuesday, March 21.
"When we won the first set, we just all knew that we weren't going to lose," junior Neer Miller said.
The squad lost their next matchup in straight sets to the defending county champion Northwest Jaguars on Thursday, March 23. 
The co-ed team's next game will be an away game on Tuesday, March 28, at 7 p.m. against  Rockville High School.
Boys' lacrosse brings energy, excitement to spring season, defeats Rockets in opener
After an unexpected first round upset where the Richard Montgomery Rockets knocked the Wildcats out of the first round of the playoffs (13-9), the boys' lacrosse team is looking to come back from the defeat stronger than ever and believes that they have the right pieces to make a playoff run. There has been a lot of change over the offseason as 22 seniors on the team graduated last year and Jacob Anderson was hired to be the new head coach for the Wildcats replacing Danny Phillips.
"[Anderson] was actually on the team last year as an assistant head coach so everything has been similar which is nice as a returning player. He brings a new energy to the team that we didn't really have last season, so it's just new energy. He's a little younger, so he's more hip to the game," junior captain and midfielder JR Dubose said.
While the team has many new players, throughout the tryout process and the first few weeks of practices, the team has been able to find a rhythm with each other. 
"A lot of the new guys [are friends] so they already have chemistry together. We all already knew each other, so the chemistry has actually been off to a great start, a lot better than we started last season, so I think we are going to be stronger as a team than last season together," Dubose said.
Junior Alex Klein will be in net for the Wildcats as senior captain and junior defenders Patrick Adams and Brandon Moon look to stop opponents from scoring. Midfielders Dubose, and freshman Henry Dash will be trying to turn defense into offense, while junior Jonah Levy, sophomore Ryan Gardner and junior captain Noah Diamond will be leading the attack. 
"Jonah, me and Noah, we are the best attackmen in all of MCPS, [we are] the best trio ever and we are going to score 1000 goals this season," Gardner said.
The Wildcats began the season with an immediate rematch of last year's playoff game against the Rockets Thursday, March 23 looking to put the loss behind them as they tried to start the season off strong. The team was confident entering the game and excited to get an early chance at revenge.
"We're definitely pretty confident. We've got all of the pieces we need, we should be ready to go and if we do what we are supposed to do, I think we can get the job done," Diamond said.
WJ ended the game victorious by a score of 14-9 as Levy led the way with a whopping seven goals. The Wildcats got the lead 58 seconds into the game and stayed ahead for the remainder of the matchup as Anderson and the Wildcats got the win in his first game as head coach.
The Wildcats will be traveling to face the Wootton Patriots on Tuesday, March 28 at 7:15 and will then have arguably their toughest test of the season against the defending 4A State Champion Churchill Bulldogs at home on Thursday, March 30 at 7:15. 
"Churchill is a tough team and it's going to be a tough game, but if we play really hard, I think we'll beat them," Gardner said.
Girls' tennis starts season strong with two wins
The girls' tennis team is heating up for this spring season. After tryouts during early March, and a few scrimmages, the 10 starters and eight alternates are ready for their next 10 matchups for the season. 
"Everyone did a great job on Tuesday against Poolesville and the energy was there from all the players. I think the team is really coming together with our first game of the season being successful," sophomore Mia Milicevic said. 
Following a win over Poolesville on Tuesday, March 21, the team gained another victory over Blake on Thursday, March 23. They will take these wins in stride as they enter the next games of the season. 
"I lost my match against Poolesville, but everyone did very well, especially doubles, and we got the win and are ready for the next games," junior and number one singles player Sky Carter said.
With several returning seniors from last year, the team is geared up. Poolesville was beaten with five match wins to two match losses for the Wildcats, in a well played game. The team is looking forward with strength to their next match against Churchill, on Monday, March 27. 
"The team is looking good. We are achieving our full potential while on the court," Carter said.
Track team races to success as season opens with strong performances
The outdoor track team is young and inexperienced. The boys have zero returning individual runners from the 2020 outdoor state championship but after a commanding indoor season, however, led by solid relay performances and junior Calix McCormick, their road to states is still promising. As for the girls, their team is young but dominant, as junior and sophomore siblings, Mackenzie and Megan Raue lead the way. 
In the fall, WJ girls' cross country finished second at states, led by a 20th overall finish courtesy of Mackenzie. In the winter indoor season, she was joined by her younger sister sophomore Megan and juniors Carolyn Hultman and Zuzana Huserova on the record-breaking 4×800 meter relay team, which placed first at states and earned a bid to New York City for the Nike Indoor National championships. While there, they broke a school record, placed fifth overall and were named All-Americans.
Individually, Mackenzie finished second in the 800 meter event at states, closely followed by her sister Megan, who finished fourth. Mackenzie was the only Wildcat to compete individually at nationals. She finished ninth in the Emerging Elite (Second Heat) Girls 800 Meter Run Finals. 
Coming into the final leg of outdoor track, the boys have been up and down throughout the prior seasons. They finished 13th at states in cross country but bounced back with a stronger performance for the indoor season. The boys also had an elite 4×800 team, finishing third at states and qualifying for nationals, where they finished fifth in the Emerging Elite Boys 800 Meter Relay Finals. The boys' most promising prospect is McCormick. 
However, despite the young, rising stars, the class of 2023 still leads the way in the locker room, as they lock in for their final races. Senior captain CJ Newman is a college football commit, shotput specialist and winner of the prestigious "Wildcat" award for the indoor season. Newman's personal shotput record is 44'7'', which he threw on Jan. 7 at CNU's HS Showcase, the third best mark of the entire competition. A captain and a vocal leader on this year's historic football defense, he has now adopted a position of leadership as the outdoor season begins.  
"My role on the team is to help make this team like a family and motivate everyone to do their best. The expectations on this team are high for everyone as historically we are one of the best teams in the state," Newman said. 
The Wildcats had their first meet against Richard Montgomery on Wednesday, March 22. While the complete results for that are still pending, the distance team shined as junior Liad Simhony, McCormick and senior captain Dylan Schmidt each won the boys' 800, 1600 and 3200 meter races and Mackenzie won the 1600 meter girls' race. Both the girls' and boys' teams won the 4×400 and 4×800 meter relays. The team's next meet is set for Saturday, March 25 at Urbana High School in the Kayley Milor Invitational.
Boys tennis start season hot with 2-0 record
With the boys tennis season starting strong, they will look to continue their form towards the rest of the spring season. The official team was finalized on 3/3 after tryouts began on 3/1, but many of the players are returning starters who will look to continue last season's form. 
Tennis coach Chad Beswick selected more kids than normal for the team due to the number of freshmen and sophomores with more potential. Despite starting only 10 players during each regular season match, Beswick selected 24 players to be part of the final team. While most of these younger players will not participate in most competitive events throughout the season, they will look to grow and gain experience for the next few seasons. 
Apart from game days and scrimmages, the team will be practicing every day after school. During the season there will usually be two to three matches per week at home or at other schools. 
The first home game was on 3/21 against Poolesville, the 2022 2A MD state champions. Despite playing in division two, they posed a difficult season-opening challenge for the Cats.  The starters were – Matthew Tan (Singles one), Brady MacBride (singles two), Isaac Kritz (singles three), and Luke Park (singles four) for singles. The doubles teams were made up of Utkarsh Srivastava and Thomas Richardell (doubles one), Nico Chhina and Corey Cohen (doubles two) and Vijay Kannan with Joseph Kelly (doubles three). Park replaced the injured Bradley Shi and played as an alternate. 
"I was glad to fill in for singles four but I'm disappointed to have lost after having kept it close the whole game but it was a fun experience and I'm glad to have started the season with a win," sophomore Luke Park said. 
With the score tied 3-3, the deciding game went down to the wire as Kritz won 7-5 in the final set. The wins by MacBride, Kritz, Sriastava/Richardell and Kannan/Kelly gave the Cats the edge as they emerged victorious by a score of 4-3. 
The Cats continued the first week of the season with a matchup against Blake on Thursday 3/23 and were able to rest some main starters due to the favorable matchup. Singles players Tan, MacBride and Kritz all rested and the alternate players were able to comfortably win 7-0. 
Your donation will support the student journalists of Walter Johnson High School. Your contribution will allow us to purchase equipment and cover our annual website hosting costs.