WJ hosts the MCPS Orchestra Festival
WJ hosted the annual MCPS Orchestra Festival in March. Fourteen orchestras from 10 schools performed to a panel of judges to determine who would move onto States. The Walter Johnson Symphonic Orchestra, conducted by Music Department head, Christopher Kosmaceski, and the Walter Johnson Concert Orchestra, conducted by Michael Helgerman and Kelly Butler, each performed three pieces. The ensembles are graded on a scale to reflect their work. The best is a "1," which is "Superior;" a "5" is the worst score they can receive.
The Walter Johnson Concert Orchestra played three pieces: "Luminescence" by Alan Lee Silva, "Adagio Cantabile" by Ludwig van Beethoven and arranged by Carrie Lane Gruselle and "Sea Songs" by Vaughn Williams and arranged by Robert Longfield. They received three "1s," resulting in an overall score of superior.
Freshman Bertie Bennet plays cello in concert orchestra and shed some insight on what it takes to perform well.
"Paying attention in orchestra class and listening to the conductors notes," were two things that attributed to the Orchestra's high score, Bennett said.
Another reason why orchestras are so special, lies in the intertwinedness between the musicians.
"It is impossible to compare listening to music to being in the center of a group playing music. It's just a different way of experiencing music when you're in the middle of seventy people playing a piece," Bennett said.
The Walter Johnson Symphonic Orchestra played three pieces, as well: "Hillpoint Fantasy" by Jared Spears, "Hungarian Dance No. 1" by Johannes Brams and "Overture" from Orpheus in the Underworld by Jaques Offenbach and arranged by Louis Bergonzi. After their performance, they received two "1's" and one "2" resulting in an overall score of superior.
"
You're always nervous because of pressure… You're being judged constantly.
— percussionist, junior Tim Swartz
On top of the pressure to play well, the burden comes from the pieces themselves. Swartz mentioned that his favorite piece to play was "Overture" from Orpheus in the Underworld.
"The pieces were challenging. They're very long, but they're really fun and engaging," Swartz said.
In order to better prepare for the concert, the orchestra used different practice methods.
"Everybody chose a different spot in the room where they don't normally sit, so we got to hear the parts better and hear our blend as an orchestra," violinist, senior Gaby Hoenig said.
Her favorite piece was also "Overture" from Orpheus in the Underworld. Beyond the pieces, Hoenig's love for the orchestra stems from the environment it creates.
"I love being part of a group that makes something bigger than themselves. Mr. K says that you're only as good as your worst player… Everyone in that group is so good and everyone's so dedicated and we really make a great sound I've never been able to make in any other group before. It's really fun to have that community," Hoenig said.
Your donation will support the student journalists of Walter Johnson High School. Your contribution will allow us to purchase equipment and cover our annual website hosting costs.
About the Contributor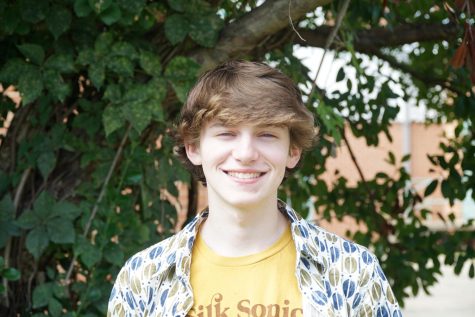 Matthew Ashman, Staff Writer
Matthew Ashman is a senior and Staff Writer for The Pitch. At WJ he is a Drumline Captain and Acapella leader. Professionally, he is a multi-instrumentalist,...