Superintendent McKnight speaks on hate in MCPS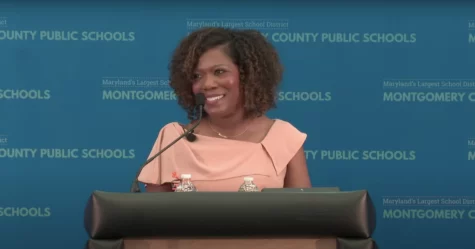 On Tuesday, April 27, MCPS Superintendent Dr. Monifa McKnight addressed concerns about recent hateful events in MCPS. Because of these incidents of hate, racism, antisemitism and LGBTQ+ prejudice, many people are increasingly anxious and fearful over the situation.
In her address, McKnight discussed the incidents of hate in MCPS schools. She further spoke about what MCPS plans to do, as well as detailing how parents, teachers and educators can help students.
McKnight started the address by saying that schools are a place of learning and that having students strive for excellence is at the forefront of the county's education system. However, recent incidents such as antisemitic graffiti have cast a shadow of hate over schools.
"We've woken up to headlines about heartbreaking incidents in our schools and our community. Let me be clear, these actions have no place in MCPS," McKnight said.
McKnight pointed out that hate continues to plague local schools. She believes that if people have the resources to help others in need, they should do so. In this case, she says it's critical that the schools prioritize protecting the students and helping them when they need support.
"We often talk about equity. And equity does not mean equal. It means providing every child with what they need, when they need it. And it's our job to know what they need," McKnight said.
To freshman class President Anna Jhon, a well designed curriculum is key to providing students with what they need.
"[It's important to] have students more educated on different backgrounds, cultures and traditions that others do. It's crucial for this to happen before any other authority required action is taken," Jhon said.
McKnight also talked about her own life story. She grew up in the South, in a town where whites would generally be separated from blacks in everyday activities. She described separate white and black sections of town, and a white church, along with a separate black church. She says that she learned through those experiences to never stop persisting for what you believe.
McKnight referenced her 11 year old son, and vowed to work every day to give the same resources to every single MCPS student that he gets. The recent incidents of antisemitism represent an obstacle to her goal of an equitable and inclusive school system.
"Incidents of antisemitic actions, against our Jewish students, have arisen almost daily in our schools. Students have arrived at school to find Nazi symbols scribbled on their desks, and graffiti saying that Jews aren't welcome in our schools," McKnight said.
WJ Principal Jennifer Baker agrees with McKnight about the dangers of antisemitism.
"When we use inappropriate words to describe each other or draw hateful symbols that we know will cause hurt, fear and harm; we are not respecting each other, nor are we creating an inclusive community," Baker said in a community message back in March.
Diversity wasn't always present in MCPS. At its founding, MCPS was a school system exclusively built for white students. In 1872, the state established a separate public school for black students. It wasn't until 1961-six years after the Supreme Court ruling in Brown v Board of Education-that MCPS was fully integrated. Even in the 1970s, MCPS was 90% white. Today, MCPS is one of the most diverse school systems in the nation.
McKnight stated that she always says that students inspire her to do more regarding fighting hate in schools.
"Our students are our model examples, and I often say, if we listen and watch them, we will learn a lot. Thank you students, for your work, your commitment and your leadership," McKnight said.
According to MCPS, they will be establishing a multicultural advisory group, provide training to staff, expand student curriculum, along with other actions to bolster inclusivity in the school environment.
Your donation will support the student journalists of Walter Johnson High School. Your contribution will allow us to purchase equipment and cover our annual website hosting costs.