28 AP Biology and AP Environmental Science students will embark on a unique field trip to Smith Island in the Chesapeake Bay from Nov. 19 to Nov. 21. Students will spend three days taking part in an exclusive and informative learning experience that centers on the Bay and its complex ecosystem.
Annual trips to the Chesapeake have become a tradition for AP Biology and AP Environmental Science students as WJ has been traveling into the Chesapeake since 1992. AP Biology teacher Khanh Chau has been chaperoning students since her first year at WJ in 2007 and she will be chaperoning alongside AP Environmental Science teacher Brock Eastman.
Throughout the trip, the group plans to apply several classroom topics through hands-on labs and activities.
"We do a dissolved oxygen lab while we're out there on the water. We are always talking about water conservation. We're always talking about climate change. We're talking about nutrient pollution and energy consumption legislation," Chau said.
WJ and several other high schools in the DMV are permitted to participate in this field trip opportunity by the Chesapeake Bay Foundation, an independent conservation organization dedicated to saving the Chesapeake Bay.
"The Chesapeake Bay Foundation runs this trip, and they have counselors that staff the house and boat captains and all these people. They are usually young college graduates who are really passionate about educating students about ecology," Chau said.
Chau and Eastman apply for the Chesapeake field trip opportunity each year and are typically assigned a date or placed on the waitlist. There is always tough competition to secure a spot on one of the islands.
However, Chau claims that the monster of logistics is all worth it to give her students lifelong memories. Several of these memories will be made during night hikes, boat rides and fun games like Predator, while others are made from the unusual experience of living in dorm-style houses with your classmates for three days.
"We do all kinds of silly things with the students. Like for example, at night we all brush our teeth in the kitchen sink. It's hilarious. We watch the sunrise together. We go on a boat, and I've had to hold so many kids' hair back because they puked off the side. There's just nothing like it," Chau said.
A definite stand-out from the trip, like past years, will be marsh mucking.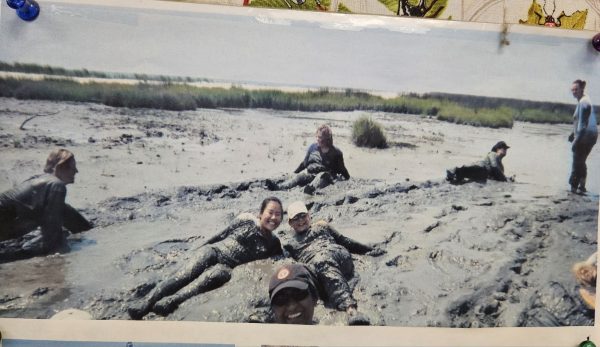 "I think we're basically jumping into the muddy marsh water. I think it will be a highlight of the trip," junior AP Biology student Ellen Johns said.
In fact, one of the first things students learn about the trip is the time they will be spending waist-deep in the marsh. Chau even has a picture in her classroom of herself and former WJ Biology teacher Patricia Richards doused and lying in dark brown mud as an example for her students.
"What I've heard about the trip is that we will be spending a lot of time in the Bay learning about the ecosystem of the Chesapeake and that we are also going marsh mucking where we will be getting very muddy while exploring the marsh ecosystem," senior AP Biology student Ethan Miller said.
Although students aren't completely sure of what is to come, they are as excited as ever.
"
I want to give that same experience to my students and let them walk away with these kinds of memories."
— AP Bio teacher Khanh Chau
"I don't know exactly what activities we will be doing but I'm really excited for all the new experiences I'm going to have with my friends from AP Bio," Johns said.
Unlike her students, Chau knows exactly what to expect as she has not only participated in this field trip as a teacher but as a student as well.
"This is a field trip that I took when I was a senior in AP Bio in 1996, and it was such a profound experience for me. It really changed the way that I view ecology and my role in the ecosystem," Chau said. "I want to give that same experience to my students and let them walk away with these kinds of memories."
More than a watershed field trip, the weekend of Nov. 19 is one that AP Biology and AP Environmental Science students will remember for the rest of their lives.