County considers reopening Woodward HS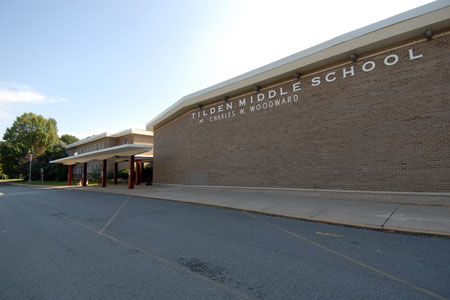 Charles W. Woodward High School was closed with a 4-3 vote by the Montgomery County Board of Education and merged with Walter Johnson in 1985. The move was made to deal with declining enrollment at both high schools, with both enrollment levels expected to fall below 800 in 1990. Now, more than 20 years later, Walter Johnson is facing the exact opposite problem, and it's leading parents and others to suggest reopening the old Woodward High School.
"I don't like this idea at all. I know that the hallways can get kind of crowded sometimes and the class sizes can be big, but I don't want to lose some of my friends and not be able to see them everyday at school," junior Drew Griffin said . Walter Johnson is currently facing overcrowding issues, which can be experienced through a simple walk down the hallways in between classes, and is projected to reach 119.8 percent over its capacity over the next five years. A 155 page paper was submitted to MCPS superintendent,  Dr. Jack Smith, which proposes the reopening of Woodward and will be considered in the near future. An opening in Woodward High School would mean a complete split of students who attend Walter Johnson.  
"If they were to split us up and open another school, so much stuff would be messed up like the chemistry of our sports teams and friendships could possibly be torn apart," junior Matthew Stroud said.
The overcrowding at Walter Johnson is expected to affect the construction of the East Village of North Bethesda project, which is located at the site of the old White Flint Mall. According to Montgomery County law, if enrollment at any school level in any of the public school system's 25 clusters surpasses 120 percent of capacity, all new residential development in that cluster must stop. While currently no school will reach that mark within the next five years, Walter Johnson is extremely close and any slight surge in population will tip it over the scale.
"I absolutely agree that WJ should be split up into another school. Everyday I drop my son off at school, there are countless traffic jams created by the amount of cars and it's dangerous for the students walking," WJ parent Christian Bruce said. If the plan to open Woodward is successfully accepted, the current Tilden Middle School would be the location of choice. Already fitted with a track and multiple fields, it is the most likely location for a high school to take over. Tilden Middle School would relocate to its old building on Tilden Lane after a revitalization and expansion project on the building is complete, expected by August 2019.    
"[There will be] more [athletic] teams and places on those teams. Drama and music programs along with student government would have more opportunity for more kids to participate. Educational programs could be maintained at roughly their current level at [Walter Johnson], but now in two locations, so that there would be enough spaces for kids to seek the special or educational track they desire," said Thomas Biggs, a representative from Farmland Elementary School. Whether or not the vote to reopen Woodward is successful, there are certain to be major changes to the Walter Johnson community in the near future.