Virtually impossible: juniors reflect on completing the hardest year of high school online
It is common knowledge among WJ students that junior year can, for lack of better phrasing, kind of suck. Whether it is the amount of intense classes, studying for the SATs or starting the college search, there is something especially overwhelming about this particular acne-filled year. To add to the list of stressors, this year included a pandemic.
For all students, virtual school meant less class time, less connection and less certainty. And for the class of 2022, virtual learning meant tackling the alleged hardest year of high school from home. There is no doubt this unique year produced unique experiences. As the school year approaches its end, rising seniors are reflecting on their experiences with online school and pondering how those experiences will affect them moving forward.
One of the first challenges that juniors faced this school year was managing their expectations for not only school, but also for themselves. Evidently, one cannot approach physical and virtual school in the same manner.
"On the one hand, [online school] almost exceeded [my expectations] although school was a lot harder, it wasn't as stressful. I ended up not caring as much how I did because I was like, there is so much going on, I don't care if I do that bad. So the pressure I put on myself kind of decreased so it wasn't as stressful in that sense. I expected a lot of me pushing myself to get good grades and good SAT scores. I think I started caring a little less about it," junior Rowan Wright said.
Among other problems, many juniors had trouble maintaining friendships during online school. Because in-person school was such an integrated social and educational experience, finding social interactions wasn't a strenuous task. But when school transferred to a virtual setting, much of the social aspect was lost; interacting with friends became a lot more difficult and required a lot more energy and effort. This was very difficult to balance with the heavier workload.
"I think it is really easy to isolate yourself. Like I got sad in December for no reason and then I didn't talk to anyone for like an entire two months. It is really easy to do that. Unless you have friends who are constantly checking in on you. No one is really going to do anything," junior Fiona Miller said.
Some juniors, however, did appreciate some aspects of online school, such as the increased accessibility and understanding of teachers.
"My teachers felt a lot more available to me, like throughout the year I could check in with them whenever and they were also a lot more easy-going than normal. And I honestly think that should stay. School is so stressful even without COVID, but caring so much about due dates and all that, is frankly kind of unnecessary," Wright said.
Although stress is the main expectation of junior year, there is much to anticipate as well. Many students feel that they missed out on a lot because of online school and COVID-19.
"One thing I've missed out on this year is definitely the transition to becoming an upperclassman. As sophomores, you are kind of still part of the younger side of the school and when you become a junior, I have always observed, you become sort of mini-seniors within the school. And because we haven't been in person I think it feels like we are kind of stuck between sophomore and juniors. We never fully got to finish our sophomore year. I think it is tough to go from being one of the younger people in the school to having to be the leaders of clubs and organizations and just in general being upperclassmen in the school without the proper transition of being mini-seniors during our junior year," junior Jakob Sandberg said.
As the school year starts to wrap up, many students are excited about the possibilities of next fall. The current MCPS plan for the 2021-2022 school year includes a return to a five day a week schedule, an idea which is both thrilling and nerve-wracking for many. For the class of 2022, there is hope for normalcy going into the year commonly acknowledged as the best year of high school.
"If it is safe, I want to be in-person and do the usual senior events. Like football games and stuff. So I hope I can go to those and do like pep band and stuff. I am more concerned with the safety of myself and others than fun senior events but as long as it is safe I want the usual events that happen, like school dances. Because I haven't gone to any yet and I just need to say I went," Miller said.
However, the prospect of returning to a more normal school experience in the fall is also bittersweet for many students. Along with worries about adjusting back to the more intense schedule, the absence of the former upperclassmen will make the adjustment difficult.
"I am least excited to have to return to school while so many of the people who were seniors before us are at college already. I think it will definitely be hard to go back to a lot of our activities and stuff at school being the oldest people when we were one of the youngest people before and many of our old friends who were upperclassmen being away at college. I think that will be hard. But overall I am mostly looking forward to stuff and not having as many things that I am not looking forward to," Sandberg said.
Though many students have concerns about the next school year, for the most part juniors are hopeful for the fall.
"I think that our class of 2022 has gone through a lot of crazy things during our high school experience and I hope that we get to experience a fun year with a return to things that we all enjoy," Sandberg said.
About the Contributor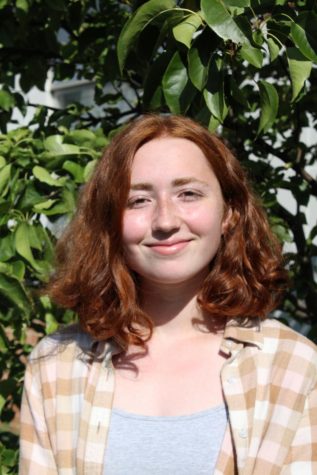 Cora Flynn, Print Feature Editor
Cora Flynn is a senior and in her second year on the Pitch. Aside from writing for the Pitch, Cora spends her time running, making art and hanging out...