Shiima Nantulya's senior reflection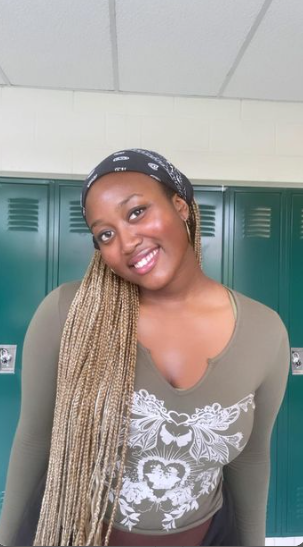 I think the beauty in everything ahead of me is that it's only the beginning. It sounds cheesy, but I spent so much time preparing for college thinking it was the final step I had to take. Most of my high school years were spent writing essays, running a team and club supporting Burundian refugees, ensuring I met my deadlines, trying to stay on top of my work, etc. I spent so much time trying to rush through my time here at WJ and didn't take the time to be present. I can't speak for everyone when I say this, but that's one of my biggest regrets. I wish I had prioritized being as present as possible in an environment that didn't push for authenticity and caused more stress than necessary. With the amount of work that I constantly had, the pressure to stay on top of my grades and being involved in many projects, it was crucial for my mental health to put myself first. There was always something that I felt was bigger than me. I wish WJ pushed students also to center themselves and realize that sometimes it's okay for the universe to revolve around them. I felt like the world stopped when we went online because of Covid. Like seriously. It was three-quarters into my first year when I had already adjusted to my schedule and high school. It was a time filled with pajamas on Zoom, lots of naps, countless protests, violence, predictions and reflections. It forced people to look inwards, especially at a time when minorities were heavily targeted. We had our trauma open like a wound for everyone to see. It was also a time when you discovered who your true friends were and who truly valued you and revealed shocking truths about people you consistently held close. Coming back from that was hard because you now wondered if the "woke" energy everyone showed online would also translate in real life. I can't speak for all black students or black women, but I didn't always feel safe as a student of color at WJ. Yes, I had a lot of unique experiences and met some of the most beautiful souls and people I will always be close to. However, the racism I saw didn't go unnoticed. I wish for current students of color to feel validated, seen and heard in every space they take up. And from experience, it gets better. You will meet the best people and reach a point like the one I'm at now, where you get to decide if that defines you or not. All of us seniors are now entering a space where we will make our own decisions, go off and pursue our careers and perhaps will look back and laugh at how absurd and comical our time here was. We're going to different places worldwide, and some might never see each other again. There's a sadness and a freedom to that. It's a new chapter with new people, stories, perspectives and so many more narratives. I, for one, can now exercise what it's like to put myself first. To pursue a career I love and care about and see where it takes me. To begin to understand what being in the "now" and the present feels like. High school was a funny, disappointing, insane and ridiculous time and I wouldn't change anything I experienced because it shaped the person I am and the person I'm becoming. I thank all my friends and family for such a great support system. I thank Mrs. Borrelli for creating such a safe space for her students to voice their opinions and for her beautiful spirit. And finally, I wish the very best to all the seniors graduating alongside me and going off on their paths. We did it!
Your donation will support the student journalists of Walter Johnson High School. Your contribution will allow us to purchase equipment and cover our annual website hosting costs.