Yuval Shachar's senior reflection
In 8th grade, just a few days before the end of my middle school career, my English teacher had us write a "first day of school" narrative, and had us imagine what it would be like to start high school. To be honest, it doesn't feel like that long ago, even though it's been four years.
And the silly narrative rang some truth, though most of my inspiration came from Mean Girls and High School Musical, high school was nothing like what I expected it to be (there was only a little bit of singing and dancing). I made friends I would have never imagined and lost some that I should have let go of long before I did. I got my braces off, hallelujah. I helped form a club junior year. I painted my name on the senior shed. I also joined the Pitch, which truthfully was the best decision I made throughout my high school career.
If I had the opportunity to go back and change something, I'm not necessarily sure that I would. My high school career was unique and it shaped me into the person I am today, both negatively and positively. Everything I underwent, somehow brought me to this spot in my life.
I tried to think of some advice to give to underclassmen, some legacy to leave, but honestly all I have to say is: Do what makes you happy and take it day by day, after all you have about 1460 of them total. Remember that it isn't going to be easy, you aren't going to have all of the answers (especially in Calc), it's okay not to know what you want to do in college and, of course, do your homework. That 10% has so much impact, something I unfortunately learned the hard way.
And, lastly, I want to say thank you: thank you to my family and my friends, for being my shoulder throughout almost half a decade, my dog, who lets me explain math problems to him, to my counselor Mrs. Dodge, who always had her door open to me and to all of my teachers who helped me get to where I am, especially Mrs. Borrelli. Thank you for always making 193 a safe haven, for welcoming me into the family that is Pitch in my sophomore year, for the countless hours spent together frustrated at InDesign or just talking about our days, for the support and encouragement that I am met with every time I need help, for every experience within the walls of 193 that I have undergone the past four years, for the good, the bad and everything in between. And, of course, thank you Pitch, for all that you are. To quote Dorothy from the Wizard of Oz, I think I'll miss you most of all.
Your donation will support the student journalists of Walter Johnson High School. Your contribution will allow us to purchase equipment and cover our annual website hosting costs.
About the Contributor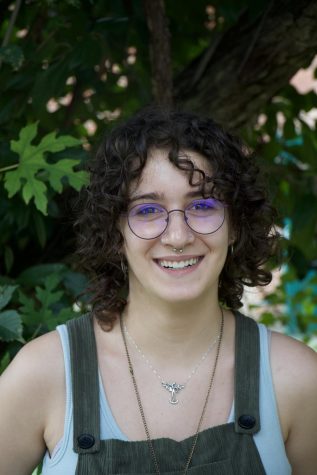 Yuval Shachar, Print Editor-in-Chief





Yuval is a senior, excited to be a Print Editor-in-Chief for her third year of the Pitch! Outside of Room 193, she enjoys reading, listening...